Actor/author Paul Carafotes offers a new labor of love

*
By Jim Clark
Somerville native son Paul Carafotes has been on a mission over the past year. Together with his young son, Charlie, the two have been traversing the land, spreading the word and spirit espoused in the elder Carafotes' self-penned children's book The Adventures of Charlie Bubbles.
The father and son duo have been visiting children's hospitals, schools, and various other venues spreading their "Bubble of Love" message dealing with the meaning and value of friendship that is the foundation of the book.
Carafotes is now launching a follow-up offering, entitled Charlie Bubbles 2 Smartsville!, due for release this week.
"This new adventure takes Charlie to Smartsville. I'm paralleling the books with my son Charlie. The concept for the original book came when he was very young, very much a baby blowing the bubbles out the window," Carafotes explains. "Now he's a little older. He's now in school. He's learning stuff from his friends."
Carafotes says that a NYU professor has called the new book "epic" and that there is a lot more going on in the new story. "In this story we incorporate music. Charlie is playing his bongos in his room, and a caterpillar is there dancing and grooving, and so full of joy." Ants from Smartsville grab the caterpillar, however, and Charlie chases after them, hoping to save his friend.
A new character, Mary the Cat, joins Charlie in his quest, as do other characters that were introduced in the first book. As Charlie and his friends find themselves in Smartsville, they soon discover that it is a joyless place. With the aid of three beetles, who Charlie joins in with in playing his bongos, "ant-emonium" ensues. The Ant Queen is pleased with by the gift that Charlie and his friends have selflessly bestowed on Smartsville, and all turns out well.
Of course, there is more to the story than is mentioned here, but it is an indication of the wonderful imagery and depth of storytelling that is to be wished for in a good children's book.
"It's a story of metamorphosis. Everyone changes, no matter how great and powerful you are," says Carafotes. "It takes a lot of humility and you have to have love in your heart. And that's what Charlie discovers on this trip."
Carafotes has dedicated the new book to the young daughter of his late friend, fellow actor James Gandolfini, who has said, "Charlie Bubbles is soon to be a classic. I've read it several times and I keep re-reading it. That's a sign that something's good and will last."
Gandolfini, who passed away earlier this year, had just become a father when the first Charlie Bubbles saga hit the shelves. "He was such an instrumental part of the book," explains Carafotes. "He was just a dad again when I wrote the first book. And he was settling down, and getting a chance to spend more time with his family. He had already achieved everything he wanted to do in his life, certainly professionally. And he got behind the idea. He was Teddy Hiccup in the first book, and he was a loyal friend. It's a fable about friendship and loyalty, that's wrapped around the tenets of being helpful, loving and kind."
Carafotes says that Gandolfini was a big part of the whole experience, and a big proponent of taking the book to schools and hospitals and giving copies away where they might be needed.
The author has taken the book to various institutions including Children's Hospital, City of Hope, Cam Neely's Cancer Center, Horizons for Homeless Children, as well as many schools across the Country.
"This all came out of the Boston Marathon bombing tragedy. This is where it started. We were just going to do a few places here the Los Angeles area, but my being from Somerville and Boston we had to do something about that. So that prompted us to come back to Boston several times to donate a lot of books to kids in different hospitals," Carafotes said.
The Charlie Bubbles experience has been a uniquely rewarding one for Carafotes, who says, "I've been in movies and television for 30 years. I've starred in movies, I've been on hit television programs. I never got invited to Fenway Park to be on the field. The book came out, and I'm giving copies to David Ortiz and the Red Sox. That was a dream come true. My son Charlie was just beside himself."
More importantly, Carafotes feels that the messages delivered to kids through the Charlie Bubbles tales are especially important in these times when the issue of bullying is being tackled by parents and teachers throughout the world. "There is an antagonist in each book, and they overcome this by using the other side of it. Instead of being a bully back they use being helpful, loving and kind."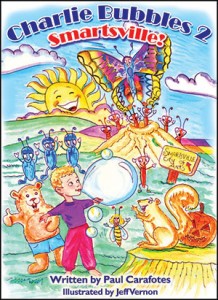 Carafotes considers himself fortunate that he has been able to be a full-time dad to his son. "I am involved quite a bit in his life. I coach his baseball team, I volunteer at the school, I'm very involved in what he's doing. I'm his dad. That's my job."
When his son Charlie asked him if there is going to be a third book, Carafotes said he told him, "Yes. And you're going to write it!" A tentative concept is already in development, and is leaning towards a title like Charlie Bubbles Floats to Fenway.
In that story, Tai the Butterfly – a character inspired by Carafotes' friend, champion figure skater Tai Babilonia – teaches Charlie to skate, and the adventure moves forward from there.
For now, Carafotes is enthusiastic about spreading the news about the second edition of the trilogy, Charlie Bubbles 2 Smartsville!. "It's the 'Bubble of Love' tour, baby!" And that's all that anyone needs to know to understand the value of Carafotes' brilliant creation.
Charlie Bubbles 2 Smartsville! will be in bookstores beginning this week, and orders can be made at the author's website www.charliebubblesbook.com.