By Mike Stoller
The Alibrandis baseball team wrapped up its 14th Yawkey League title in its 17 year history last night with a 3-0 win over the Revere Rockies, winning the best-of-seven series, 4-1, at Trum Field.
Lamarre Rey and Brian Tanguy earned Co-MVP honors for the series. Rey pitched six scoreless innings in the finale, and Tanguy picked up the save.
Steve Rogers broke open the game with a two-run double in the fourth inning. Bobby Barrett also had an RBI.
Alibrandis had already made program history with 30 wins in the regular season.
"Last September, we set a goal for 30 wins and another championship," Somerville assistant coach Cam Lynch said. "We've now accomplished both."
Lynch, meanwhile, was an Alibrandis baseball aficionado long before he became a coach for the team in 2011.
"I used to hang around the team at the field all the time when I was younger," he said. "I've been around the organization a long time."
Alibrandis began the series in just about the best way imaginable. The Somerville squad scored two runs in the first inning of Game 1, and Rey andTanguy combined on a one-hitter to defeat the Rockies, 2-0, at Trum.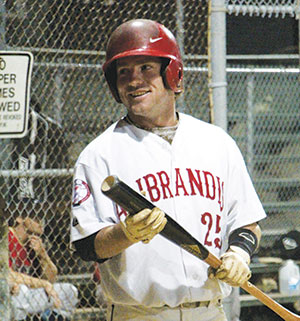 Rogers (double) and Barrett drove in the early runs, and Rey shut down Revere for six innings, allowing only one hit while striking out nine, before Tanguy came on for the save.
Teddy Dziuba and Mike Cunningham also had hits for Alibrandis.
Revere hurler Chris Sandini also proved spectacular. Sandini didn't allow a run after the first inning. He gave up only four hits and went the distance.
"He gave us trouble earlier in the year, and it was good to see those two go head-to-head and win this one," Lynch said of the pitching match-up between Rey and Sandini, who posted a victory over Alibrandis this summer.
Alibrandis went on to take the next two contests, 7-1, and 11-5, respectively. In the latter win, Marc DesRoches had four hits, and Logan Gillis and Justin Crisafulli each had three. Mike MaGuire, Dziuba, and Cunningham had two hits and two RBIs apiece, as Alibrandis scored six runs in the top of the fourth to overcome a 2-1 deficit. Somerville had 18 hits overall.
In Game 2, Alibrandis also scored six runs in the fourth, this time breaking open a 1-0 game in its favor. Rogers did most of the damage, slamming a bases-clearing triple.
Chris Foundas, meanwhile, improved his record to 10-0 on the hill. He threw six innings, before Matt Lounsbury wrapped it up in the seventh.
Then, in a terrific pitching outing by Revere's Rich Wodarczyk, Alibrandis recorded only two hits in a 3-0 loss. If Alibrandis had won that game, it would have made YBL history, prevailing through the postseason without a defeat.
For his part, Alibrandis' Anthony Del Prete pitched a great game, allowing only four hits in the losing effort.