Eagle Feathers #33 – Mary's Lamb
By Bob (Monty) Doherty
If you were asked, "What do Thomas Edison, Henry Ford, Sir Paul McCartney and McDonald's have in common?" I don't think the answer I'm looking for would readily come to your mind.  Ford was an automobile tycoon, Edison was an inventive genius with over 2,000 patents to his credit, McCartney is one of the surviving members of the legendary rock group, The Beatles, and McDonald's is a multinational company that has flipped billions of burgers into hungry stomachs.
The answer that I was looking for is a woman who, for her adult life, called Somerville her home. Her name might not strike a chord with the average person, but a simple poem written about her when she was a little girl has been read and recited by millions of people over the world for nearly two centuries.  She was, Mary Sawyer Tyler, the heroine of the Mary Had a Little Lamb poem, written in 1817 and published in 1830.
In 1925, the year Ford was designing his plant at Assembly Square, he and his wife heard about Mary Sawyer Tyler. They were intrigued by the stories told of Mary as an adult.  They heard of her unselfish work championing many causes, such as the aid to Somerville soldiers during the Civil War, and her work to save the historic Old South Church in Boston from the destruction of developers.  This affected them so much that they bought and moved the original schoolhouse from Sterling to Sudbury, MA, making it today, a more accessible site for tourists to see it at Longfellow's Wayside Inn.
One percent inspiration and 99% perspiration was Thomas Edison's answer for his amazing inventive success. While working on a telegraph machine in 1877, his fertile mind came up with another idea. He sketched out his thoughts on a piece of paper, gave it to one of his machinists to duplicate, and the result was a talking machine. The phonograph was born. After the light bulb, this was one of his most famous creations.  So what did one of the most brilliant, inventive people of the day say to test it out? Edison yelled out the words, "Mary had a Little Lamb."  These were the first words dictated and heard back on a sound-reproducing device in history.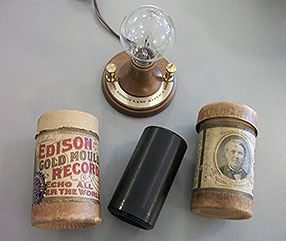 Paul McCartney just performed to another sold out Fenway Park this past July 10. He has done this in stadiums, parks, and halls throughout the world for decades. In The Guinness Book of World Records, he is listed as the number-one artist for Most Records Sold. In the early 1970's, after the Beatles broke up, Paul started his own band Wings.  One of the first two songs he wrote with Wings and produced with his wife Linda was Mary Had A Little Lamb. Together, they thought that the music trade was forgetting about children. It was a rock sound with a twist, using the added sound of a mandolin gearing it to the ears of children. Paul and Linda's children sang in the chorus background, and the name of the song and the words were from the poem Mary Had A Little Lamb. How more appropriate can you get for children? It reached the Top 10 List in England.
"Mary had a little lamb, fries and a coke."  So goes McDonald's advertisements from Down Under. Australia and New Zealand are known for more than kangaroos and koalas.   Australian wool is considered the premier wool of the world, and Australia is the number one exporter of wool in the world. So it's not far-fetched for them to have come up with the lamb burger, but I don't think it would fly in this city, or maybe it would.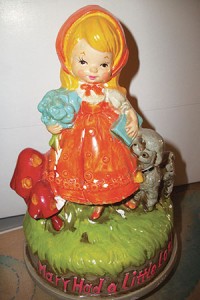 Things change, like poems…Mary had a little lamb…she lived in Somerville…and everywhere that Mary went…she had to climb a hill!