Eagle Feathers #29 – Gettysburg
By Bob (Monty) Doherty
"Four score and seven years ago…" started one of the most famous speeches in history.   A "score" is a period of twenty years. When President Lincoln delivered his Gettysburg address in 1863, he was referring to eighty-seven years before that date, or 1776, the year our forefathers signed the Declaration of Independence.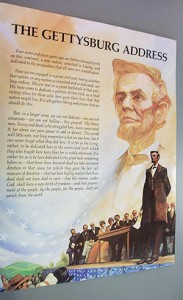 Lincoln's speech was given on Nov. 19, 1863, in honor of the Union soldiers who died in the savage three-day battle four months earlier. At the time, the fighting raged for the first three days of July, culminating on July 4, 1863.
It was the farthest north the Confederate Army would march during the Civil War. By winning at Gettysburg, the Union Army stopped the Confederates from moving on and capturing Baltimore, Harrisburg, and Washington.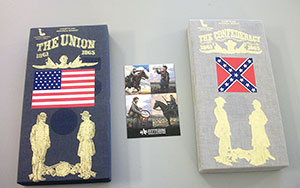 On the next day, the fourth of July, many people celebrated this crucial Northern victory, with the belief that the triumph meant that the Union had been saved. Fortunately, this proved to be true, but at an appalling cost. It was the most devastating battle of the Civil War, leaving over 51,000 Americans on both sides dead, wounded or missing.
Although the war would drag on for two more years, this Northern success put victory in sight. Words had to be said in acknowledgment of the deeds and sacrifices of the Gettysburg dead.
If you visit Somerville City Hall, you will find an interesting sprinkling of paintings, knick-knacks and plaques throughout the building's hallways. On the third floor, there is an antique-looking old bronze plaque imprinted with 272 of some of the most meaningful words in American history, derived straight from Abraham Lincoln's Gettysburg Address. Next week, America celebrates the 150th anniversary of that winning battle, the victory which preserved the Union.
At the crest of Winter Hill, before the Paul Revere Apartments were built, once stood some very impressive mansions. One of them, known as the Odin Estate, was the residence of the Honorable Edward Everett while he was a member of Congress. He died in the last year of the Civil War.  Just scratching the surface of his incredible career, one would mention that he was a brilliant clergyman, a Massachusetts Congressman, Senator, and Governor. He was Ambassador to England, President of Harvard College (now Harvard University), and U.S. Secretary of State.
Considered one of the country's best orators, Everett lectured across the nation to save Washington's home, Mt. Vernon.  Everett delivered a two-hour speech at Gettysburg that was eclipsed by Lincoln's two-minute masterpiece. Everett stated to Lincoln, "I should be glad if I came as near to the central idea of the occasion, in two hours, as you did in two minutes."
From his residence on Winter Hill, Everett could look down over the beautiful farmlands on the Mystic River. This land was then called South Malden. Later, the proud residents of this area would name their new town Everett, in his honor.