By Clennon L. King
Two decades before 1600 Pennsylvania Avenue became his address, Barack Obama rented a basement apartment at a busy bus stop in Somerville, Massachusetts.
For three years, Obama listed 365, Apt. B-1 in area phone books, census reports and voter registration rolls.
Yet despite his transparency about where he laid his head, few former neighbors seem to remember the man who would be president.
"It's quite surprising, but I don't remember seeing him," said Dr. Maria Pitaro, a Manhattan based physician who rented third-floor apartment at 363 Broadway in the same building.
Pitaro said her hectic residency schedule that had her on-call for 36-hour shifts at a Boston hospital, might explain why she didn't recall an equally busy Harvard law student.
"Still, I'm a little surprised since there were so few blacks living in Somerville at that time." she said. "You never know whose living around you."
Pitaro's name and address appear with Obama's in a local census, as did former travel agent Nicole Tammaro.
Tammaro, now a professional photographer, lived directly above Obama at 365 Broadway,
Apartment 1-A, her floor sharing his ceiling. Still, she doesn't recall ever seeing the man who commuted two and a half miles to law school every day.
"My friends asked me whether I knew him," said Tammaro, who once lived in Obama's building known as Langmaid Terrace.
"I've thought about it, but I just don't remember seeing him," she said. A third former neighbor, who has since moved to nearby Charlestown and asked not to be identified, said it was news that the future president was once a neighbor.
However, Obama's landlord, Jay Holmes, does remember the "responsible tenant who always paid his rent on time."
Holmes said he doesn't remember Michelle Robinson visiting, whom Obama would have known the last two years he lived at the address.
Regardless, Holmes said he plans to soon erect a marker in front of the building. "Probably, some time this summer," he said.
Obama's old voter registration card still remains on file in Somerville City Hall, a 15- minute walk from his old apartment.
Approximately a month after fall classes started at Harvard Law School in 1988, the card reflects the 27-year-old Hawaii native officially transferring his voter registration from Chicago to Somerville, checking "Democrat" as his party affiliation. His signature appears alongside now retired voter registrar Dorothy Vargas who could not be reached for comment.
Back at the old apartment building, a young married couple now resides in his old unit, a fact they knew before moving in.
"It's really not a big thing," said the wife, who asked not to be identified. Asked if she would allow the President to tour his former digs if he paid a surprise visit, the wife didn't mince words. "Of course."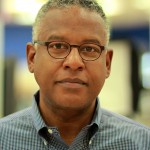 Clennon L. King is a Somerville-based journalist, photographer and filmmaker, whose currently in post production on a Civil Rights documentary focusing on a pivotal campaign in a small Florida town where New Englanders played a big role.