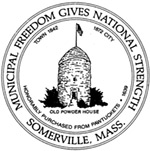 The City of Somerville will host an electronic waste recycling event on Saturday, April 13 at the Department of Public Works, 1 Franey Road, from 9:00am to noon. This event is open to Somerville residents and businesses.
The following items will be accepted:
Desktop PCs, Laptops, Cell Phones, Routers, Network Switches, Photocopiers, Power Supplies, Wires/Cables, Misc. Electronic Parts, Computer Monitors, Projectors, Scanners, Servers, Coffee Makers, Microwaves, Toasters, Vacuum Cleaners, Radios, Electronic Instruments, Laser Printers, Televisions, VCRs, DVD Players, Cable/Satellite Boxes, Speaker Systems, Lamps, Plasma Screen TVs, LCD Monitors, Inkjet Printers.
For more information please, call 311.