By Blake Maddux
"When he finally gets pinched," said Boston Globe columnist Kevin Cullen, "I go to the Globe and I said, 'We gotta write a book on this.' They said that's a great idea, but I said, 'I will only write it with her.'"
The "he" in this quote is James "Whitey" Bulger. The "she" is reporter Shelley Murphy, Cullen's longtime Globe colleague. The two also worked together at the Boston Herald in the early 1980s.
Last Tuesday, approximately two dozen people took their seats in an intimate and low-key setting at The Book Shop in Ball Square to hear Cullen and Murphy discuss their book Whitey Bulger: America's Most Wanted Gangster and the Manhunt That Brought Him to Justice.
"Somerville plays such and integral role in the story," Cullen said. "It's political. It's social history. There's a love triangle in there among all the bodies. And a lot of it comes back to Somerville."
Cullen, who has written for the Globe since 1985, provided a historical overview of how Whitey Bulger rose through the crime ranks in the 1960s and 1970s.
Prior to Bulger's release from prison in 1965, Cullen explained, Somerville's Winter Hill Gang was pitted against the McLaughlins in Charlestown.
With this battle raging, United States Attorney General Robert F. Kennedy told FBI Director J. Edgar Hoover, in Cullen's words, "We are going to take out the Mafia."
With the "thoroughly corrupt" Hoover in charge, Cullen said, "The FBI decided very early on that they would play God."
FBI agent Paul Rico was determined from the start that the Winter Hill Gang "would be the organization that prevailed in that Irish gang war of the early 1960s."
After Whitey Bulger got out of prison, "any thought that he would go straight faded very quickly," Cullen said.
Bulger subsequently joined up with the Killeens, who ran the mob and the rackets in South Boston. This gang then clashed in a deadly fashion with the Mullens, who soon took the lead in the conflict.
Amid this violence, Bulger approached Winter Hill Gang leader Howie Winter, whom he convinced to bring about peace in South Boston.
"As Howie told Shelley and I," Cullen said, "he liked the Mullens, but he thought Whitey would make money for him."
Some of what Cullen had to say about Bulger was surprising. "Whitey didn't drink. Whitey was a fitness nut. He would do push-ups before he'd do 16-ounce curls."
Other things came as less of a shock. "Whitey Bulger is a very charismatic guy. He could not survive, he could not prosper if he was not a charismatic guy."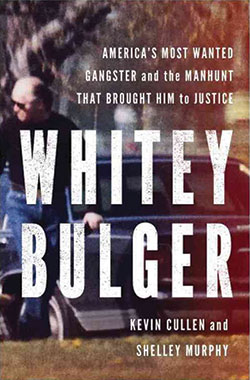 However, these verifiable facts, surprising or not, are less important than what Cullen called "the myth that Whitey had spent all these years creating: He's the good bad guy. He's the benevolent gangster. He's the criminal with scruples."
After speaking for about 15 minutes, during which he dropped the occasional expletive, Cullen yielded the floor to Shelley Murphy.
Murphy spoke for just about five minutes, emphasizing Bulger's ability to compartmentalize the criminal and family aspects of his life. "He could do these awful, terrible things, and yet he raised his long-time girlfriend Theresa Stanley's four kids like they were his own," Murphy said.
"He would sit down every night and they would have these family dinners. It was like Father Knows Best. He was lecturing the kids on, you know, work out, study hard, stay away from bad influences."
The main theme of the question and answer period, which lasted nearly twice as long the authors' presentations, was the FBI's apparent indifference toward the task of capturing Bulger.
"I believe to this day that the senior people in the FBI just wanted this guy to die," Cullen said. "The first two years of the search was a farce. The search was assigned to the very team, the very unit, the organized crime squad at the Boston FBI office that had been corrupted by him, who had the least incentive to find him."
Murphy added, "It really bothered me, the tip where the guy is watching America's Most Wanted, recognizes [Bulger], and says, this in around 2008, 'I saw him on the Santa Monica pier, he's talking to a kid in a Celtics t-shirt.'"
She continued, saying, "Now I'm convinced that really was Whitey. I said, 'Well, did you ever follow up?' The guy says he never got a phone call."
"They always seemed to follow the wrong tips," Cullen interjected. "Whenever there was a sighting in Sicily or London, they didn't have trouble jumping on a plane."
As for what to expect now that Bulger is back in prison, Murphy said, "I pray—and I never thought that I'd pray for Whitey—I pray that he makes it to trial. While I know that there's not a lot of sympathy for someone accused of 19 murders, I do think that the government has an obligation to make sure he stays healthy, because if he dies, people are going to think, 'Oh, they killed him.'"
And how does Cullen feel about Bulger having called him a "low-life"?
"It just proves that even a serial killer can get one thing right!"
The Book Shop is located at 694 Broadway in Ball Square. The next event is on Thursday, April 11, and will feature Dick Lehr, author of Whitey: The Life of America's Most Notorious Mob Boss. For full schedule of upcoming events, go to www.bookshopsomerville.com/events.html.