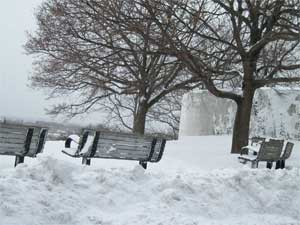 In accordance with the city's Snow Emergency Procedures, Mayor Joseph A. Curtatone has declared a snow emergency for the City of Somerville to go into effect at 6 p.m. on Monday, March 18. During snow emergencies, parking is allowed on the odd-numbered side of the street only (unless otherwise posted). Cars not moved by 10 p.m. Monday night may be subject to ticketing and towing.
Beginning at 6 p.m., residents unable to find a parking space on the odd-numbered side of the street may park in any municipal or school parking lot for the duration of the emergency.  A list of available city lots and other relevant information may be found on the city's website at www.somervillema.gov/snow.
Superintendent of Schools Anthony Pierantozzi also announced today that Somerville Public Schools will be closed Tuesday, March 19.
Up-to-date information can always be found on the city's Facebook pages (www.facebook.com/SomervilleCity; www.facebook.com/311Somerville), Twitter feeds (@SomervilleCity; @311Somerville), or on the City website, www.somervillema.gov/snow.
Additional snow emergency notification measures include:  flashing blue lights installed at 22 key intersections and entryways to the City; and postings on all City Cable channels.