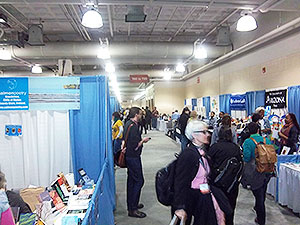 By Timothy Gager
The Association of Writers and Writing Programs Conference (AWP) which features 550 readings, lectures, panel discussions, and forums, as well as hundreds of book signings, dances and informal gatherings was held in Boston last weekend at the Hynes Convention Center. Authors and writers from Somerville and alumni of The Somerville News Writers Festival (2003-2009) were well represented at the conference. In fact, I couldn't throw a stone without hitting someone from the before-mentioned categories. Since there were no stones to be found inside the Hynes, I threw two questions at some of these remarkable writers, when I ran into them during my AWP travels.
1) What is AWP to you?
Doug Holder (co-founder of Somerville News Writers Festival)—It's the chance to become re-acquainted with long time writer friends.
Steve Almond—The blessed and sacrosanct capital of American Literary anxiety.
Tom Perrotta—I'm totally new to AWP. Everyone who teaches or studies creative writing in the entire world is here.
Jennifer Haigh—AWP is an excuse to see the people you never get to see. Whole friendships are solely kept alive be being here.
Margot Livesay—It's a wonderful reminder of how alive publishing is in 21st Century America.
Fred Marchant—It's an immense gathering, which reminds me that language is a democracy.
Alison Granucci (President of Blueflower Arts, literary speakers agency for the Festival)—AWP is the Academy Awards of literature.
Gloria Mindock—It's a great place to network and meet new editors and publishers. It's also a place to expose my press.
Tam Lin Neville—A chance to spread the word about our press (Off The Grid) for poets over sixty, and also to see people I've not seen for a long time.
Harris Gardner—AWP is information gathering' experiencing and enjoying other authors.
Bert Stern—This year we have a remarkable new book to promote here. I'm a bit too old for all the wandering around.
Christopher Castellani—It's a chance to connect with old writer-friends and also make new ones.
Rusty Barnes—It's a time to meet and greet.
Nick Flynn—AWP is a community of folks interested in language.
To my surprise, no one mentioned the panels, unless it fell under the loose definition of information gathering, so I moved on to the second question.
2) What are your recollections of The Somerville News Writers Festival?
Doug Holder (co-founder of Somerville News Writers Festival)—I recall all the hard work that was put into it but also the time the late Hugh Fox, who I spoke about this year on an AWP panel, lambasted me for only allowing him four minutes to read.
Steve Almond—I did each and every one of them and after all the pot I smoked, I still remember everything. I look back and I weep tears of joy and mortification.
Tom Perrotta—The night I did it, it went on forever.
Jennifer Haigh—I read something I'd never read out loud before, which was a new experience for me.
Margot Livesay—It was an exuberant and musical evening, reminding everyone that literature is fun.
Fred Marchant—It was a real core sample of an intense writer's community, great atmosphere all around.
Alison Granucci—Working with The Somerville News was a dream.
Gloria Mindock—It was an entertaining festival, where wonderful work was read.
Tam Lin Neville—I really liked it, it was so democratic. I live in Somerville so it was good for me and was probably the largest audience I've ever read before.
Harris Gardner—The Somerville News Writers Festival was a nice spectrum of authors and the opportunity to spread the literary and poetry word.
Bert Stern—I remember the obscene lady who hosted the night Junot Diaz read. That's all in the past. My chance to read was very important because I love Somerville and it made me proud to live in that town.
Christopher Castellani—It was nice collection of writers I already knew, along with some that I had never met before. The event showed a real sense of community spirit.
Rusty Barnes—I thought it was a great time. Steve Almond and Malachy McCourt were fantastic.
Nick Flynn— (I approached him right before a panel he was moderating and he had no time to answer. My bad.)