By William Tauro
Newly elected South Middlesex County Register of Deeds Maria Curtatone was officially sworn into office early Wednesday morning by former Registrar Gene Brune.
The ceremony took place in the main courtroom of the Somerville Courthouse, located on the Fellsway in Somerville.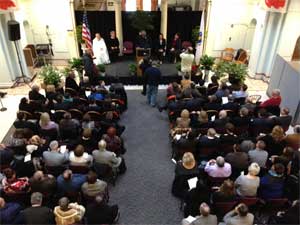 Later in the  day a couple hundred friends, relatives, supporters  and elected officials attended the ceremonial swearing-in at the South Middlesex Registry of Deeds that's located on Cambridge Street in East Cambridge.
Massachusetts Secretary of State William Galvin swore Registrar Maria Curtatone into office as the first woman to ever hold that position.