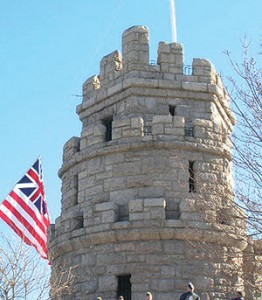 Eagle Feathers #16 –New Year – New Beginnings
By Bob (Monty) Doherty
Next week, New Year's Day, 2013 arrives. As we complete the 13th year of the new millennium and begin the next, a flag with 13 stripes representing the 13 original colonies will be raised in Somerville. The annual re-enactment commemorates January 1, 1776, where the first American flag was raised on Prospect Hill.
On the momentous day, George Washington's troops ran the American flag up the side of a pole which, quite fittingly, was a 76-foot mast from the captured British war ship, Diana. While the British forces that occupied Boston initially thought that the flag symbolized the colonists' surrender, they soon found out that, much to the contrary, it signified liberty and the unrelenting resolve of the Americans.
On New Years' Day, 1735, Paul Revere was born in Boston. Forty years later and nine months before the Prospect Hill flag raising, the most famous horse ride in American history commenced when, in April of 1775, he made his fateful race through Somerville on his way to Lexington and Concord. He was almost captured by British cavalry about one mile from Prospect Hill, near what is now the Holiday Inn on Washington Street. Cutting over and through marsh and thickets to what is now Broadway, he successfully evaded the British troops.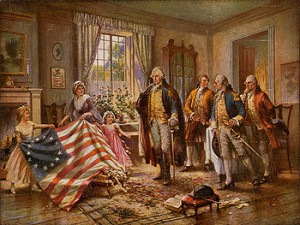 Betsy Ross entered the world on new Year's Day, 1752, and grew up to be a Philadelphia seamstress. While visiting the city during the war, Washington and his troops asked her to alter the Grand Union flag. She did this by replacing the British contour with a circle of 13 stars.
New Year's Day, 1892, saw the opening of Ellis Island, welcoming countless new immigrants to our nation. The architect, Edward Lippincott Tilton, designed the first phase of these new buildings for the U.S. Immigration Station at Ellis Island and also designed Somerville's Central Library on Highland Avenue.
The freedom of the colonists who seceded from Great Britain may have been declared on Prospect Hill on January 1, 1776, but Somerville has continued to champion freedom for people of all nations, cultures and creeds far beyond that day. If you drive through Union Square today, you will see a wide array of ethnic restaurants and businesses. On that first New Year's Day flag raising in 1776, Somerville became a sanctuary for all Americans and hasn't looked back since.
Happy New Year!