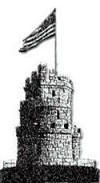 When you think about it, the mayor is a pretty busy guy. He's all over the place, from BOA meetings to local new business dedications. Tending to the day-to-day process of operating our city government, serving as good will ambassador to any number of visiting dignitaries – our off visiting same said dignitaries – and generally doing his best to serve our best interests as well as he is able to.
Of course, the recent increase in pay is not a reward for any particular individual. Future holders of the office will make as much as our present mayor will.
Still, it is worth noting that Mayor Curtatone has given so much of his time and talents in carrying out his responsibilities as chief municipal administrator. Wherever you stand on either side of any given issue, it must be acknowledged that our current mayor gives as much, and even more, than can be expected from anyone. The man is a dynamo.
Consider the many important programs and initiatives that the mayor has led the way on, such as the 311 system, recycling program improvements, updating the police, fire, and DPW, and transforming the city by working hard to get Assembly Square, Union Square, and the Green Line done.
The list goes on, and it seems to keep going. We are amazed and inspired by this mayor's indefatigable drive and perseverance. We think the pay increase is more than well deserved, for all who will hold the office. But we especially feel it is a well-deserved reward for a job well done by the present sitting mayor.