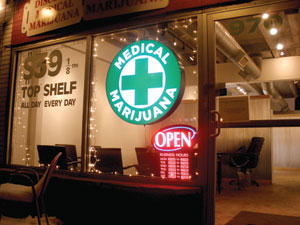 By Blake Maddux
Approximately 20 people, including Somerville Police Chief Thomas Pasquarello, gathered at the Cross Street Senior Center on Wednesday to hear a talk about the Massachusetts Medical Marijuana Initiative, which will appear as Question 3 on the state ballot on November 6, 2012.
If the measure passes, it will allow individuals to legally obtain marijuana with a doctor's recommendation and, in some cases, grow it in their homes.
The speaker was Cory Mashburn, Director of the Somerville Office of Prevention, part of the Somerville Health Department.
About halfway through his presentation, Mashburn stated, "The legislation came from the proponents' side. I wanted to give the opponents' side at the beginning and show what each side is going from, so that everybody can know both sides so that you guys can make the proper decision."
He also indicated his personal experience with the issue, declaring early in his talk, "My father, in 2004, was diagnosed with esophageal cancer, and he was actually on Marinol, which is a cannabis-based pill."
Mashburn explained that marijuana is a Schedule I drug, meaning that, in his words, "It has no medical use and a high potential for abuse." Marinol, which people often call "the marijuana pill," is a Schedule II drug, and can therefore be prescribed by doctors, as it "has medical use," Mashburn said.
The key factor in the scheduling of a drug is decided after the Department of Health and Human Services (HHS) does a scientific and medical study of the drug. It does this in order to determine how a drug affects the body and interacts with other medications that a person is taking, as well as proper dosages.
Mashburn pointed out that "in 2006, there [were] no sound scientific studies that supported medical use of marijuana for any treatment on people in the United States." Moreover, organizations including the American Glaucoma Society, the American Cancer Society, and the American Multiple Sclerosis Society have not approved marijuana as a proper treatment.
However, The Food and Drug Administration (FDA) has approved Marinol and Cesamet, two marijuana-based medications. Sativex, another such medicine, is expected to be on the market in 2013. Mashburn said that Sativex is designed to "take 'the high' away from marijuana."
As a representative of the Somerville Office of Prevention, Mashburn was obviously concerned about the abuse of any drug. He said, "From our experience with any drug…if there's more access and availability, people are going to use it…People will sell it, they can get it easier, they can get it from the stores, and they feel confident that they can use it."
He then went on describe the experiences in three of the 17 states (and Washington, D.C.) that have, since 1996, passed laws allowing the use of medical marijuana.
In California's Los Angeles County, the Drug Enforcement Administration (DEA) closed down more almost 60% of the county's approximately 900 medical marijuana dispensaries. The DEA did this because it believed these dispensaries were violating federal law by selling a Schedule I drug. Mashburn later mentioned that some schools allow students to have marijuana in school. He cited instances in which they were permitted to smoke it in order to treat attention deficit hyperactivity disorder (ADHD), a sprained ankle, and a hangnail.
In Oregon, nine people under the age of 15, including two people younger than 10 years old, have availed themselves of medical marijuana. "There isn't an age limit," Mashburn said. "It's just what doctor you have and if they'll recommend medical marijuana or not."
Finally, Mashburn reported that in Colorado teen use of marijuana in one of the state's largest counties has increased from 19% to 30% since its legalization for medical purposes.
In 2008, Massachusetts voters approved a measure decriminalizing the possession of non-medical marijuana. (Possession of an ounce or less now carries only a $100 fine). Mashburn asserted that use of the drug by youths has increased by 30% since then.
If voters approve Question 3, individuals with the recommendation of a doctor will be entitled to a 60-day supply of marijuana. Mashburn estimated that this would amount to about three ounces. Patients with a medical marijuana card will be able to obtain this supply at any one of the up to 35 dispensaries that will open. Anyone 21 years of age or older can serve as a caretaker for a patient, and thereby collect marijuana for anyone who is unable to do for him or herself. Misuse of a medical marijuana card is punishable by a $500 fine and six months in jail, which was previously the penalty for possession of an ounce or less of marijuana.
The Massachusetts Department of Public Health will be responsible for regulating the dispensaries, which Mashburn said will resemble "candy stores or a 7-11" in that they have jars that contain different strains of marijuana. Stores will also be permitted to sell marijuana-based foods, including something called "Pot Tarts," without FDA regulation.
Mashburn ended his talk by stating, "It's up to you how to vote. I'm not telling you how to vote. You guys can make your own decisions."