By Tatiana Kombo
The seventh annual "What the Fluff" festival will be held on Saturday, September 29, as part of the Somerville Arts Council's Arts Union project. Funded by the Massachusetts Cultural Council and the City of Somerville, the festival will be paying homage to Archibald Query, the man who first concocted Marshmallow Fluff in 1917.
As Union Square Main Streets executive director Mimi Graney puts it, "The annual Fluff Festival has become synonymous with the city of Somerville." Union Square is able to represent what Somerville is all about, "Playfulness, creativity, and community spirit."
This year, due to the "lighter than air" quality of Fluff, the theme will be outer space. In order to keep the event "homegrown," the games are free and run by a group of volunteers. Slightly inspired by Game of Thrones, the festival will be hosting a giant Marshmallow Shooter Battle, and after last year's success, "a whole variety of sticky games on the Shenanigans Stage like Fluff Hair Dos, Fluff Musical Chairs, Fluff Jousting and more" will be back.
In addition, past Pharaohs of Fluff and candidates for this year's prize "will work the crowds to recruit people for their team."  Mini marshmallows will be volleyed "across the central parking lot in a wacky slow motion, soft touch battle."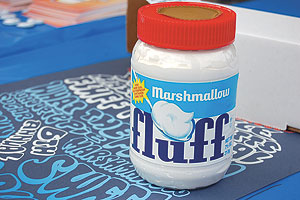 One can choose to take part in a cooking contest by submitting creative, traditional, or original fluff-based recipes.
One also has the option of stopping by the Artisan's Asylum booth to construct marshmallow shooters using the provided kits of PVC pipes, before delighting themselves at the various food stands where local businesses will be selling homemade edible goods, "from the Somerville High School music department spreading for all the sandwiches, to the S'more pizzas by Mama Ginas, to the special for the event Fluff Popsicles concocted by Ocean Ave Pops."
Graney notes, "The City of Somerville continues to be an amazing partner in making this ever-growing event happen." She appreciates the coordinated effort of the DPW, the Arts Council, police, traffic department, and Mayor's office, who have worked to create a "fun, smooth running event."
What the Fluff? Festival. Union Square Plaza in Somerville, Saturday, September 29, 2012 from 3 to 7 p.m. with a rain-date of September 30.