Eagle Feathers #9 – King Arthur
By Bob (Monty) Doherty
Before Oprah, Ellen or Donahue dominated daytime TV, and Howard Stern or Howie Carr (a former Somerville resident, by the way) dominated the radio, there was Arthur Godfrey, who totally dominated both mediums.
He was considered by many to be the single most powerful and influential person in the broadcasting business during the 1950's and, for years, lived right here in Somerville. He was married at St. Catherine's Church.
Godfrey got his first broadcasting experience serving in the U. S. Navy as a radio operator. His big break that landed him a weekly radio program came when he performed at a talent show in Baltimore while serving in the Coast Guard. Godfrey got into a serious car accident causing a lengthy hospitalization.
During his recuperation, he listened to radio shows and decided that the stiff delivery of the era was not a good way to connect with listeners. So when he returned to radio, he brought with him a new and groundbreaking technique to the audience as if they were friends of his. This conversational approach to broadcasting was unheard of at the time, and it made him a star.
His fame exploded and, before long, he had more than one television program. One of his more famous shows was called Arthur Godfrey's Talent Scouts. This show was very much like American Idol in certain ways. Different acts were performed and the winners were determined by an applause meter. A major difference, however, was that the contestants on Talent Scouts went on to have more prominent careers than those on Idol and in greater numbers.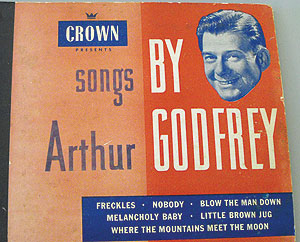 Entertainers that graced Godfrey's stage included: Rosemary Clooney (that would be George's aunt, by the way, for you younger folks), Tony Bennett, Lenny Bruce, Buddy Holly, Patsy Cline and Elvis Presley. And, surprisingly enough, on the night of his performance on the show, Elvis left the building without first prize in tow. Despite his loss Godfrey's program, I do recall him going on to see some moderate success after that.
One of Godfrey's more famous fans included President Franklin Delano Roosevelt, who listened to his radio show faithfully. Arthur was featured on the covers of nearly every major magazine of the day, including Time. He appeared in various movies and countless TV shows throughout his career.
On top of all this, he was an accomplished pilot. Godfrey's fans were so endeared to his soothing voice that, during the Cold War, President Eisenhower commissioned Arthur to make a "doomsday tape" to be played in the event that the U.S. fall under attack. Eisenhower wanted Godfrey's voice instructing people what to do and where to take shelter because he believed that it would calm the public and decrease the odds of mass hysteria. So know that the man who conquered media in the fifties and was hand selected in the last century lived over at the corner of Cedar and Princeton. He died in 1983 and his body now rests in Virginia.