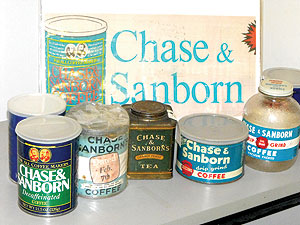 Eagle Feathers #8 – A coffee break
By Bob (Monty) Doherty
Have you had a cup of coffee today? If so, there's a chance that the grounds used in brewing it were produced, packaged and distributed by one of the most successful businesses ever to come out of Somerville. That company, which still exists today, is Chase & Sanborn. The coffee company was established in 1863 by James Sanborn and Caleb Chase.
While Chase was not a Somerville resident, Sanborn lived in a mansion on Winter Hill from 1872 until his death. Sanborn, of Wales, Maine, began his entrepreneurial pursuits at a young age selling garden seeds. He went into the coffee and spice business in 1868, where he made some Boston connections. He then moved to Somerville, where he met Caleb Chase, with whom he eventually partnered in the founding of the Chase & Sanborn company.
Sanborn had a knack for hiring motivated and talented associates. Under the pair's exceptional leadership, the team flourished beyond expectations. Their brand of coffee was the very first to be sold from coast to coast. As an innovative company, it also became the first to sell coffee in a sealed can, keeping it fresher for a longer period of time. They spent money to make money through their eye-catching artwork and advertising. They gave away complimentary song and fortune-telling books branded with their label.
The company sponsored the tremendously successful Chase and Sanborn Hour radio program. Edgar Bergen, a ventriloquist and popular entertainer at the time, was the host of the show. His daughter, Candice, known for her work on the television programs Murphy Brown and Boston Legal, started her career as a child on the program. Famous comedians W.C. Fields and Jimmy Durante also got their start on the show.
Caleb Chase, James Sanborn and the legacy of the long-running program may be gone, but Chase and Sanborn coffee goes on.