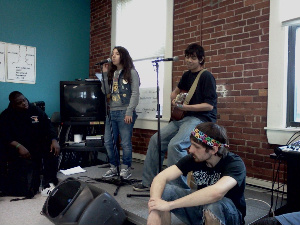 By Alexandra Botti
Mayor Joseph Curatone met Monday with youth from The Center for Teen Empowerment who are planning the upcoming Sixth Annual Somerville Youth Peace Conference on April 28. In preparation for the event, participating Somerville teens discussed Conference plans with the Mayor, who will take part in the event, and presented work they are creating for the occasion. At the heart of their performance pieces are issues affecting Somerville teens, along with ideas for positive change.
"Mayor Curtatone was impressed by the meaningful messages delivered by the youth and couldn't help to reflect back during a time when Somerville was a different place and young people were not doing so well. He went on to mention that we have to stay vigilant with addressing issues young people struggle with," said a Teen Empowerment spokesperson. "Mayor Curtatone has been a champion for Teen Empowerment and we continue to appreciate how much he values young people and their future in Somerville."
On Saturday, April 28, more than 600 Somerville youth are expected to attend the Conference, whose theme this year is Media Meets My Reality. Somerville teens have created works of theater, dance, poetry, music and more for the event, drawing from their own lives for inspiration. Also featured are workshops, a job and services fair, and an open-mic Hope and Healing Ceremony where attendees will speak to their own experiences.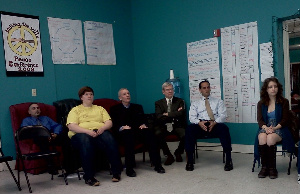 The Somerville Conference next week is based on Teen Empowerment's annual Youth Peace Conference, begun in 1993. Bringing together Boston-area teens to create solutions to the gang violence issues of the time, the 1993 Conference resulted in a lasting truce between five rival Boston gangs, and had a positive impact throughout the community. Since then, Teen Empowerment's Youth Peace Conferences have continued to work towards constructive change for teens and the community. The Center for Teen Empowerment, founded in 1992, is behind more than 150 initiatives annually, involving around 6,000 youth and adults.
The Conference is presented by The Center for Teen Empowerment, Mayor Joseph Curtatone, Somerville Public Schools, the Somerville Police Department, and the City of Somerville, and represents an ongoing commitment to peaceful, productive collaboration among the area's youth.
The Conference itself, Media Meets My Reality, will be held on Saturday, April 28 at Somerville High School, 81 Highland Avenue, from 11:30 a.m. to 4:00 p.m. The Conference is open to the public, and tickets cost $2 in advance and $3 at the door. For more information, visit www.teenempowerment.org.