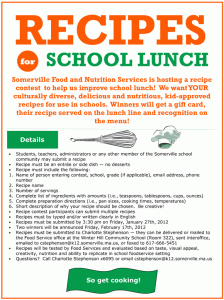 By Savath Yong
Somerville Food and Nutrition Services is currently accepting submissions for its recipe contest to improve Somerville Public School lunches. The winners will be awarded gift cards, their recipes served on the lunch line and recognition on the menu.
SFNS's goal is to provide meals that staff and students will enjoy and the department believes that one of the best ways to discover what kids like to eat is to find out what they are cooking and preparing at home. The FNSD aims for a variety of choices on the school menu and are always seeking new options.
According to Charlotte Stephenson, Nutrition Outreach Coordinator for SFNS, "There have been so many requests for culturally diverse foods on the menu and we figure this contest is a great way to get some ideas as well.  We have gotten some great entries so far and hopefully they can translate into delicious school lunches. There are many different factors that we take into consideration, including the nutritional aspects, making sure they're kid friendly and most importantly, that the recipes can be replicated in a school setting."
Anyone involved in the Somerville school community is encouraged to submit their entries, including parents, students, administrators and teachers. The deadline for submissions is 3:30 p.m. on Friday, January 27, and the winners will be announced Friday, February 17.
For more information or questions, contact Charlotte Stephenson by emailing her at cstephenson@k12.somerville.ma.us or for details about contest submissions, visit http://www.somerville.k12.ma.us/education/dept/dept.php?sectionid=1217.