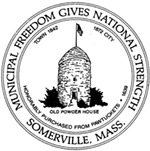 Initiative if first of its kind in U.S.
By George P. Hassett
City Hall wants to know if you're happy – really. The city is launching a new effort, the first of its kind in the United States, to measure residents quality of life issues and well being. So, now is the time to speak up if parking or snow policies are making you miserable. 
In a city-wide survey being sent to residents this week, analysts from the city will work with academic researchers to question residents on their well-being. Results from the survey, coupled with existing surveys, will help guide the city's policies and procedures, city officials said.
The approach, currently being explored by governments in France and Britain, will provide data about the perspective of Somerville residents and their life satisfaction. With assistance from Daniel Gilbert, a professor of Psychology at Harvard University who is internationally recognized for his research on happiness, Somerville will become the first community in the United States to undertake this approach, according to release from the city. Research on the subject in Europe has helped focus policy making decisions more directly on quality of life issues.
According to Tara Acker, Director of the City's SomerStat program, the idea is to use data from the survey to gain a wider view of city services.
"Through previous community outreach, particularly the city's ResiStat program, we have a good understanding of the political and economic condition of Somerville. Now we want to look beyond those factors to understand more subjective variables," which, she explained, will include "measures of happiness, and even how residents rate the aesthetic quality of the city."
Pairing survey results with other data, Somerville hopes to gain new policy insights. "It makes sense to think about the broad picture," said Mayor Joe Curtatone, "and my administration has always pursued policies that improve residents' well-being. Particularly in difficult economic climates, we strive to ensure the best quality of life for our community members, including the accurate, courteous and efficient delivery of services. At the end of the day, making life better for the people who live and work in this city is our primary job."
Curtatone said Somerville is fortunate to work with Gilbert, whose book Stumbling on Happiness is a New York Times bestseller.  "The idea that governments can and should measure well-being is new and innovative, and I'm honored that Professor Gilbert has offered to guide us through this process with his expertise," said Curtatone.
The city will look to make this the first in a series of surveys on well-being. With Britain's recent announcement of a nationwide "well-being index," Somerville may be part of a growing movement to use such data to inform public policy.