Free Halloween event features pumpkin decorating, activities for kids, haunted "house," and more!
Join the City of Somerville on Thursday, November 2, for the annual "Haunted Hall" event on the City Hall concourse from 6:00 to 8:00 p.m. The family-friendly event will feature a costumed Halloween Stroll, safe Trick-or-Treating, games and activities, refreshments, a Haunted "Hallway" tour, and more.
Continue reading »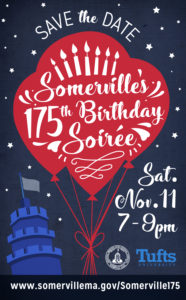 Year-end event, co-sponsored by Tufts University, to feature live entertainment, food from local restaurants, limited edition 175th Birthday brew by Aeronaut Brewing Company, and viewing of limited time Chinese art exhibit at Tufts' Aidekman Art Gallery.
Join the City of Somerville and Tufts University on Saturday, November 11, for the finale in a series of events celebrating the 175th anniversary of Somerville's separation from Charlestown. The "175th Birthday Soireé" will be hosted in Tufts' Aidekman Arts Center from 7:00 to 9:00 p.m. on November 11, and will feature live music by local and University artists, food from local restaurants, and a cash bar in addition to samples of a special edition 175th Birthday beer by Aeronaut Brewing Company. Attendees will also have access to the Aidekman Art Gallery and its current exhibit "Chinese Myth, Folklore, and History," featuring a 74 foot mural by artist Yuan Yunsheng.
Continue reading »
District Attorney Marian Ryan was recently awarded the Providers' Council 2017 State Employee of the year award at the 42nd Annual Providers' Convention and Expo in recognition of her exemplary commitment and support of Human Service Providers. The award acknowledged District Attorney Ryan's creation of Project CARE (Child Assessment and Response Evaluation) a first-of-its-kind public-private partnership to provide immediate services to children who experience opioid-related trauma.
Continue reading »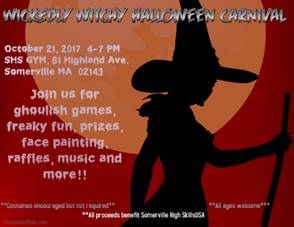 Kids of all ages are invited to a Halloween Carnival on Saturday, October 21, from 4:00-7:00 p.m. for an evening of ghoulish games, prizes, face-painting, raffles, music and loads of fun! The Somerville High School gymnasium will be transformed into a Halloween hall of fun activities. $5 admission and tickets will be sold for games. Proceeds will benefit the Somerville High School SkillsUSA program.
Continue reading »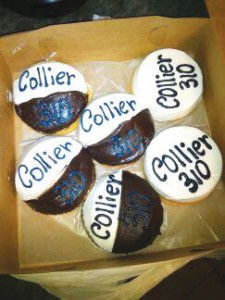 Lyndell's is holding their annual Sean Collier Memorial Fundraiser this weekend.
$1 from every half moon sold from now until closing this Sunday will be donated to the Somerville Auxiliary Police Sean Collier Memorial Scholarship which gives money to Somerville High students interested in pursuing a career in law enforcement.
Continue reading »
By JT Thompson
Alberto: The Puerto Rican owner of Casa B, an elegant but warmly welcoming tapas restaurant just off Union Square's main plaza. He and his Colombian wife Angelina developed the restaurant together. They both grew up on the Caribbean coast and their menu brings together the culinary traditions they each inherited, out of which they have created a unique, new American tradition.
The description on the menu says the dishes are "based on the reinterpretation of traditional dishes from the Spanish Caribbean cuisine, infused with flavors, colors and textures of our travels, memories and life experiences."
Continue reading »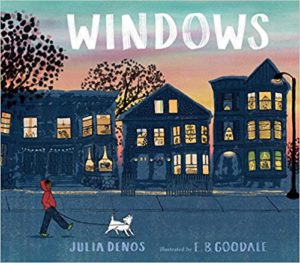 Join Mayor Joe Curtatone, the Somerville Public Library, and Somerville-based Publisher Candlewick Press for an afternoon story time on Saturday, October 21. Mayor Curtatone will read Windows — a new picture book set in Somerville!
Julia Denos and E.B. Goodale, author and illustrator of Windows, will join the mayor for this very special story time to answer questions about the book.
Continue reading »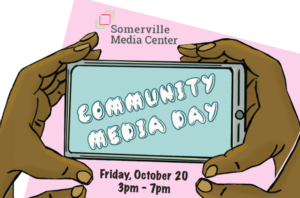 ​​​Friday, October 20 from 3:00 – 7:00 p.m.​, is the 2nd Annual Community Media Day! Come down to Union Square, say hello and celebrate ​Somerville's Media Center. It will also be live-streaming it on SCATV Ch.3, on Boston Free Radio and Facebook Live.​
Somerville Media Center joins other community media centers across the country for th​is​ newly sanctioned free speech holiday called "Community Media Day."
Continue reading »