The Tuesday Book Release of The Thursday Appointments of Bill Sloan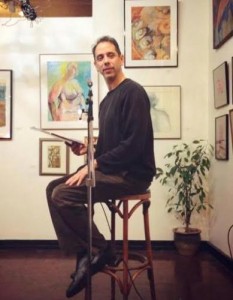 September 2,2014
7 p.m.
Porter Square Shopping Center
25 White Street
Cambridge, MA
"As the son of two psychoanalysts, I feel qualified in diagnosing Timothy Gager as a very sick human being and a fearless writer. His prose is odd, mordant, and disobedient. Read him at your peril." — Steve Almond, author of God Bless America: Stories
"Timothy Gager's The Thursday Appointments of Bill Sloan is a gangbusters novel, its characters sharply defined against a backdrop both tense and funny. Bill Sloan is the therapist no one wants, especially since you might say he needs therapy more than his patients. This is a great read." — Rusty Barnes, co-founder, Night Train Magazine, author of Reckoning.
By Gabriela C. Martinez
"When did you pick these tomatoes?" a woman asked one of the vendors of Blue Heron Organic Farm, while holding a yellow heirloom tomato in front of her face. The farmer took one of the tomatoes in her hands and looked at it thoughtfully. "Yesterday," she said. "Try these, they're like candy." She took a couple of bright orange cherry tomatoes from a nearby basket and handed them to the woman. At the Davis Square Farmers' Market people are encouraged to have these types of interactions.

Continue reading »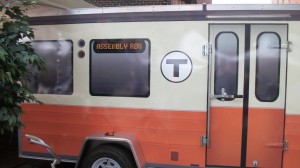 To mark the historic opening of the Orange Line Assembly Station T-stop in Somerville, MA—the first new MBTA T-station to open in more than a quarter century— and Somerville's newest neighborhood Assembly Row you are invited to join Mayor Joseph A. Curtatone, Federal Realty and other Somerville officials for a celebratory walk to the official ribbon cutting ceremony on Tuesday, Sept. 2. For further information, please call 311 (617-666-3311).
Continue reading »
Part 2: Truth versus trash talk

*

By William C. Shelton
(The opinions and views expressed in the commentaries of The Somerville Times belong solely to the authors of those commentaries and do not reflect the views or opinions of The Somerville Times, its staff or publishers)
I had intended for this to be a two-part series: the first about what's driving the flood of Central American children who are entering the U.S., and the second about what a rational immigration system would look like.
The system that we have is beyond repair. It's quotas and criteria harm U.S. businesses and families. Its bureaucracy is slow and unresponsive. And its exorbitantly expensive enforcement mechanisms fail to put a dent in illegal immigration.

Continue reading »
Somerville Prepares for Immigrant Kids
By Somerville Neighborhood News
While some cities and towns have said they don't want to host immigrant children from Central America, Somerville's agencies, non-profits and many residents are welcoming them.

Continue reading »
By Jim Clark
Police were dispatched to the Davis Square area last week in response to a reported robbery and assault.
Calls were made to 911 describing the alleged robbery that also involved a man punching another man in the face.

Continue reading »

By Joseph A. Curtatone
(The opinions and views expressed in the commentaries of The Somerville Times belong solely to the authors of those commentaries and do not reflect the views or opinions of The Somerville Times, its staff or publishers)
This coming weekend we celebrate Labor Day, and many of us will celebrate the holiday with cookouts, backyard gatherings and maybe a last trip to beach before the weather starts to turn cooler. It's easy for us to sometimes forget the reasons for a holiday, focusing instead on having a day off from work, but our holidays are designed to commemorate people and events that have shaped our nation. Labor Day, in particular, is dedicated to American workers, without whom we would not have the thriving economy, reliable services and prosperity that we have today. Here in Somerville, we are working to keep up with a rapidly changing state, national and global economy not only to build a sustainable local economy that keeps our city competitive but that keeps our local workers competitive, too.

Continue reading »
— Photos by Claudia Ferro
*
Somerville's Pop Warner "Villens" participated in the annual Jamboree held at Dilboy Stadium on Sunday, August 24. The scrimmage was a fun day for all families to enjoy and get to meet other families from other Pop Warner organizations. They played mini games that allowed coaches to work with their teams in a real game time situation.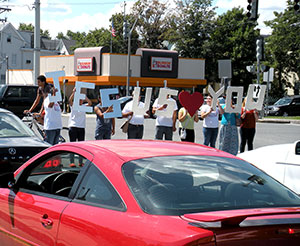 By Donald Norton
A group of about 30 or so members of the Vida Real International church (404 Broadway, Somerville) gathered at McGrath Highway by Foss Park last Sunday, where they stood holding signs and passed out literature. Members of the church stood in front of traffic, spreading their message of "Jesus loves you." Horns from cars acknowledged their efforts. When asked about the demonstration, church member said their mission is to spread the word that God loves us all.
— Photos by Donald Norton
A celebration of Haitian and Brazilian foods, music and art were on display last Sunday at the plaza in Union Square. A crowd of about 150 to 200 took part in the festivities celebrating the two nations' heritage here in Somerville. It was a great time for family and friends to get together and enjoy a fun afternoon here in the city.