By William C. Shelton
(The opinions and views expressed in the commentaries of The Somerville Times belong solely to the authors of those commentaries and do not reflect the views or opinions of The Somerville Times, its staff or publishers)
Almost since it was converted from an MBTA car barn, Union Square's public safety building has continually threatened the health of the first responders who work in it. When I first reported on this, eight police personnel had received cancer diagnoses, and two dozen out of 127 sworn officers carried respiratory inhalers—incidences far to high to be random.

Continue reading »
By Jim Clark
A uniformed police officer on foot patrol in the Assembly Row shopping area reportedly spotted a man through the shop window at J. Crew placing something under his coat last Friday afternoon. 

Continue reading »
(The opinions and views expressed in the commentaries of The Somerville Times belong solely to the authors of those commentaries and do not reflect the views or opinions of The Somerville Times, its staff or publishers)
Locally owned, independent business have long been ingrained into the economic fabric of the City of Somerville. With significant changes on the horizon, having a strong commercial-tax generating base is something that should be on the forefront of every conversation about Somerville's future.

Continue reading »

By Joseph A. Curtatone
(The opinions and views expressed in the commentaries of The Somerville Times belong solely to the authors of those commentaries and do not reflect the views or opinions of The Somerville Times, its staff or publishers)
As I mentioned in my State of the city address earlier this month, like most cities, we must address water, sewer and building infrastructure that was built for the 20th century—and is aging rapidly. We have a 143-year-old high school that has not been updated in almost three decades and a public safety building that began as an MBTA car barn almost a century ago. We have a sewer system that's mostly just as old and an estimated sidewalk and pavement backlog that could cost upwards of $83 million. We have planned streetscape projects in Davis Square and Winter Hill that are needed for both public safety and for our economic health. In short: We have immediate and long-term capital projects that must be planned for. But if we are going to pay for these critical infrastructure investments in the least burdensome way, we must adhere to our principles of strategic planning and prudent fiscal management.

Continue reading »
By Gabriela C. Martinez
A resolution submitted by Alderman at Large Mary Jo Rossetti at last weeks regular meeting of the Board of Aldermen, proposed employing a Substance Abuse Coordinator to assist Somerville's families.

Continue reading »
By Jason Andrew Park
The results of the Somerville High School (SHS) Student Health Survey are in and, for the most part, they are optimistic.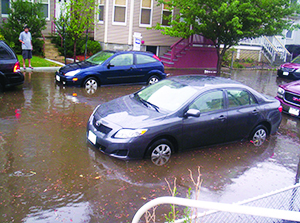 By Gabriela C. Martinez
On January 22, the Somerville Board of Aldermen held its weekly meeting to discuss a variety of upcoming projects and resolutions, many focused infrastructural improvements, maintenance issues, and educational initiatives.

Continue reading »
On the political side of things, we will be having the local elections for Mayor, Alderman and School Board members this year. Two years ago some races had some contests and hopefully again this year that will happen. We think competition is great for everyone, in the private sector as well as the public sector. We hope more will decide to jump in and run for office. So far this year we have heard that Ward Three School Board member Adam Sweeting is not going to seek re-election, leaving it a wide open seat. The first rumor we heard about someone running was former candidate for mayor and Ward Three Alderman herself Ms. Suzanne Bremer is thinking about testing the waters. Others are also considering running for the vacant seat. Again, we hope all the wards have more than one candidate running for office.
Continue reading »