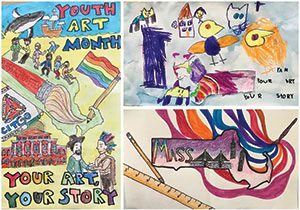 Somerville Public Schools students and art educators recently earned recognition for their outstanding artwork.
A trio of Somerville High School students earned several honors at the Massachusetts Scholastic Art & Writing Competition, sponsored by the School of the Museum of Fine Arts (SMFA) at Tufts and the Boston Globe. Student entries were judged on originality, technical skill, and the emergence of a personal voice or vision.
Continue reading »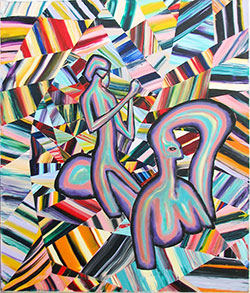 An exhibit featuring the works of the late Magnus Johnstone, Larger Works & More, will be on display at the Nave Gallery, 55 Powder House Blvd., Somerville, from March 9 to 17.
The Sunday, March 10, reception will be preceded by a 1:30 p.m. panel discussion about Johnstone's life in Boston from the 70s – 90s, hosted by friends Mark Flynn, Margaret Bailey Rosenbaum, Michael Shores and Chris Guttmacher. The panel will also explore Johnstone's associations with the Punkt/Data Gallery, Skunk Piss Magazine and Gallery East.
Continue reading »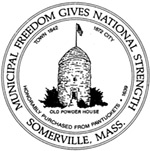 City offices will be closed Monday, February 18, for Presidents Day. Trash and recycling collection will be on a one-day delay all week. Meters and resident parking permit enforcement will not be in effect on Monday.
Have you ever hired a publicist and been disappointed in their performance? Did you get ripped off? Did they make promises they couldn't keep? And then blame it on you and your product, nonprofit, or company? Or have you simply looked into getting a publicist, and been blown away by how much they charge for campaigns? If any of this applies, and if you are looking for real tips on how to get exposure, then this workshop is for you.
Presenters Chris Faraone and Jason Pramas are the editors of DigBoston and co-founders of the Boston Institute for Nonprofit Journalism. With more than 40 years of combined media experience between them, they have written for national and local outlets, from the Boston Phoenix to Esquire, BuzzFeed, and In These Times.
Continue reading »
By JT Thompson
Wenzday Jane is the founder and owner of Metro Pedal Power, a cargo bike service based in Somerville focused on delivering food from local farms throughout the Boston area. She speaks with the calm self-confidence of someone who has faced and overcome major challenges.
"Our mission is reducing pollution, reducing dependence on oil. The vision is to build more resilient communities, to give the community a feeling of empowerment."
Continue reading »
(The opinions and views expressed in the commentaries and letters to the Editor of The Somerville Times belong solely to the authors and do not reflect the views or opinions of The Somerville Times, its staff or publishers.)

By Mayor Joseph A. Curtatone
Taking a closer look at notable city data—and interesting numbers. 
800,000 gallons: When the Somerville Avenue Utility and Streetscape Improvements Project is complete there will be a box culvert under Union Square that can hold up to 800,000 gallons of stormwater. That will go a long way in helping to alleviate flooding in Union Square and taking pressure off our sewer system. Completing this work is going to involve some major excavation work in the square and an accompanying six-month detour.
Continue reading »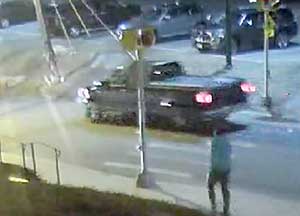 Middlesex District Attorney Marian Ryan, Somerville Chief of Police David Fallon and Somerville Mayor Joseph Curtatone today announced that Edward Clark, 55, of Norwood, has been charged with leaving the scene of an accident causing death, in connection with the fatal hit-and-run that occurred on Powder House Boulevard on February 8.
Continue reading »
By Jim Clark
A Somerville Police officer was contacted by a Saks OFF 5TH Loss Prevention Associate last week regarding a female shoplifter who had just concealed fragrances and left the store.
The officer made his way to Saks, where he obtained a picture of the suspect and viewed surveillance footage of the incident while another officer searched the area.
Continue reading »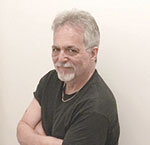 Life in the Ville by Jimmy Del Ponte
Part one.
From 1986 to 1998 I had the pleasure and honor of being part of a very special and groundbreaking radio station that has just turned 40 years old.
I landed a position on the Matty in The Morning show on Kiss 108 FM. Local kid makes good? More like local kid gets incredibly lucky! I was also finally putting my Emerson College degree to good use!
Continue reading »
By Jackson Ellison 
A discussion for adults entitled Marijuana, Vaping and the Youth took place at Somerville High School on Thursday, February 7. The discussion focused on the use of marijuana and e-cigarettes in high schools, and was put on by the Somerville Prevention Services, the SHS PTSA, and Somerville's Department of Health and Human Services.
Continue reading »