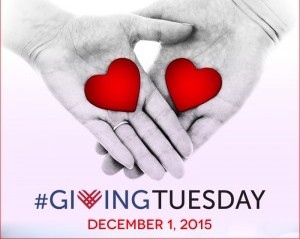 The Somerville nonprofit community has embarked upon a new journey of collaborative fundraising: GivingTuesday Somerville: GiveLocal. Expanding on a successful effort last year, in 2015 14 Somerville nonprofit organizations are joining forces to collaborate on a joint fundraising effort as part of the international GivingTuesday program. GivingTuesday is an annual global day of giving that helps to raise funds and awareness for important causes everywhere, taking place traditionally on the first Tuesday in December. The GiveLocal campaign will honor the diversity of our nonprofit organizations by highlighting them over 2 months, culminating in a raucous Giving Tuesday celebration on December 1 at Arts at the Armory.
Continue reading »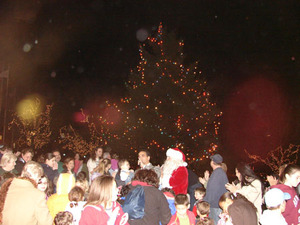 Christmas Tree Lighting, Menorah Lighting, Illuminations Tour Round Out City's 2015 Holiday Events in December
Somerville's annual holiday celebrations are back for December 2015. Rounding out the City's year-long event series, the Christmas Tree Lighting, ceremonial Menorah Lighting, and the Somerville Arts Council's Illuminations Tours are scheduled for December, kicking off on the City Hall Concourse.
Meeting to discuss old Post Office Building plans
A meeting will be held on December 1st, 2015 to present initial plans for redevelopment of the former Union Square Post Office Building. The owners, Union Square Partners, are excited about sharing their plans and eager to hear feedback from the community.

Continue reading »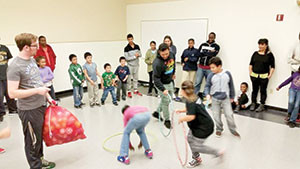 By Charles Lane
The Somerville Family Learning Collaborative (SFLC) and the Mystic Learning Center (MLC) recently partnered on a Healthy Bodies Healthy Minds workshop for families, which included a delicious and healthy meal from Dave's Fresh Pasta, and opportunities to discuss PBIS (Positive Behavioral Interventions & Supports) in the schools and physical activity programming offered in afterschool programs and throughout the community.

Continue reading »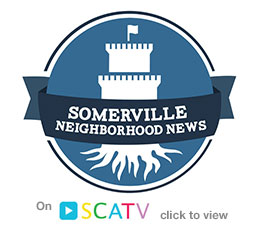 Somerville's supply of liquor licenses is running low. From Prospect Hill to Davis Square, the city has only six available licenses.  In Massachusetts, liquor licenses are granted by the state legislature through a home rule petition.
By Josie Grove
Brickbottom Studios has been nestled in east Somerville for over 20 years. Last weekend, the artists who live and work in the studios opened their doors to the public. Hundreds of people flocked to the out-of-the-way white building to see what was inside.

Continue reading »

By Joe Beckman
(The opinions and views expressed in the commentaries of The Somerville Times belong solely to the authors of those commentaries and do not reflect the views or opinions of The Somerville Times, its staff or publishers)
In recent weeks, 'Villens have churned through many rich discussions about affordable housing, stabilizing Somerville, gentrification, and what we might get in redevelopment districts other than overpriced new buildings, inflated rents in old buildings, and displacement.

Continue reading »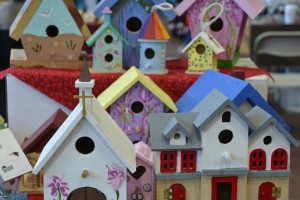 The Somerville High School Track Parents & Alumni Club (SHS Track PAC) is hosting the 24th Annual Holiday Arts & Craft Fair on Saturday, November 28th from 9am-3pm in the Brune Fieldhouse at SHS.  120 artisans from all over New England will display unique items for sale and our Country Store raffle table will offer a chance to win valuable prizes and gifts- Admission is free.  A breakfast/lunch table will be open for business as well.  SHS Track PAC supports the Cross Country & Track teams at SHS and provides scholarships to SHS athletes.
By Amy Swain
On Saturday, November 21, Union Kitchen saw a wild success with Somerville Arts Council's Nibble Entrepreneurship Program pop-up event. More than one hundred people gathered to taste the culinary offerings of chef Robson Lemos.
Nibble is part of the SAC's ArtsUnion Project. Earlier this year, they began the entrepreneur program with cooperation from Kitchen Inc. and the Office of Strategic Planning and Community Development. The program offers local immigrants interested in a culinary career a platform to further develop their talents while interacting with their community.

Continue reading »
By Ross Blouin
The Kiwanis Club of Somerville held its annual Thanksgiving Dinner For Seniors on Tuesday November 17 at the Highlander Café on the campus of Somerville High School at Highland Ave., in Somerville.

Continue reading »