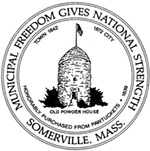 City begins shaping new Green Tech Program to meet needs of start-up green tech innovators and the City's sustainability goals
The American flag. Marshmallow Fluff. Measuring a city's happiness. What will come out of Somerville next? Green tech companies, Somerville wants your great idea to take root and grow in 'The Innovation City,' and is looking for your best product pitch.

Continue reading »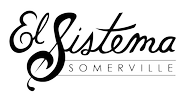 El Sistema Somerville is launching "Musicians with a Mission," an initiative that places skilled professional musicians with outstanding young student musicians for weekly private lessons, thanks to funding support from the Mifflin Memorial Fund. All El Sistema Somerville students are eligible to participate in the Musicians with a Mission program. The program will serve an estimated 20 students who will be selected through an audition process that evaluates merit, need, and work ethic.
Continue reading »
By Blake Maddux
As a member of the band Small Faces, Ian McLagan played keyboards on 11 songs that made the top 40 in the United Kingdom between 1966 and 1969. Only one of these tunes, 1968's Itchycoo Park, enjoyed similar success in the United States. It would land in the UK top 10 for a second time upon its reissue in 1975.

Continue reading »

Life in the Ville by Jimmy Del Ponte
(The opinions and views expressed in the commentaries of The Somerville Times belong solely to the authors of those commentaries and do not reflect the views or opinions of The Somerville Times, its staff or publishers)
The Somerville High School auditorium is ready to go. It was ruined by hurricane Sandy but now it's back better than ever. As you can see in the photo, they even uncovered and restored the original ornate "S" crest above the stage and boy is it beautiful.

Continue reading »
The Ryan Harrington Foundation generously awarded a check for $2500 to Somerville Pop Warner Football last week. The Foundation supports youth organizations throughout Somerville.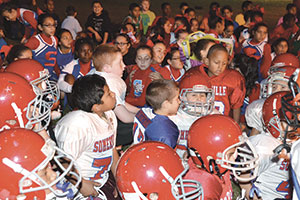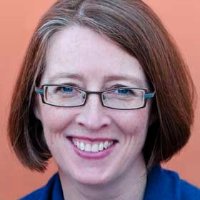 The Board of Directors of Union Square Main Streets announced this week that Mimi Graney is resigning as Executive Director to start a new enterprise. She'll remain in the role through the end of the year to facilitate the transition to new leadership.
Continue reading »
By Mariya Manzhos
Somerville graphic artist James Weinberg spent nearly 20 hours examining The Parasol, a painting by the Spanish artist Francisco Goya. After a while, the details of the image started blurring together. "The dog's paw started looking like the face," laughs Weinberg. His task was to convert an elaborate masterpiece into a paint-by-numbers mural to be installed in Copley Square on October 18 and 19. With the help of a stepladder and an array of paints, the public will be invited to join collectively in coloring the mural over the weekend.

Continue reading »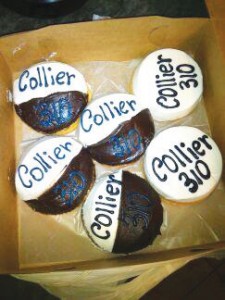 Fri., Sat., Sun., October 17-19, 720 Broadway, Somerville, MA
$1 from every half moon sold and all raffle proceeds will be donated to the Somerville Auxiliary Police Sean Collier Memorial Scholarship Fund helping Somerville High School Seniors who are pursuing a career in law enforcement. They will be selling individual custom made half moons with Sean's Somerville Police badge number 310 on them. $1 from every moon sold will be donated to the SAPD Sean Collier Memorial Scholarship fund. Last year they were able to raise over $6,000 for the fund and the goal is to go past that this year.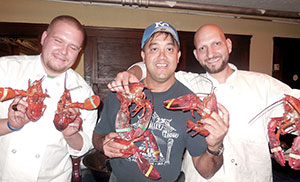 By Donald Norton
There was a Lobster Bake last Saturday at King Solomon's Masonic Lodge, 125 Highland Ave. Over 50 brethren and visitors attended and feasted on fresh lobster, seafood chowder and much more. It was great fun for all who attended. Pictured left to right is Bro. Christopher Pedersen, Wor. Phil Privitera and Bro. Bobby Potaris. Even though it rained, the turnout was excellent and Wor. Phil Privitera, a local attorney, was one of the guests. He is currently the Worshipful Master of Mystic Valley Lodge in Arlington and brought his family over to join in festivities. This coming Saturday at King Solomon's Lodge is Masonic Open House Day at 125 Highland Avenue (rear). The Lodge will be open for public tours and questions from 9 a.m. to 3 p.m. Everyone is welcome.