If you receive a call from someone stating that they are from the "IRS" or the "State of Massachusetts" and they say if you do not pay a certain amount of money TODAY they will send the police to arrest you, it is a SCAM. They will provide you with certain information regarding your address and or close family members' names. The suspects pay for this information on a website like 
ZABASEARCH.COM.
 It gives them this information to make them seem legitimate. They use various different numbers including the IRS's tty number. If you receive a call like this, simply hang up and inform your local police department.
You can call our non-emergency line at 617-625-1212 to report it.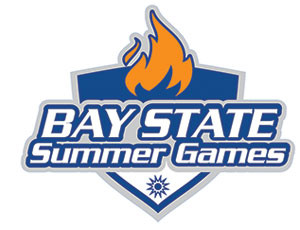 By Tom Bannister
Somerville resident Kaleigh Conte will be participating in the Bay State Games for the Metro girls hockey team this summer. Conte is entering her sophomore year as a defenseman at Phillips Exeter Academy. This is Conte's second summer skating with the Metro team.

Continue reading »
By Blake Maddux
In addition to having their own major success with the 1962 single Green Onions, one of the most recognizable instrumentals in popular music, Booker T. Jones and the band The MG's played on numerous recordings by some of the greatest soul and blues musicians of all time. As the house band for the Memphis-based record label Stax, The MG's (sometimes without Jones) are heard on songs by Wilson Pickett, Otis Redding, Carla and Rufus Thomas, Sam & Dave, Johnnie Taylor, and Albert King, for whom Jones co-wrote the classic blues number Born Under a Bad Sign.

Continue reading »
The Duhamel Education Initiative (DEI) presented seven grant awards to Somerville Public Schools educators at the June 22nd School Committee meeting, to support innovative programs in 2015-2016. DEI sponsors grants of up to $1,000 to support at-risk students.
Continue reading »
By Amy Swain 
The Open Air Circus is back. Beginning June 23, young performers from all over Massachusetts flocked to Somerville to start training for the many exciting events the circus brings to town: stilting, miming, juggling, and so much more.

Continue reading »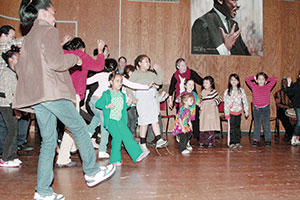 By Rebecca Danvers
Somerville-based Art of Black Dance & Music, Inc., (ABDM) turns 40 this year. De Ama Battle, Director and Master Artist, met several times with Deborah Mason, Director of the Deborah Mason School of Dance to introduce West African Dance styles in her summer dance intensive.

Continue reading »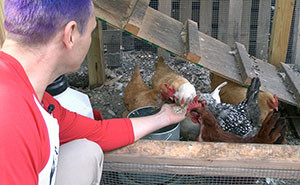 Coming up this week on Somerville Neighborhood News:
Schools out for summer. Youth job and arts programs around the city teach valuable lessons and benefit the city as well.

Continue reading »
By Patrick McDonagh
Somerville resident Paul MacDonald is the self-proclaimed dinosaur of Harvard Square retail business. MacDonald's ten dollar flip phone is left off, on the passenger seat of an 88 Ford Bronco while he is at work, logging business transactions and mailing checks by hand long after closing.

Continue reading »
— Photos by Claudia Ferro
East Somerville Community School's annual Moving On ceremony took place on June 24. Kindergartners held the hand of a 8th graders and walked them into the auditorium as a symbol of leading them onto the next part of their life, high School. Superintendent of Schools Tony Pierantozzi was in attendance, as was Ward 1 School Committee member Steve Roix.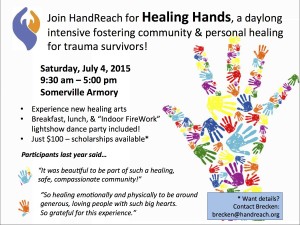 This July 4th, 2015, the Boston-based nonprofit, HandReach, is bringing trauma survivors of all walks of life together for a day and a night of hope and healing. The daytime event, Healing Hands, will offer those who've experienced all types of trauma –from combat service to domestic violence — a chance to try out healing modalities perhaps previously unheard of. Practitioners will offer everything from tai chi, to chair yoga, to animal therapy, to myofascial release, to aromatouch technique, to sound healing, to animal therapy, and much much more.
Continue reading »