Part 1:  The crisis beyond the horizon

*

By William C. Shelton
(The opinions and views expressed in the commentaries and letters to the Editor of The Somerville Times belong solely to the authors and do not reflect the views or opinions of The Somerville Times, its staff or publishers)
There will come a time in this Century when our political economy cannot provide what we think of as a "job" to half or more working-age people. By then, that system may no longer exist as we would recognize it.
Continue reading »

Do you want to coach soccer? Somerville Youth Soccer is a volunteer league that needs a few coaches from the community to step in. They need to find coaches for teams of 2nd and 8th graders. The season runs April 1 – June 17. Some teams have no coach, and others just need assistants. Contact Betty at: ebyouareherenow@gmail.com to express your interest.
~Photos by Claudia Ferro
The 2017 Massachusetts Region IV Science Fair, sponsored by Tufts University, the Rotary Club of Somerville, DistriGas, and the Somerville Public Schools, was  held in the Somerville High School Field House on Saturday, March 18. The six Massachusetts Regional Science Fairs serve as qualifying competitions for the Massachusetts State Science Fair to be held in May at MIT. Many Somerville High School students go on to compete at the Region IV fair annually.
Dear Supporters,
(The opinions and views expressed in the commentaries and letters to the Editor of The Somerville Times belong solely to the authors and do not reflect the views or opinions of The Somerville Times, its staff or publishers)
The Alex Foster Foundation and the extended Foster Family would like to thank you for helping make our first Rock 'n Hope fundraiser a huge success! Our humble thanks to so many friends who came out on a cold and snowy night to support our organization's mission to educate, raise awareness and support individuals and families affected by addiction.
Continue reading »
By Jim Clark
Police officers were dispatched to the Dunkin' Donuts on Alewife Brook Parkway last week on reports of a man who took tips out of the tip jar and left the store.
While en route, the officers were supplied with a description of the suspect and were advised that he was walking on Alewife Brook Parkway towards the Dilboy pool.
Continue reading »

By Joseph A. Curtatone
(The opinions and views expressed in the commentaries and letters to the Editor of The Somerville Times belong solely to the authors and do not reflect the views or opinions of The Somerville Times, its staff or publishers)
Taking a closer look at notable city data—and interesting numbers.
7: That figure represents the number of cases of elevated blood lead levels in Somerville children in 2013 (the most recent year for which we have state health data). While even one case is too many, the encouraging news is that the number is down from 43 cases in 2001. The decrease can be attributed to many policies aimed at reducing the interaction between children and lead, particularly by eliminating it from paint used in homes. However, approximately 90 percent of homes in Somerville were built before 1978 when the federal government banned consumer uses of lead-containing paint, and potentially hazardous lead paint is still present in some residences. It's crucial that we continue to prioritize reducing children's exposure to lead until the number of cases becomes zero. The City of Somerville's lead paint abatement program offers eligible homeowners, landlords, or tenants financial assistance with the removal of lead paint. For more information, contact Russell Koty at 617-625-6600 x2568 or rkoty@somervillema.gov.
Continue reading »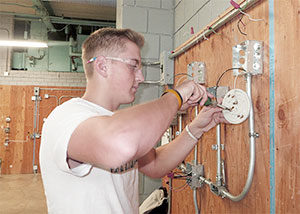 The annual Career & Technical Education (CTE) Fair takes place on Saturday, March 25, 9:00 a.m. to 12:00 p.m. at the Somerville High School Atrium, 81 Highland Ave. The event is free and open to the public. Stop by for a tour and to learn more about Somerville's outstanding technical/vocational education programs available to all Somerville High School students. Guests have an opportunity to learn directly from students and teachers about each program, and also have a chance to participate in a variety of hands-on activities at each program. The public is encouraged to stop by early for a leisurely guided tour. Visit the CTE website at www.somerville.k12.ma.us/cte for a glimpse of their existing CTE programs.
By Jim Clark
At the latest regular meeting of the City of Somerville Board of Aldermen, an order was put forward requesting that the City Solicitor advise Ward 6 Alderman Lance Davis on whether the city's noise ordinance can be enforced against waste companies that empty dumpsters overnight and in the early morning.
Continue reading »
By Hannes Remmert
On Saturday, March 18, Groundwork Somerville, a local nonprofit, hosted the annual Maple Syrup Boil Down Festival. This festival serves every year as the main event of Groundwork's Maple Syrup Project, an educational program covering Somerville's urban maple syrup production.
Continue reading »