Life in the Ville by Jimmy Del Ponte
(The opinions and views expressed in the commentaries of The Somerville Times belong solely to the authors of those commentaries and do not reflect the views or opinions of The Somerville Times, its staff or publishers)
This past Saturday, I had to retrieve one of my favorite scarves that I left at Burton's Grill in Burlington. I decided since I was right there, I'd do a little shopping at the Market Basket in the same complex. (Thanks Burton's for taking care of my scarf!)

Continue reading »
By Rebecca Danvers
The sixth of eight Commonwealth Conversations tours crossing the state comes to the area on March 4. Senators Pat Jehlen, Will Brownsberger, Sonia Chang-Díaz, Sal DiDomenico, Linda Dorcena Forry, and Anthony Petruccelli will tour schools, local businesses, redevelopment sites, Massport, and a union apprenticeship program.

Continue reading »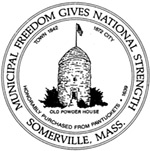 Mayor Joseph A. Curtatone, Ward 1 Alderman Matt McLaughlin, and the Office of Strategic Planning and Community Development (OSPCD) invite all interested community members to a community meeting to discuss upcoming renovations to the Otis Street Playground. The meeting will be held at the East Somerville Community School, 50 Cross St., on Tues., March 3 from 6:30 to 8 p.m. All are welcome to attend and share the ideas which will shape the design of the new playground. Playground renovations are expected to begin in July 2015.

By Joseph A. Curtatone
(The opinions and views expressed in the commentaries of The Somerville Times belong solely to the authors of those commentaries and do not reflect the views or opinions of The Somerville Times, its staff or publishers)
Not that it necessarily needs to be repeated, but our region is in the middle of extraordinary circumstances with more than seven feet of snow falling in less than four weeks. It's already the second snowiest winter on record for the region, and the record 30-day snowfall that fell over the past month would be the third snowiest season all on its own. So we're aware of the tremendous impact the weather is having on the region, and not just on MBTA service. That said, the problems on the MBTA are not the result of this winter's storms. The choreography of these consequences began long ago. We have chronically underfunded this transportation system for two generations. The MBTA's problems should be a wake-up call to all of us that our future prosperity, for the Commonwealth and every city and town, depends on the reliability of the T—and its expansion goals.

Continue reading »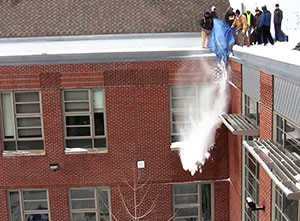 Learn how the snow is affecting the city's businesses, get the latest on the school roofs, check out the Somerville High School Drama Club and the Somerville Boxing Club, attend the police-youth basketball game and catch up with the Union Square meetings.
Continue reading »
By Jim Clark
Police officers were dispatched to the Target store on Somerville Ave. Saturday evening on reports of a shoplifter being held by loss prevention personnel.

Continue reading »
(The opinions and views expressed in the commentaries of The Somerville Times belong solely to the authors of those commentaries and do not reflect the views or opinions of The Somerville Times, its staff or publishers)
Somerville Development Watch has proposed two zoning amendments, both of which discourage infill development in residential neighborhoods. One amendment limits the gross floor area increase during condo conversions to 15% instead of 25%. The other amendment attaches conditions to the granting of a special permit, for example requiring that the proposed use be appropriate for the site, without adversely affecting the character or value of abutting properties, or causing undue traffic, nuisance or hazard. Demonstrably factual objections from abutting owners, and the availability of adequate and appropriate city services for the proposed use would also be taken into account. A public hearing on these amendments will be held on Thursday March 5, at 6pm, at City Hall, 93 Highland Avenue, 2nd floor, Aldermanic Chamber.

Continue reading »
By Rebecca Danvers

Middlesex District Attorney Marian Ryan and Middlesex Partnerships for Youth, Inc., are pleased to announce that Tristan Khim at Nashoba Valley Technical High School has been named the winner of the third annual 2015 Poster Project and Honorable Mention Awards will be given to Nick Rioux at Keefe Technical High School in Framingham, Chormrern Chan at Greater Lowell Technical High School in Tyngsborough, and Alexi Delcid at Somerville High School.

Continue reading »

By Philip Parsons
(The opinions and views expressed in the commentaries of The Somerville Times belong solely to the authors of those commentaries and do not reflect the views or opinions of The Somerville Times, its staff or publishers)
Income and wealth inequalities have become so stark that even Republican presidential candidates now feel obligated to take notice. But many Somervillians limit these concerns to rising housing costs.

Continue reading »
By Haley Houseman
The warmth and whimsy at the Bite: Food as Art exhibit belied the blizzard that delayed its opening. With good cheer, the opening reception and food drive at the Nave Gallery in Teele Square was well attended this weekend, despite more snow. Curated by Tori Costa and Sandy MacDonald, the exhibit features more than thirty artists and media that varies from consumable to traditional. Running Feb 21 through March 21, the gallery will also host a series of events in conjunction with the exhibit. On Sunday March 1, there will be a Coffee Mandala Making Workshop from 1:00 to 3:00 pm as well as an Artist Talk from 3:30 to 5:00 p.m.

Continue reading »