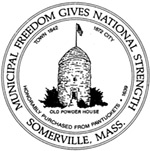 Action Plan to serve as comprehensive strategy for addressing climate change in Somerville
The City of Somerville is seeking proposals from qualified consultants to work closely with the Office of Sustainability and Environment to develop the city's Climate Change Action Plan, which will serve as the comprehensive strategy for addressing climate change in Somerville.
Continue reading »

By Joseph A. Curtatone
(The opinions and views expressed in the commentaries and letters to the Editor of The Somerville Times belong solely to the authors and do not reflect the views or opinions of The Somerville Times, its staff or publishers)
Taking a closer look at this month's notable city data – and interesting numbers.
2: That's the number of people allegedly behind 53% of Somerville package thefts in December. This December Somerville Police got reports of package thefts from 17 residences (down from 28 in December 2015), and arrested two people allegedly responsible from thefts from nine homes. Package thefts happen year round, and around 25% happen in December. If a package is stolen from your building, make sure you report it to the police.
Continue reading »
By Jessica Kenney
Many times throughout our daily lives, we are encountered with ads for donations to research various diseases, medications, or fundraisers for cures. But there are some sicknesses that are barely recognized. Gastroparesis is one of those illnesses.
Gastroparesis is defined as "a condition in which the spontaneous movement of the muscles- motility- in your stomach does not function normally." This means that the stomach is prevented from emptying properly. It can cause nausea and vomiting, and cause problems with nutrition and blood sugar levels. Five million people live with this disease, and although there are some treatments for it, there is no cure.
Continue reading »
By Jim Clark
While on patrol last Friday, a Somerville Police officer took note of a vehicle parked on Pearl St. with an individual who was known to to the officer, Manuel Sheehan.
Another man, also known to the officer, entered the vehicle and the two of them drove off westbound on Pearl St.
Continue reading »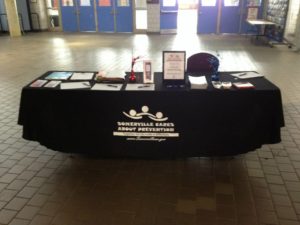 Join Somerville Prevention tonight to learn the results of the High School Student Health Survey.  Results from the annual survey are presented in a fun way with plenty of chances for audience participation.
Stop by the Highlander Cafe at Somerville High School, 81 Highland Ave., January 19 from 5:30 to 7:30 p.m. Be part of a fun and interactive experience learning about the results of the 2016 Student Health Survey taken by Somerville High School Students. Get to know the results first hand and be the first to give ideas on how to enhance the youth programming around prevention around the City of Somerville.
By Joe Ruvido
The Board of Aldermen Legislative Matters Committee will discuss the next iteration of cyclist and pedestrian safety for the city's non-automobile users: truck side-guards.
A proposed ordinance sponsored by Ward Six Alderman Lance Davis and Ward 5 Alderman Mark Niedergang would require the city to procure vehicles with the side-guards and crossover mirrors designed to prevent collisions.
Continue reading »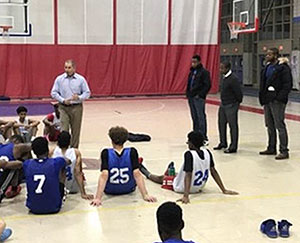 On Wednesday January 11, the Somerville Boys Basketball program got a surprise visit after practice from former SHS Head Coach Rich Melillo (SHS '72) and former players: Vladimir Benoit (SHS '02), Jocelyn Velney (SHS '02), and Ronelson Lovaincy (SHS '04). The alumni delivered a heartfelt and powerful message about community, life lessons, and achievement.
Continue reading »
By Jim Clark
At the last Regular Meeting of the Somerville Board of Aldermen last Thursday, a resolution was put forward by Ward 1 Alderman Matthew McLaughlin and the entire Board that the Administration advocate for sound barriers along I-93 in East Somerville to help reduce air pollution by up to 50 percent.
Continue reading »
By Manna Parker
Float is a unique business in Magoun Square that specializes in sensory deprivation tanks. Float claims their tanks can relieve anxiety, insomnia, and pain, as well as improve your creativity.
Floating is a rising fad in the alternative medicine world right now, but in fact, sensory deprivation tanks were developed by John C. Lilly in 1954. The tank itself is lightless, soundproof, and filled with salt water at body temperature. As Lilly said about isolation tanks, "For a businessperson, a scientist, a professional of any sort, this is a boon: to be able to think, free of physical fatigue of the body. The method allows one to become free within a few minutes."
Continue reading »
This Thursday, January 19, from 5:30 to 8:30 p.m., you are invited to attend SCATV's annual meeting and ASCATDEMY Awards event, beginning at 5:30 p.m. with the member meeting and followed by the Member Awards Ceremony at 6:30 p.m. The awards ceremony will be hosted by the ever-fabulous duo, Ken and Joe Lynch. The main order of business will be the election of four SCATV members to their board. These are three-year terms, with the opportunity for a subsequent term re-election. Submitted information from nominees will be shared on SCATV's website beginning January 4 in preparation for membership voting on the 19th. The remainder of the evening of January 19, is for recognizing and celebrating the achievements and accomplishments of the radio and television productions, SCATV and BFR producers and talent, and Community Media Supporters who all help make the Commonwealth's oldest cable access center the vibrant, beloved community asset that it continues to be today. This is a chance for media makers to reconnect with each other, acknowledge and support the work of one's peers, and to eat and have some fun. They are wishing all a safe and happy new year. They look forward to seeing you there.
Continue reading »