~Photos by Claudia Ferro
Artisan's Asylum, at 10 Tyler Street, opened its doors to the public last weekend as part of Somerville Open Studios. Twice a year, they open our doors to the public. Visitors checked out individual maker studios, watched plasma cut metal, picked up unique gifts at the maker market, and watched epic robot battles throughout the weekend.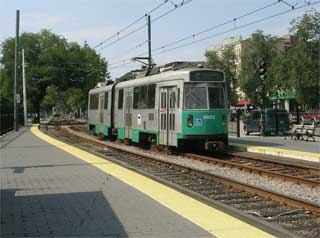 Somerville Mayor Joseph A. Curtatone and Cambridge City Manager Richard C. Rossi released the following statement today regarding the Green Line Extension:
Today the Cities of Somerville and Cambridge Massachusetts are pleased to make this important announcement of our continued support for and commitment of new funds to bridge the funding gap that will allow the construction of the Green Line Extension Project (GLX) to move forward.
Somerville Little League's Opening Day ceremonies were held on Saturday. Longstanding coach John Roderick summed it up best: "Today was the 65th Opening Day for Somerville Little League. The League honored several friends: Bob Schofield, for his years of coaching in Babe Ruth and SLL baseball; Sean Fitzgerald, who has served as a member of the League Board for the past five years and coached both Minors and Majors; and a special posthumous award to the family of Fred Caruso, who passed away in mid-March. Fred had been involved with Somerville Little League since 1960, including four terms as League President. In addition to that, he served for 25 years as the District 12 (Eastern Massachusetts) Administrator, our local representative to Williamsport."
By Jim Clark
Police officers were dispatched to the Rite Aid store on Somerville Ave. last week on reports of an alleged shoplifter engaging in theft of store property at that location.
The officers were informed that the suspect, later identified as Domingo Peters, of Cambridge, had walked his bicycle into the store with him. Upon arrival, the officers had no trouble locating Peters as he was the only one in the store who had a bicycle with him.

Continue reading »

'Villens United by Chris Haskell
(The opinions and views expressed in the commentaries and letters to the Editor of The Somerville Times belong solely to the authors and do not reflect the views or opinions of The Somerville Times, its staff or publishers)
Other neighborhoods in the 'Ville have hip brewpubs and speakeasy style bars that have become destinations for beer lovers and fun local hangouts, but Winter Hill has stubbornly clung to what's left of Old Somerville (or Slumerville). Pizza joints, sub shops, pharmacies and liquor stores are all scattered a top Winter Hill, but there is no cool neighborhood bar or hangout. Not much seemed to have changed since the Whitey Bulger era. Beer enthusiasts had very little reason to hike up the hill until Winter Hill Brewery opened its doors in early April.

Continue reading »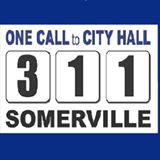 New version includes Waste Wizard to help solve trash, recycling questions
The City of Somerville is launching an improved 311 mobile app that puts a positive spin on leaving residents to their own devices. With just a few clicks, the new app now relays non-emergency complaints directly from residents to the responsible city departments, and also includes a "Waste Wizard" that provides key information on recycling and trash pickups.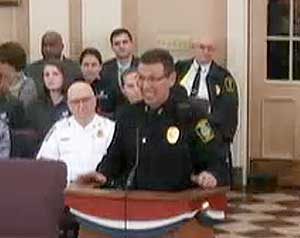 At the latest regular of the Board of Aldermen on April 28, Alderman at Large Jack Connolly, the Entire Board of Aldermen, and Mayor Curtatone commended Jerry Carvalho for 40 years of dedicated service to the Auxiliary Police Department, including the last 18 years as Chief.

Continue reading »
By Louise Carpenter
M.O.M.'s Run 2016 takes place on Mother's Day, this Sunday, May 8, with the Kids 0.1 Mile at 9:30 a.m.; Walkers 5K at 9:45 a.m.; and the Runners 5K at 10:00 a.m.

Continue reading »
By Sal Ghamo
On April 28 Somerville's Board of Aldermen discussed developments concerning the committee on public health and safety that last met on April 19.
For the bulk of the  April 19 meeting, Alderman at Large, John M. Connolly  made reference to the lack of street lamp contractor repairs.
By Jessica Kenney
On Thursday, April 28, classmates of Boston Marathon bomber Dzhokhar (Jahar) Tsarnaev aired a twelve-minute film as part of the Independent Film Festival Boston at the Somerville Theatre based on the realization that their friend had assisted in carrying out the horrible attacks on Boston. The film, simply titled Jahar was written by Henry Hayes and Zolan Kanno-Youngs, both of whom went to school with Tsarnaev at Cambridge Rindge and Latin.

Continue reading »