Arrests:
Danielle Dellamano, 32, of 204 Cedar St., Stoughton, September 22, 8:41 a.m., arrested at 622 Somerville Ave. on a charge of shoplifting by asportation.
Kevin Hogarty, 24, of 17 Court St., Boston, September 23, 8:55 a.m., arrested at 177 Middlesex Ave. on a charge of larceny under $250.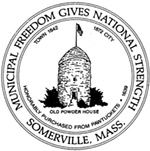 Work clearing the way for the future Union Square MBTA Green Line Station begins this month, with a goal of removing contaminated soil, demolishing existing buildings and restoring the property to a smooth finish by the start of winter. During this work, traffic will be impacted in the area.
For the Green Line project to remain on schedule, environmental remediation work must be completed this year. That begins on Monday, Sept. 29, with the removal and replacement of contaminated soils from the former Kiley Barrel Company property, an EPA designated Brownfield site which is the approximately 32,000-square foot area on the northwest corner of the site identified as the D-2 parcel in the Union Square Revitalization Plan (bound by the existing commuter rail tracks, Prospect St., Somerville Ave. and homes on Allen St.).

Continue reading »
By Blake Maddux
Paul Hansen and Adam Sankowski are two of the four Berklee-trained members of the Somerville-based quintet The Grownup Noise. The band released its eponymous debut in 2007, and the follow-up This Time with Feeling appeared in 2011.
Now the band has recorded its third album, The Problem with Living in the Moment, which they will celebrate the release of at The Armory on Saturday, October 4.

Continue reading »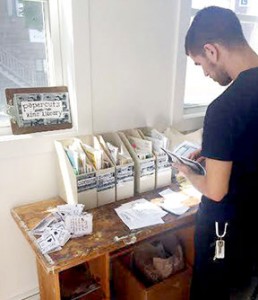 The 2014 Boston Zine Fest will be held on October 11 at Washington Street Art Center, 321 Washington Street, Somerville and on October 12 at Aeronaut Brewing Company, 14 Tyler Street, Somerville.
The Boston Zine Fest is an annual event dedicated to the celebration of zines and DIY (do-it-yourself) culture and aims to create a space where zine enthusiasts and creators can come together to share their creative work, exchange ideas, and promote self-publishing. For the uninitiated, zines (derived from "fanzine") are self-published works usually with a small circulation and often reproduced via photocopier.

Continue reading »

Life in the Ville by Jimmy Del Ponte
(The opinions and views expressed in the commentaries of The Somerville Times belong solely to the authors of those commentaries and do not reflect the views or opinions of The Somerville Times, its staff or publishers)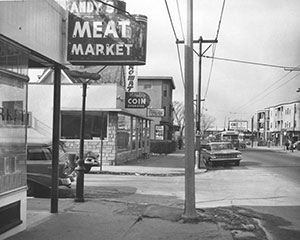 Can you tell where the photo on the right was taken? It looks a bit different now (The answer is at the end of this story).
As much as a lot of people frown upon Facebook as a waste of time and merely an Internet fad, I for one depend on it for a lot of my research. Although my mind is full of old memories, sometimes it needs a jumpstart. Recently I posed this question: If you could bring back ONE store from the old days of Somerville, what would it be? Facebook responded in a huge way (over 700 responses). Are you ready for yet another jaunt down memory lane? Well, grab your shopping bag and let's go! Might just as well say bring 'em all back. (Can you find a repeat?)

Continue reading »

The fall and winter schedule for the "Somerville by Design" neighborhood planning effort kicks off in Winter Hill on Monday, Sept. 29. Over the next four months, residents, business owners, community organizations and commercial property owners will have the opportunity to roll up their sleeves along with city officials to prepare a plan that guides public and private investment in the Winter Hill neighborhood, from Mystic Avenue to Medford Street, and from Foss Park to Magoun Square.
Continue reading »
Part 3: What would work

*

By William C. Shelton
(The opinions and views expressed in the commentaries of The Somerville Times belong solely to the authors of those commentaries and do not reflect the views or opinions of The Somerville Times, its staff or publishers)
All political factions acknowledge that our immigration system doesn't work. Yet this 113th Congress will be another one that does nothing to fix it, even though honest political leaders on both the left and the right agree on the essentials of a workable system.

Continue reading »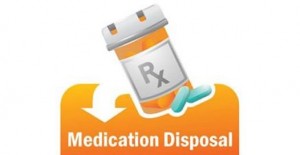 National Take Back Day: Prescription & OTC Medications Saturday, September 27 is National Take Back Day
Help  keep our youth safe by properly disposing of unused and unwanted medications. This Saturday is a National Take Back Day, and residents are encouraged to dispose of unwanted medications safely and properly. There is a permanent MedReturn Drug Collection Kiosk in the lobby of the Somerville Police Department, 220 Washington Street in Somerville. Disposal is free, anonymous and available 24/7. The following items can be deposited in the kiosk:Prescription and over-the-counter medications Pet medications Samples of medications Pills, capsules, inhalers, ointment and patches Vitamins Liquids in glass or leak-proof containers Remove any identifying information (like your name, address, etc. on the label) from the container OR place medication is a clear ziplock type of bag.
Former Acting Chief to head Public Safety at Endicott College

*
From the City of Somerville
Former Acting Chief of Police, Charlie Femino, announced last week his intended retirement from the Somerville Police Department, effective September 30, 2014. Femino has accepted the position as Chief of the Campus Safety Division at Endicott College, serving the Beverly, Gloucester, and Boston campuses. Femino had served as Acting Chief of Police in Somerville from December 2013 to September 2014 during a nationwide search for a permanent Police Chief.

Continue reading »
By Mariya Manzhos
The 9th annual "What the Fluff?" Festival will rock the streets of Union Square on Saturday, September 27. More than 10,000 visitors are expected to flood into the heart of Somerville to celebrate the neighborhood's community, history and culture by integrating Marshmallow Fluff into every aspect of the festivity. Somerville's quirkiest annual party pays tribute to the Irish immigrant Archibald Query, who in 1917 concocted the recipe for this scrumptious gooey spread in the basement of his Union Square home.

Continue reading »