The opinions and views expressed in the commentaries and letters to the Editor of The Somerville Times belong solely to the authors and do not reflect the views or opinions of The Somerville Times, its staff or publishers)
By Mayor Joseph A. Curtatone
Taking a closer look at notable city data—and interesting numbers. 
Highest summer Parks and Recreation program participation in 5 years: Summer recreation programs are important community assets that benefit our youth in a number of ways. They keep participant's minds and bodies active during those out-of-school months, allow them to explore new interests, give them the opportunity to socialize with friends, and can even build self-confidence.
Continue reading »

~Photos by Bobbie Toner
The 7th Annual Corn Toss Tournament, hosted by the Ryan Harrington Foundation, took place on Saturday, September 15 at Trum Field. All monies raised will go to youth organizations in the city.
For more information on Ryan Harrington Foundation, visit www.ryanharringtonfoundation.org
Wednesday, September 19, the Lion's Head at the Homans Building removed successfully in one piece.

On Friday, as part of the Green Line Extension project's commitment to historical preservation, a mold was made of the Lion's Head at the Homans Building. The Homans Building is scheduled to be demolished in the coming weeks.  The building is very close to the future Green Line tracks, and land is needed for an electrical substation and other GLX-related infrastructure.
Continue reading »
By Jim Clark
A Somerville police officer on patrol last week was contacted by a Saks OFF 5TH Loss Prevention Agent as he was driving through Assembly Row, and was informed that a male had just stolen multiple pairs of sunglasses from the store.
The officer was told that the suspect, later identified as Juan Molina, of Clinton, fled toward the Home Depot parking lot.
Continue reading »
Life in the Ville by Jimmy Del Ponte
In the song Anticipation, Carly Simon tells us that "these are the good old days." When you think about it, it's true. But the problem is that when you're actually going through "the good old days" you don't realize it.
We are reminded of those days through conversation, perhaps Facebook and photographs. Did you ever look at a photograph taken 10 years ago and say, "Wow, I thought my hair was thinning then!" Or "Gee, I wish I was that slim now!"
Continue reading »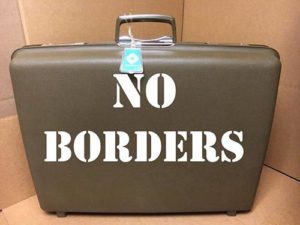 Suitcases Needed!
Please donate your old (HARDCASE preferred) suitcases for an activist art project with the wonderful Nora Valdez and the awesome folks at MIRA: Massachusetts Immigrant & Refugee Advocacy Coalition. At HONK! the public will be invited to stencil each case with messages about immigrant/refugee rights.
Continue reading »
By Jim Clark
A resolution was put forward and approved at the latest Board of Aldermen meeting aimed at "supporting the "Yes on 3 Coalition" and re-affirming the Board's commitment to equal protection under the laws for all people."
The full text of the resolution reads as follows:
Continue reading »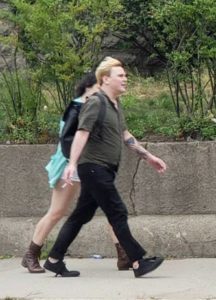 According to the Somerville Police Department, the two suspects wanted for the removal and defilement of American flags planted in the Veteran's Memorial Cemetery and the desecration of the Veteran's Monument have been identified.
The police department has reportedly sought felony charges against the male in Somerville District Court.
Continue reading »
Is anyone reflecting on the recent primary here in the city? Did you yet realize what we lost? The defeat of incumbent Mike Capuano just might come back to haunt us here in Somerville. Mike Capuano is on the Transportation Committee in the house. If the Democrats take over the House, he would have become chairman of that powerful committee. Think about how many people in Somerville over the years worked hard to get the Green Line Extension through. Everyone worked hard but it was Mike who worked the hardest to get the necessary federal funding to start and complete the project. Now, because of ideology and the rush to just vote older political figures out of office and replace them, Ayanna Pressley will become our new congresswomen and she will go to the bottom of the ladder when it comes to appointments to various committees. We don't think she will even be considered for such a juicy appointment as the Transportation Committee. Nope, that will go to the next guy or woman in line. I look out at the local political figures who endorsed her over our own congressman and I have to wonder, did they really want the Green Line? For that matter, did they consider how keeping Mike in office would ensure that those necessary funds will continue to flow for the Green Line Extension? We might not have always agreed with Mike Capuano, but you can't say he doesn't love Somerville, and if he was in the position next year we wouldn't have to worry about the funds possibly being pulled away. Think about 52,000 registered voters in the city. 17,000 voted that leaves 35,000 thousand that stayed home, not caring and leaving the choice up to a minority of voters. We are just thinking out loud how anyone who bothers to register to vote doesn't care enough to vote. Why? We realize that Mike lost throughout the district, but we will never know how those 35,000 registered voters would have voted, would we?
Continue reading »