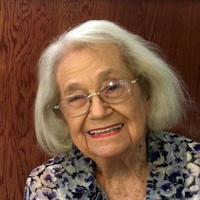 Mary R. (Analetto) Sillari,  97, of Somerville, passed away suddenly on December 14, 2018.
Beloved wife of 67 yrs. to the late Tony J. Sillari. Daughter of the late Archillo and Rose Analetto.
Loving mother of Anthony and his wife Kate of Topsfield, Charles and his wife Karen of Kingston, Rosemary Nolan of Somerville and her late husband William, Celeste Sillari of Lynnfield, Angela Arakelian and her husband Chuck, of Lynnfield and the late Salvatore Sillari. Also survived by Olivia Sillari of Concord and Sheila Sillari of Malden.
Continue reading »
By Angela Clary
Adult Family Care (AFC) is dedicated to helping people receive the best care at home, and I am excited to help spread the word about this great program.
My name is Angela Clary. As a licensed clinical social worker, who has studied and worked with older adults and their caregivers over the past five years, I have seen so many caregivers in need of support. AFC is a regional program at Somerville-Cambridge Elder Services (SCES) that helps fill that need.
Continue reading »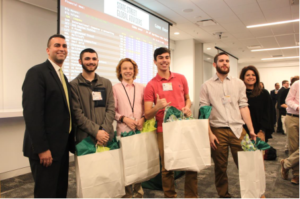 Somerville High School's Personal Finance class team of Chris DeSousa, Kyle Finigan, Calvin Wicks, and Dylan Zraket won this year's Junior Achievement Stock Market Challenge. The Challenge took place on Thursday, December 6, at the new headquarters for State Street Corporation in Boston. Two other SHS teams also competed in this year's event. Andrew DeAsevedo, Malik Dessin, AJ Feldman, and Maggie McDonagh made up the second SHS team, while the team of Samiyra Afife, Diane Pierre, Jenny Pierre, and Melinda Piltman also represented SHS. Both teams made good showings at the Challenge, coming in at 15th and 26th places, respectively.
Continue reading »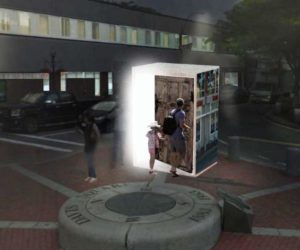 Spurred on by Mayor Joseph A. Curtatone's call for more art and light in the city, the Somerville Arts Council presents "nightLIGHTS," a series of light installations throughout the city.  This project is inspired by the long tradition of Somerville families that decorate and illuminate their homes for the holidays. In addition to three new large-scale murals that the Arts Council commissioned in the summer of 2018, this project further fulfills our mission of infusing public art into everyday life. The work will be completed by December 19 and will remain up through January.
Continue reading »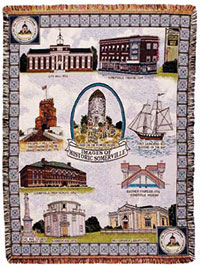 Just in time to complete your holiday shopping, the Somerville Historic Preservation Commission has "Preserving Somerville" merchandise available for sale. All merchandise can be viewed on the Commission's website at www.somervillema.gov/historicpreservation, and a list of available items is below.
Continue reading »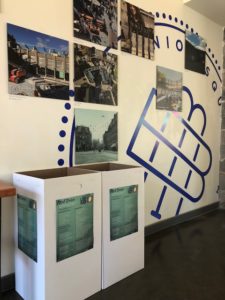 USQ, the revitalization of 15 acres in Union Square, is teaming up with the Somerville Homeless Coalition to hold a holiday food drive. They are collecting food and household items for the surrounding community, and those who are eager to help people in need this holiday season are dropping donations off to Workbar – Union Square or Bow Market, and USQ is matching all items donated!
"We are thrilled to be partnering with USQ on a holiday food drive this year. USQ is showing their deep investment in the Union Square community, not only by helping to organize the drive but also by matching all items donated. Many Somerville families struggle during this time of year and these donations will make a real difference." — Somerville Homeless Coalition.
The Middlesex District Attorney's Office has been awarded a $50,000 grant from the Insurance Fraud Bureau of Massachusetts, in coordination with the Commissioner of Insurance, to fund investigations and prosecutions of automobile insurance fraud, Middlesex District Attorney Marian Ryan announced.
Continue reading »

(The opinions and views expressed in the commentaries and letters to the Editor of The Somerville Times belong solely to the authors and do not reflect the views or opinions of The Somerville Times, its staff or publishers)
By Mayor Joseph A. Curtatone
They say if you don't have your health, you don't have anything, and I got a firsthand lesson in that two weeks ago when a bout of the shingles laid me low. It got into my eye and my ear, froze up the right side of my face, and put me in the hospital for the better part of a week. Now I'm wearing an eyepatch and doing occupational therapy to get my facial muscles back in working order.
Continue reading »
By Jim Clark
Police officers were dispatched to the Kmart on Middlesex Ave. last Thursday evening on reports of a shoplifter who was being uncooperative with store Loss Prevention personnel.
Upon arrival, the officers were approached in the parking lot by the suspect, Lesley Smith, of Boston.
Continue reading »