Somerville Media Center and Greater Somerville host Joe Lynch showcased the WGBH-TV, 2017 winners of the "Sing That Thing" competition. This is "Sound Off".
By Dre Joseph
When she was first sketched on a blank page, it was 1940, the dark days of the Second World War. A year later she made her first appearance in All Star Comics. Little boys liked her because she was strong – and half-naked. Little girls liked her because she was pretty.
Continue reading »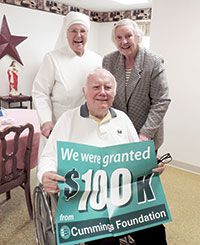 The Little Sisters of the Poor, Jeanne Jugan Residence on Highland Avenue were chosen among over 500 applicants to be one of 100 charities to receive a grant of $100,000 as part of this year's Cumming Foundation 100K for 100 programs.
The Sisters are thrilled about this generous gift, as it will help them in continuing their mission of serving the Elderly Poor of the Greater Boston area.
Continue reading »
Andrew: late 30s, shaved head and a goatee, is a London-born Ghanaian – tall, powerful looking, broad-shouldered, with an exuberant, gap toothed smile – who became a US citizen in 2010.
At Andrew's invitation, I am at his apartment for the Super Bowl, eating Haitian Creole goat from a Union Square restaurant, drinking red wine, and enjoying Andrew's enthusiasm whenever he jumps up from the couch to yell in exasperation or triumph. Opposite his large screen TV, two framed black and white photos, of scenes from Boston and New York City, hang on the wall over his leather sectional couch. Andrew has lived in Boston since 2007 and is a Patriots fan.
Continue reading »

By Katie Gradowski
(The opinions and views expressed in the commentaries and letters to the Editor of The Somerville Times belong solely to the authors and do not reflect the views or opinions of The Somerville Times, its staff or publishers)
Union Square zoning passed in a 12:05 a.m, 9-to-1 vote on June 9th. The vote ended a process that started nearly a year ago, including back-to-back midnight sessions over the previous two weeks as the BOA struggled to meet the covenant deadline. Now signed, US2 can begin the MEPA process and apply for a Coordinated Special Development Permit under the new zoning.
Continue reading »
By Jim Clark
Police officers responded to the Citizens Bank at 40 Union Square last Thursday on a report of a woman trying to use a stolen credit card.
Upon arrival, the officers approached the suspect, later identified as Jeddasia Warner, of New Bedford, standing at the bank teller window. She was pointed out to police by an employee of the bank.
Continue reading »