The Cambridge Symphony Orchestra, Cynthia Woods, Music Director, presents its annual family concert:
Family Concert: Carnival of the Animals
The Center for Arts at the Armory
191 Highland Avenue, Somerville, MA 02143
Sunday, January 22, 2017
TWO Performances: 2:00 pm and 4:00 pm
For families with children of all ages, a wonderful introduction to the varied musical sounds and styles of the orchestra. Camille Saint-Saens' Carnival of the Animals, led by the talented young pianists Jacob Kline and Nicholas Kniesche, creates musical depictions of many animals, from lions and elephants to kangaroos and swans.
Then savor the excitement of Dvořák's Carnival Overture, the spine-tingling delight of Grieg's In the Hall of the Mountain King, and our annual audience sing-along.
After the concert, children are invited to our instrument petting zoo, where they can greet orchestra musicians and try out string, woodwind, percussion and brass instruments for the first time!
Cambridge Trust Company has generously provided underwriting for youth tickets. Instruments for the petting zoo supplied by Rayburn Music.
Tickets are available now at http://www.cambridgsymphony.org. Prices are $15 (adult general seating) and $5 (children, students and seniors).
About the CSO:  Established in 1975, the Cambridge Symphony Orchestra is a nonprofit 501(c)(3) community music organization that presents classical music at reasonable prices for diverse audiences who value great music in an accessible environment. Our volunteer musicians hail from Cambridge, Somerville, and Greater Boston. As the community orchestra of Cambridge and Somerville, the CSO creates outstanding programming through the combined energy of dozens of dedicated and talented individuals who believe in the importance of classical music and expanding our community's access to it.
*************************************************
Red Cross and Dunkin' Donuts launch Dunkin' Donors Make a Difference campaign with emergency call for blood and platelet donations
Massachusetts State House hosts Red Cross blood drive
Those who come out to give blood will receive a $5 Dunkin' Donuts card*
For the 10th year, the American Red Cross and
Dunkin' Donuts
will partner in January through the Dunkin Donors Make a Difference campaign to help increase donations and reward generous donors. This campaign comes at a crucial time for the Red Cross, as it has issued an emergency call for blood donors to give now to help address a significant blood shortage and ensure area patients receive the transfusions they need.
Through the Dunkin' Donors Make a Difference campaign, all those who come to give blood or platelets in January at Red Cross blood drives in Connecticut, Maine, Massachusetts, New Hampshire, Vermont and parts of New York will receive a $5 Dunkin' Donuts card.
WHAT: The Red Cross and Dunkin' Donuts will launch the Dunkin' Donors Make a Difference campaign at the Massachusetts State House at 24 Beacon Street, Boston, to help raise awareness about the need for blood and platelet donations in January and during this time of emergency need.
All presenting donors will have a chance to win a pair of Patriots playoff tickets, memorabilia, and will receive a $5 Dunkin' Donuts card!  The card can be used toward the purchase of any item at participating Dunkin' Donuts – including coffee, hot chocolate and baked goods, among other items.
WHEN:           Friday, January 6, 2016, 10 a.m. to 3 p.m.
                      Media is encouraged to attend from 1:45 to 2:45 p.m. during city leadership and notable guest attendance
WHERE:         Massachusetts State House (Great Hall-2nd Floor), 24 Beacon St., Boston
WHO:              11-year-old child blood recipient and heart surgery survivor Jacqueline Rogers, city leadership, Patriots Cheerleaders, Pat the Patriot mascot, Country 102.5 Street Team, Dunkin' Donuts representatives, Red Cross representatives
How to donate blood
Simply download the
American Red Cross Blood Donor App
, visit
redcrossblood.org
or call 1-800-RED CROSS (1-800-733-2767) to make an appointment or for more information. All blood types are needed to ensure a reliable supply for patients. A blood donor card or driver's license or two other forms of identification are required at check-in. Individuals who are 17 years of age in most states (16 with parental consent where allowed by state law), weigh at least 110 pounds and are in generally good health may be eligible to donate blood. High school students and other donors 18 years of age and younger also have to meet certain height and weight requirements.
Blood donors can now save time at their next donation by using RapidPass to complete their pre-donation reading and health history questionnaire online, on the day of their donation, prior to arriving at the blood drive. To get started and learn more, visit
redcrossblood.org/RapidPass
and follow the instructions on the site.
About the American Red Cross
The American Red Cross shelters, feeds and provides emotional support to victims of disasters; supplies about 40 percent of the nation's blood; teaches skills that save lives; provides international humanitarian aid; and supports military members and their families. The Red Cross is a not-for-profit organization that depends on volunteers and the generosity of the American public to perform its mission. For more information, please visit
redcross.org
or
cruzrojaamericana.org
, or visit us on Twitter at
@RedCross
.
About Dunkin' Donuts
Founded in 1950, Dunkin' Donuts is America's favorite all-day, everyday stop for coffee and baked goods. Dunkin' Donuts is a market leader in the hot regular/decaf/flavored coffee, iced coffee, donut, bagel and muffin categories. Dunkin' Donuts has earned the No. 1 ranking for customer loyalty in the coffee category by Brand Keys for eight years running. The company has more than 11,000 restaurants in 33 countries worldwide. Based in Canton, Mass., Dunkin' Donuts is part of the Dunkin' Brands Group, Inc. (Nasdaq: DNKN) family of companies. For more information, visit 
www.DunkinDonuts.com
.
 *******************************
WGBH's High School Quiz Show "Super Sunday" Event Kicks Off Season 8 with 123 Mass. High Schools
 Mass. high school academic teams will vie for 16 spots in the televised tournament
 On Sunday, November 13, 123 high schools from across Massachusetts will compete for a chance to participate on the eighth season of High School Quiz Show™, the Emmy Award- and Parents' Choice Award-winning program produced and broadcast by WGBH and hosted by local radio and TV personality Billy Costa. During "Super Sunday," each academic team of four students will take a 50 question oral quiz based on the Massachusetts curriculum and current events.
At this year's "Super Sunday," held at WGBH Studios in Brighton, High School Quiz Show staff and volunteers welcome eight teams from schools participating in the event for the first time, and over 100 teams returning for another shot at the trophy, including defending Massachusetts state champion Lexington High School.
"Showcasing the academic excellence and unique personalities of our state's high school students is at the core of High School Quiz Show's mission," said Executive Producer Hillary Wells. "As we head into our eighth year, I am excited to welcome new faces from across the state to WGBH for this fun and challenging experience."
The top 16 teams will advance to compete in the televised, single-elimination, bracketed academic tournament that will determine a state champion. The season will culminate with a Governor's Cup Challenge, when WGBH's High School Quiz Show state champion team takes on New Hampshire Public Television's (NHPTV) Granite State Challenge winner for the fifth annual interstate quiz show face-off. The Governor's Cup currently resides in Massachusetts. New Hampshire and Massachusetts are tied for Governor's Cup victories, both having won twice before. This season's Governor's Cup Challenge will be hosted by WGBH at their Boston studios.
High School Quiz Show begins taping at WGBH in January in front of a studio audience. It will premiere Saturday, February 4 at 6pm on WGBH 2.
Sample questions from past Super Sunday events available upon request.
About High School Quiz Show
High School Quiz Show is endorsed by the Massachusetts Department of Elementary & Secondary Education and the Massachusetts PTA. Questions on the show are aligned with the Massachusetts high school curriculum standards in subjects that include literature, history, science and math, as well as current events and general knowledge. Major funding for High School Quiz Show is provided by Safety Insurance. Additional funding is provided by the Museum of Science, XFINITY from Comcast, Harvard Summer School Programs for High School Students, and Subaru of New England.
For more information, visit highschoolquizshow.org or follow the show on Facebook, Twitter and Instagram.
About WGBH
WGBH Boston is America's preeminent public broadcaster and the largest producer of PBS content for TV and the Web, including Masterpiece, Antiques Roadshow, Frontline, Nova, American Experience, Arthur, Curious George, and more than a dozen other primetime, lifestyle and children's series. WGBH's television channels include WGBH 2, WGBX 44, and the digital channels World and Create. WGBH TV productions focusing on the region's diverse community include Greater Boston, Basic Black and High School Quiz Show. WGBH Radio serves listeners across New England with 89.7 WGBH, Boston's Local NPR®; 99.5 WCRB Classical Radio Boston; and WCAI, the Cape and Islands NPR® Station. WGBH also is a major source of programs for public radio (among them, PRI's The World®), a leader in educational multimedia (including PBS LearningMedia™, providing the nation's educators with free, curriculum-based digital content), and a pioneer in technologies and services that make media accessible to deaf, hard of hearing, blind and visually impaired audiences. WGBH has been recognized with hundreds of honors: Emmys, Peabodys, duPont-Columbia Awards and Oscars. Find more information at wgbh.org.
 ********************************
The next meeting of the Somerville Garden Club will take place on Wednesday, November 9, 2016, 7-9pm.
Susanne Lucas, Executive Director of the World Bamboo Organization, horticulturist, designer, landscape gardener and consultant based in Plymouth, Massachusetts, will give a talk about 'Bamboo.'  She will cover recommended cold-hardy bamboo species, culture, expectations, and control of running rhizomes, particularly as appropriate for Somerville's small urban gardens.
All Somerville Garden Club meetings are free and open to the public. 7-9pm. Meetings are held the at the Tufts Administration Building, (TAB), 167 Holland Street, second floor, wheelchair accessible. Parking is available, and the building is a ten-minute walk from the Davis Square MBTA stop.
 *************************************
"KERPLUNK!" at The Rockwell
Somerville playhouse presents musical improv show for kids
WHAT:             This holiday season, Somerville's premier playhouse The Rockwell is welcoming families and children of all ages for the adventure of a lifetime. From the creators of Boston's Unscripted Musical Project, one of Somerville's hottest improvisation performance groups, "KERPLUNK!" is a kid-centric twice monthly improvisation musical series whose story and course is determined by its young audience. In this new production, children are encouraged to express their creativity by choosing the direction of the story – be it pirates in space, talking dogs, or trees that love to hug – and are rewarded as they see their imagination unfold while it is performed live by local actors and musicians. Lead by a puppet penguin named Pablito, no two adventures are ever the same and families will delight in this new shared experience exploring the fantastical.
WHERE:           The Rockwell
255 Elm Street
Somerville, MA 02144
WHEN:             Saturday, November 26, at 11:00am
Saturday, December 3, at 11:00am
Saturday, December 17, at 11:00am
COST:             Children two-and-under: Complimentary admission
Children 12-and-under: $5 per person (service fees not included)
                        Adults: $10 per person (service fees not included)
HOW:              Tickets available online and at the door, as available: https://www.eventbrite.com/e/kerplunk-tickets-28153035487.
MORE INFO:  This show is recommended for ages 3-12 and runs one hour with a five minute intermission.
CONNECT:     @RockwellThtr; @CatalystComedy; #KERPLUNK
ABOUT THE ROCKWELL:
In September of 2016, the Davis Square Theatre reemerged as The Rockwell, continuing its legacy of providing a home for the region's flourishing arts community in honor of its late owner, Somerville business leader and restaurateur Ken Kelly (The Independent, Foundry on Elm, Saloon, Brass Union, River Bar). The new incarnation of the playhouse includes the name dedication, an updated look, equipment upgrades and original programming curated by the theater. The Rockwell is located at 255 Elm Street in Somerville. For more information, please call (617) 684-5335 or visit www.therockwell.org. Follow The Rockwell on Facebook, Instagram and Twitter at @RockwellThtr.
 ************************************
 Metropolitan Mayor's Coalition Votes To Oppose Ballot Question #1

 Wynn Resorts is pleased that the Metropolitan Mayor's Coalition has voted to oppose ballot question #1. The mayors who voted to oppose ballot question #1 are:
MARTIN J. WALSH, Mayor of Boston
JOSEPH C. SULLIVAN, Mayor of Braintree
MEL KLECKNER, Town Administrator of Brookline
RICHARD C. ROSSI, City Manager of Cambridge
THOMAS AMBROSINO, City Manager of Chelsea
CARLO DeMARIA, JR., Mayor of Everett
GARY CHRISTENSON, Mayor of Malden
STEPHANIE MUCCINI BURKE, Mayor of Medford
ROBERT J. DOLAN, Mayor of Melrose, Vice-Chair
THOMAS P. KOCH, Mayor of Quincy
BRIAN ARRIGO, Mayor of Revere
JOSEPH A. CURTATONE, Mayor of Somerville, Chair
JAMES M. McKENNA, Town Manager of Winthrop
 WORDING OF THE MAYOR'S COALTITION STATEMENT AGAINST BALLOT QUESTION #1:
The Metropolitan Mayors Coalition voted to oppose Ballot Question 1, which would allow for the Massachusetts Gaming Commission to issue one additional category 2 license, which would permit the operation of a gaming establishment with no table games and no more than 1,250 slot machines. Ballot Question 1, which is being voted on statewide, is written so narrowly that the only property that currently fits the question's description is located in the vicinity of Suffolk downs in Revere.
The Expanded Gaming Act was passed after years of consideration and debate, and its outcome clearly stated that there would be up to three destination resort casinos and one slots facility throughout the Commonwealth. Ballot Question 1 is premature. Before changing the law to allow for additional gaming facilities, we should wait for all the casinos currently allowed under law to open. This will facilitate an informed analysis of whether the Massachusetts gaming market is saturated, or whether the addition of another gaming facility would bring additional revenue to the state. It would also allow for the residents of Massachusetts to assess the effects these facilities have on their host and surrounding communities.
Modifying laws to suit one interested party sets a bad precedent. This ballot question was filed by one developer who has a clear vested interest in its outcome. If the proponent of Question 1 is successful, other individuals may follow the developer's lead and attempt to do this in communities throughout the Commonwealth.
While Ballot Question 1 severely impacts Revere, it will also negatively impact our entire region. The members of this Coalition work tirelessly to address issues on a regional scale. We care about transportation, the environment, sustainability and good governance. This ballot question goes against our priorities.
The Metro Mayors Coalition, an organization of cities and towns in the urban core of metropolitan Boston, is a voluntary forum where members exchange information and create solutions to common problems. The municipal officials comprising this group represent over 1.4 million constituents in Boston, Braintree, Brookline, Cambridge, Chelsea, Everett, Malden, Medford.
***************************************
Mother-Infant Research Study  Cambridge Health Alliance    
The Cambridge Health Alliance is announcing an exciting new Mothers and Infants Research Study. Pregnant mothers and mothers with babies 0-6 months of age are now being recruited  to help study mother – infant interactions and brain development.
Study participants will have 2 visits at Cambridge Health Alliance Family Studies Lab in Somerville, as well as at our affiliated labs at McLean Hospital and Children's Hospital Boston, and your home.  Visits include videotaping  mother and infant at 2 visits, a hair sample from the mother, saliva samples from mother and infant, and MRI's for both mother and infant.
Participants should either be in their last trimester of pregnancy, or have a biological child from newborn to 6 months of age. Participants must not have metal in their bodies such as braces, permanent retainers or artificial joints. Mothers must speak English to their baby at least 50% of the time and must be age 18 or above to be eligible.
Participants can earn up to $540 for completing the study. Transportation costs can be covered by the study.
Interested moms or moms-to-be can call the study for more information at 617-806-8727, or email MIStudy@challiance.org. You will be contacted to receive an eligibility screening and to have any questions about the study answered.
*****************************
 Mystic River Watershed Association Announces New Executive Director
The Mystic River Watershed Association (MyRWA) is delighted to announce the appointment of Patrick Herron, current MyRWA Deputy Director, to the position of Executive Director. Herron will begin his new position at the Association on September 12, 2016.
"Patrick Herron has proven to the Board again and again over his over 7 years with MyRWA that he is thoughtful, resourceful, and a visionary," said John Reinhardt, President of the Board of Directors.  "While we will miss EkOngKar Singh Khalsa, we are excited to engage Patrick Herron for the Mystic River's next chapter as an invaluable urban resource."
Herron began work with the Mystic River Watershed Association in 2009 as Water Quality Monitoring Director where he managed one of the most successful volunteer-supported water quality monitoring and improvement programs in New England. In 2014 Herron was promoted to Deputy Director where he performed project management and grant writing to help the Association achieve its strategic goals. Herron initiated many of MyRWA's most innovative and effective projects, including the highly successful Water Chestnut Removal and River Herring Monitoring programs.
Prior to working for the Mystic River Watershed Association Herron earned a PhD in Plant Ecology and Evolutionary Ecology from the University of Connecticut and completed his Postdoctoral research at the Rowland Institute at Harvard University.
"After seven years spent developing and managing projects at MyRWA, I am very excited to lead this organization and speak on behalf of the interests of the thousands of members and stakeholders who care so deeply for Mystic parks, waters and environment," said Patrick Herron.
Outgoing Executive Director EkOngKar (EK) Singh Khalsa is stepping down in order to take on new challenges nearer his West Coast family.
The Mystic River Watershed Association was founded in 1972 and is an Arlington based 501(c)3 non-profit organization. Its mission is to protect and restore the Mystic River, its tributaries and watershed lands for the benefit of present and future generations and to celebrate the value, importance and great beauty of these natural resources.
 **********************************************************************
Skate Video Night 2.0 at The Indo
Union Square bar hosts night of boards and dogs
WHAT:             By popular demand, The Independent is back with another Skate Video Night in Union Square on August 3. With Transworld Skateboarding Magazine's classic video catalog playing on the pub's HDTVs, guests will be treated to throwbacks from 2000-2005 of the industry's top talents perfectly executing ollies, slides and Indy grabs along with some of the most epic scenes in skate history. Skaters and enthusiasts can opt for chef Patrick Gilmartin's kitchen special, a Hot Dog with cheese sauce ($2), while entering free raffles for the chance to win prizes from local favorite Orchard Skateshop (Boston).
WHERE:           The Independent
75 Union Square
Somerville, MA 02143
WHEN:            Wednesday, August 3, at 7:00pm
COST:             Complimentary admission. Hot dog special: $2 each.
CONNECT:     @TheIndo; #SkateVideoNight
ABOUT THE INDEPENDENT: 
The Independent, known to regulars as "The Indo," is a comfortable neighborhood restaurant and pub located in the heart of Union Square, Somerville. Restaurateur Ken Kelly opened The Indo in 2001 and it has become a beloved neighborhood mainstay. Diners come for gastropub-style food that is prepared daily from scratch, using fresh ingredients and the highest level of care. The bars are filled nightly with an eclectic mix of longtime Somerville residents and neighborhood newcomers. Guests enjoy a rotating selection of first-rate craft beer and a seasonally-influenced cocktail menu that features both standards and new trends. The Independent is located at 75 Union Square in Somerville. For more information, please call (617) 440-6022 or visit www.theindo.com. Follow The Independent on Facebook and Twitter at @TheIndo.
 *****************************************
Hood® Takes Over City Hall Plaza for National Ice Cream Sandwich Day S'mores Campout Event
This spring, Hood® Ice Cream announced the launch of its latest frozen novelty product: the Hood S'mores Ice Cream Sandwich. The newest addition to Hood's popular line of ice cream sandwiches, the treats represent the brand's cool twist on a campfire classic, one that's sure to delight consumers all summer long. To celebrate, Hood is excited to invite the local community to participate in an exciting, campout themed event on National Ice Cream Sandwich Day.
WHO: Hood, the number-one dairy brand in New England
WHAT: Hood S'mores Ice Cream Sandwiches: sweet marshmallow-flavored ice cream with chocolate chips between two graham cracker wafers. Hood Ice Cream Sandwiches were recently named the #1 brand of Ice Cream Sandwiches! *
This event is to celebrate the official public launch of the new flavor, and will feature great visuals like thousands of free S'mores Ice Cream Sandwich samples, a vintage 1983 Airstream trailer, faux campfires, camping tents, a variety of outdoor games and a guitar player to set the campfire mood.
WHERE: City Hall Plaza, 1 City Hall Square, Boston, MA 02108
WHEN: Tuesday, August 2, 2016 from 12:00 – 4:00 p.m.
WHY: Camping and summer go hand-in-hand, and Hood wanted to celebrate the season by creating Hood's fresh take on a favorite campfire treat: the s'more. What better way to celebrate the launch than bringing the local community together for a camping experience – with free S'mores Ice Cream Sandwiches included –  right in the heart of the city?
SOCIAL: Planning on attending the event? Share your experience on Facebook, Twitter and Instagram using the #HoodSmoresCampout hashtag!
About Hood
Founded in 1846, today Hood is one of the largest branded dairy operators in the United States.  Hood is the number-one dairy brand in New England, and Hood's portfolio of national and super-regional brands and franchise products includes Hood, Crowley Foods, Simply Smart Milk, Heluva Good!, LACTAID®, BAILEYS® Coffee Creamers, HERSHEY'S Milk and Milkshakes and Blue Diamond Almond Breeze®. For more information, visit Hood.com, or visit the brand on Facebook and Twitter.
**********************************
ONCE Somerville launches dedicated web site in partnership with Ticketfly
ONCE Somerville, the two space event hall at 156 Highland Ave, Somerville, operated by locavore caterers Cuisine en Locale, has launched a dedicated web site at www.oncesomerville.com.
The website, which is built and designed by national ticketing agent, Ticketfly, makes discovering upcoming events at ONCE as simple as scrolling down.
Links provided direct visitors to detailed information about shows, and the venue, as well as linking to the parent company, Cuisine en Locale.
Please visit our new site and take a stroll through the fantastic events coming soon to our little spot at the top of Spring Hill.
 __________________________
Sullivan Tire Grand Opening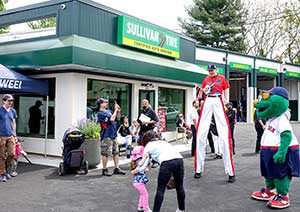 Sullivan Tire and Auto Service opened its newest location in the heart of Somerville at 263 Beacon Street on Saturday, May 21, 2016. The celebration featured a baseball-themed afternoon from complete with food, music, celebrity appearances and Red Sox ticket giveaways.
The highlight of the day was an appearance by WEEI's Mike Adams, host of 93.7FM Sports Radio, Somerville's own Big League Brian and Wally the Green Monster, the official mascot of the Boston Red Sox. At 12:30 p.m., Mike Adams gave away two pairs of tickets to the Red Sox game that afternoon against the Cleveland Indians at Fenway Park.
*****************************************
Rep. Tim Toomey Kicks Off Re-Election Campaign
State Representative Tim Toomey announced today that he has officially qualified for the Democratic Primary ballot on Thursday, September 8th for re-election to the 26th Middlesex District seat representing parts of Somerville & Cambridge. Toomey submitted nearly three times the required 150 certified signatures.
Rep. Toomey is hosting a Campaign Kick Off meeting at Atwood's Tavern, 877 Cambridge St, Cambridge on Thursday, May 19th at 7 pm and has invited everyone interested in helping in the campaign to attend. Refreshments will be served.
"I'm grateful to all of the Somerville and Cambridge residents who have again placed their faith in me to serve as their State Representative," said Toomey. "I'm very excited to be running this year and plan to continue to lead the way in our community for better public transit options, sustainable development, fair wages and equal pay for working families, and expanded affordable housing options."
"I look forward to continuing my work at the State House because our neighborhoods deserve a progressive State Representative who also provides outstanding constituent services to the residents of Somerville and Cambridge," said Toomey, a lifelong resident of the district.
During his time in office, Rep. Toomey has become a well-known progressive advocate and has consistently been a voice for progressive causes at the State House. In the past year, Toomey has been an outspoken leader for single payer health care, promoting solar energy and other renewable energy sources, instituting smart criminal justice reforms, and providing rental assistance programs to help struggling low income families and people with disabilities find long-term housing solutions. He has also worked to strengthen protections for survivors of domestic violence and rape, and has been a leading voice behind efforts to expand access to drug treatment and rein in the opioid crisis.
"A lot of important work is still ahead of us," said Toomey. "I will continue to fight for passing the Fair Share Tax Amendment, making insurance coverage mandatory for a wider variety of contraceptives, passing the Equal Pay Act, adding protections for gender identity in public accommodations and increasing funding for low income and affordable housing."
For more information about Representative Toomey's re-election campaign, residents are encouraged to visit www.timtoomey.org or contact Tim's Campaign Manager, Jefferson Smith, at (978) 376-2143.
*******************************
Assembly Row Unveils 2016 Event Schedule, Celebrating Fashion, Food, Fitness and Entertainment – all along the Waterfront
With dozens of free events, the area's newest neighborhood will be one of its most exciting destinations for events, shopping, dining and outdoor activities
Assembly Row, the newest shopping, dining and entertainment destination in Greater Boston, today announced a 2016 schedule that features dozens of events that are free and open to the public and take advantage of its waterfront location along the Mystic River. With a focus on fashion and food, family and fitness, the lineup offers a wealth of entertainment options that continue to establish Assembly Row as a destination for everyone.
Some of the highlights include the ninth annual Riverfest, Live Music Thursdays in partnership with the Berklee College of Music, inaugural High Heel Dash and Light Up the Row, Assembly Row's unique holiday kickoff. Those will be joined by popular returning events including FallFEST, Race to the Row, Fashion's Night OUTlet, Assembly Row Bar Stars, Tots@10 and weekly fitness classes.
All of it is located against the backdrop of the Mystic River, seven minutes from downtown Boston and easily accessible via all modes of transportation, including the Assembly stop on the Orange Line.
"Our location, space and amenities create such a vibrant backdrop for outdoor events, and our 2016 schedule delivers opportunities for people to enjoy Assembly Row in so many ways," said Matt Ehrie, General Manager of Assembly Row. "As a growing neighborhood, we think it's important to establish and conduct the types of events that support the community, involve the community and engage with the people of our community."
A complete list of events is available at http://www.assemblyrow.com/play, and highlights include (in chronological order):
Spring Into Fashion: Get your wardrobe spring ready on April 23 at Assembly Row. Retailers will feature exclusive offers, fashion tips and live models.
Tots@10: This monthly series for toddlers offers interactive experiences to get them moving, thinking and creating, and include magic shows, concerts, dance parties and yoga – among others. The programs take place on the fourth Wednesday of each month at different locations around The Row. The schedule can be viewed at: http://www.assemblyrow.com/play/tots-10.
Assembly Grows: Through a partnership with Green City growers, monthly sessions will show how to plant, maintain and harvest produce in the Assembly Row Neighborhood Garden. River Bar and American Fresh Brewhouse each will serve dishes featuring produce grown in the gardens. Sessions begin May 1.
Live Music Thursdays: Assembly Row is partnering with Berklee College of Music for its summer music series. Running from June through September from 6 p.m. to 8 p.m. in the Baxter Park amphitheater, Assembly visitors will get a taste of jazz, rock, samba, bluegrass and much more.
Yoga in the Park: Start summer weekends right with free yoga overlooking the Mystic River. Yoga in the Park takes place every Saturday at 9 a.m. from May through September in DCR's Baxter Park. Advance registration is required for this event and will be available online each week.
High Heel Dash: How fast can shoppers navigate Assembly Row in a pair of heels? Find out Wednesday, June 8 during Assembly Row's inaugural High Heel Dash, which will be conducted in partnership with Smiling Stiletto and with proceeds benefitting Project Smile.
Summer Solstice Yoga: A special edition of Assembly's summer yoga series will take place at sunset on the longest day of the year, June 20.
Family Fun Day Series: New this year, each third Sunday June through September will feature free activities for the whole family.
Dancing by the Mystic: Assembly Row will transform into a dance party on the third Friday of each month from June through August. Free dance lessons covering the Swing, Salsa and Hustle will precede an evening of dancing and live entertainment.
Assembly Row Bar Stars: Assembly Row again will crown the best bartenders and best drinks along the Row. Scheduled for Thursday, July 14 on the parking garage roof deck, Burger Drive will be seeking to win the Bar Stars competition for a third straight year as guests enjoy food and beverage samples, entertainment and music.
Free Family Flicks: Once again, Assembly Row guests will have a chance to enjoy free family movies on Saturday nights in July and August in DCR's Baxter Park, courtesy of DCR. The schedule will be available on Assembly Row's website and Facebook page in early summer.
Fashion's Night OUTlet: Back-to-school meets fashion on Saturday, Aug. 13 in an event that will feature exclusive fall fashion tips and looks from our 30+ outlet stores.
Race to the Row: The fourth annual 5k race and walk by the Somerville Road Runners takes place Sunday, Aug. 28. Registration is now open at www.srr.org/RaceToTheRow and all the proceeds will benefit East Somerville Main Streets and the Somerville Track PAC.
Riverfest: Assembly Row's signature event takes place Saturday, Sept. 10. In partnership with The City of Somerville and DCR, the ninth annual event will feature a full day of live, local music; free children's activities; sidewalk sales; and fireworks over the Mystic River at sundown.
FallFEST: Assembly Row's annual Halloween festival takes place Sunday, Oct. 30 and will feature photo opportunities, children's activities and trick-or-treating.
 ******************************
Treasurer Deborah Goldberg Announces Latest Release Of Unclaimed Property Listings
Over 54,000 New Properties are Owed to Individuals and Businesses
Massachusetts State Treasurer Deb Goldberg today announced the latest grouping of names that have been added to the states list of unclaimed property owners. Over 54,000 new properties worth millions of dollars are owed to individuals and businesses throughout the Commonwealth.
"Give us a call," said Treasurer Deb Goldberg. "We currently hold over $2 billion in unclaimed property at Treasury and it could be yours. One in ten Massachusetts residents are owed money."
Unclaimed property includes forgotten savings and checking accounts, un-cashed checks, insurance policy proceeds, stocks, dividends, and the contents of unattended safe deposit boxes. Most accounts are considered abandoned and are turned over to the state after three years of inactivity. Last year Treasury returned over $114 million in property to its rightful owners, making the Commonwealth the state to return the most money on a per-capita basis.
This newly released list includes only individuals and businesses with unclaimed property over $100. Treasurer Goldberg urged all citizens to check the comprehensive list for all amounts at www.findmassmoney.com or to call our live call center at 888-344-MASS (6277).
The full list of the new individuals and businesses added to the unclaimed property list will be published in the Boston Globe on Sunday, March 6 and in the Boston Herald on Sunday, March 13. In addition to these two papers the list of names will be published in over 30 regional and local papers.
The Treasury releases an updated list of unclaimed property assets every six months as the new accounts are turned over to the Commonwealth. There is no time limit for a person to claim this property and, in many cases, claimants will receive interest.
 ____________________________________
Letter Carrier Assault – Seeking Help
On Tuesday, March 1, 2016 at approximately 3:15 PM a Letter Carrier employed by the United States Postal Service was physically assaulted while delivering mail in the 02125 ZIP code section of Dorchester, MA.  The assault took place at the intersection of Windermere Road and 97 Cushing Avenue, across from St. Mary's Center for Women and Children.
The suspects were described as four Hispanic males, approximately 17-19 years old accompanied by one Hispanic female, also 17-19 years old.
The U.S. Postal Inspection Service is seeking the public's assistance in identifying these individuals who assaulted the Letter Carrier.  Assault of a postal employee is a federal offense that can carry with it a sentence of up to 20 years in prison.
TAKE NO ACTION TO APPREHEND THESE INDIVIDUALS YOURSELF
If you have any information about this incident please contact:
The U.S. Postal Inspection Service
(877) 876-2455 (press 2)
or
The Boston Police Department- District C-11
(617) 343-4335
 All information will be kept confidential.
********************
Celebrate the 22nd Anniversary of the Somerville Garden Club!  Bring an appetizer, veggie, pasta, entree, or dessert to share. There will also be a digital photo presentation of images of the annual SGC plant sale. Please bring your prepared food dish at 6:45 pm and not before, as the room set-up crew needs time to get the room ready.
This meeting will be held on Wednesday, Jan. 13, 7-9 pm at the Tufts Administration Building, 167 Holland Street, Somerville. Meetings are on the second floor, wheelchair accessible. Parking is available on site and the building is a short walk from the Davis Square T station, and is on the #87 bus route. All Somerville Garden Club meetings are free and the public is invited to attend. For additional information please visit www.somervillegardenclub.org.
CALENDAR
Wednesday, January 13, 2016
Annual Potluck Dinner, Somerville Garden Club, 7-9 PM, Tufts Administration Building, 167 Holland Street, second floor, wheelchair accessible. Celebrate the 22nd Anniversary of the Somerville Garden Club!  Bring an appetizer, veggie, pasta, entree, or dessert to share. Please bring your prepared food dish no earlier than 6:45 pm, as the room set-up crew needs time to get the room ready.
 ********************
Muse Paintbar is now open at Assembly Row 
Muse Paintbar is now open at Assembly Row in Somerville (461 Artisan Way). The new location, spanning 2,500 square feet, marks great growth for the locally-grown brand; it will open an additional Muse Paintbar at MarketStreet Lynnfield next Wednesday January 13, 2016. With these two new locations, each spanning 2,500 square feet, Muse Paintbar has a portfolio of four different Massachusetts locations and a total of 14 locations on the East Coast, spanning from Maine to New York. www.musepaintbar.com
Muse Paintbar's popularity can be attributed to its lovable and novel experience: the ability for beginner and advanced painters alike to tap into their creativity in a relaxed social setting. Guests create a painting with detailed guidance and encouragement from a local artist; as they paint, they can enjoy beer and wine as well as small bites. Muse Paintbar also offers special events such as Couples' Nights and Family Days, and private parties for events ranging from bachelorettes, girls' nights out, children's birthdays, and corporate team building sessions. Muse is managed by president and co-founder, Stan Finch, a graduate of Harvard Business School and Vanessa Leigh, co-founder and lead artist.
"We are experiencing an exciting growth year. Opening at Assembly Row signifies a smart and thoughtful expansion to an area just north of Boston that will appreciate Muse's unique combination of entertainment and art," says Co-Founder Stan Finch.
Muse Paintbar's location at Assembly Row was a natural fit – the development was named one of Boston Globe Magazine's 2015 "Game Changers," and Boston Business Journal deemed it among the "transformative projects shaping Greater Boston." Muse Paintbar will add to phenomenal entertainment offerings and will join a total of over 30 national branded retail outlets and 15 eateries. Located just three miles north of Boston and accessible by the Assembly Row T stop on the Orange Line, Muse Paintbar will nicely fit into the Somerville's artistic culture while also being located just minutes from the city.
"Muse allows local artists to share our passion and create art in a fun, relaxed atmosphere," said Vanessa Leigh, co-founder and lead artist of Muse Paintbar. "Art can be intimidating, but we break down barriers by providing simple directions that allow people to gain confidence. By the end of the session, they've had fun and can take home an original work of art."
An average session at Muse Paintbar costs $35; the cost includes paint, canvas and apron. Prices may vary on weekends as well as for special sessions and private parties.  To participate, guests simply visit musepaintbar.com, choose their location, scroll through the online calendar to view each evening's one or two different paintings, and sign up online. An a la carte menuis offered of wine, beer and snacks. Through active fundraising efforts, Muse Paintbar donates more than five percent of annual profits to local charities.
Muse Paintbar Assembly Row is located at 461 Artisan Way in Somerville. Additional locations in Massachusetts include the soon-to-open MarketStreet Lynnfield (1130 Market Street), Foxboro (217 Patriot Place), and Hingham (15 Shipyard Drive). For more information, visit www.musepaintbar.com.
For more information, please visit www.musepaintbar.com and follow it on Facebook.
 ********************
CareWell Urgent Care to Open New Location in Somerville
Growing New England urgent care chain continues expansion with 15th location
 CareWell Urgent Care today announced plans to open a new urgent care center in Somerville, MA, located at 349 Broadway, on December 23. This marks CareWell's 15th location to open since 2012. The expansion is part of the company's commitment to better serve the growing need for convenient and accessible healthcare in New England. In addition to this continued commitment to improving community health, CareWell will be offering free flu vaccinations at the new Somerville location from December 23 until January 31.
"With the need for neighborhood healthcare, especially on weekends and evenings, continuing to grow, we are excited to announce the opening of our Somerville location," said CEO Shaun Ginter. "The addition of a 15th location marks a huge milestone in CareWell's continued effort to bring the highest quality healthcare services to local communities both affordably and efficiently."
With locations serving Massachusetts and Rhode Island, CareWell offers medical care from Board-certified doctors, with no referral or appointment necessary. Patients can visit CareWell centers for all non-life-threatening, but still urgent, illnesses or injuries, including colds, flu, infections, fractures, cuts, rashes and allergic reactions. Centers also offer preventative care such as flu shots, vaccinations and routine physical exams with on-site x-ray and lab capabilities. Additionally, CareWell provides employers with comprehensive occupational medicine services that help businesses reduce the cost of healthcare while maintaining a healthy workforce.
Carewell Urgent Care centers accept most major insurance plans including Medicare and Medicaid with co-pay and visit fees comparable to a visit with a primary care physician. In addition, CareWell offers affordable self-pay rates for those who do not have insurance. All CareWell locations are open from 8 am to 8 pm, seven days a week. Additional information can be found at www.carewellurgentcare.com.
 ********************
Jeff Grantz and Somerville's Jane Long, two of those behind the Illuminus festival last year in SoWa and the one at Fenway during the recent HUBWeek, are taking their talents to Assembly Row for the holiday season. Through the company Materials & Methods, they are creating an installation that surrounds and lights up the destination's iconic feature, its three, huge metal trusses. They're constructing the installation entirely from reclaimed materials (think wood, iron, metal, old sleds, etc.), befitting the Somerville vibe, the Assembly history and the trusses themselves (which were reclaimed from the old Assembly plant). And they're connecting it with a winter village that runs across the plaza in front of the trusses.
The installation is currently being constructed and will be unveiled as part of an event on Saturday, Nov. 28, when Mayor Curtatone and others ceremoniously flip the switch. It will be on display throughout the holiday season.Last year, Illuminus transformed urban surfaces in SoWa into a canvas for performances and light and sound installations. Earlier this year at Fenway, Illuminus featured 30 installations, which took place inside venues like House of Blues and Bleacher Bar, as well as outside on Landsdowne Street.
 ********************
Chamber dinner and awards
Alicia Barton will deliver the keynote address at the Somerville Chamber of Commerce 69th Annual Dinner &Powderhouse Awards on November 5. Alicia is the Chief of Operations for the Global Utility group at SunEdison, the largest renewable energy development company in the world.   She is the former CEO and Executive Director of the Massachusetts Clean Energy Center – one of the nation's leading clean energy agencies, responsible for helping spur record growth in Massachusetts' clean energy sector, which is now a $10 Billion industry with nearly 100,000 workers.
Barbara Rubel, Tufts University's Director of the Office of Community Relations, will receive the Chamber's John W. Fitzgerald Lifetime Achievement Award.   Barbara has represented Tufts to Somerville for more than forty years.  She has served on the boards of many Somerville youth, senior, and cultural organizations.
Joining Rubel as 2015 Powderhouse Award recipients will be: Alicia Barton, Distinguished Service (Community);  Paula Vancini, Vancini Accounting,  Distinguished Service (Chamber);  Center of the Arts at the Armory, Non-Profit of the Year; Loci Controls, Green Business of the Year;  Aeronaut Brewing Company, Business Neighbor of the Year;  La Brasa, Excellence in Dining & Nightlife; Office of Strategic Planning & Community Development, Excellence in Public Service;  Voxcel8, Small Business of the Year; and Partners HealthCare, Excellence in Economic Development.
*****************************************
RESPONDing to Domestic Violence Gala Celebration Honors Former Client, Now Case Manager
Annual Fundraising Event Raises 10% Over Goal
RESPOND Inc., New England's first domestic violence agency and the second oldest in the nation, proudly presented the Rita Bourgeois Leadership Award to former client Gina Perez for her courage, commitment and leadership throughout her journey to a safe, independent, abuse-free life at the annual RESPONDing to Domestic Violence Gala. Perez was recognized for her kind-heartedness and resilience and her refusal to allow misery and abuse to claim her life. RESPOND proudly recognized Perez's transition from victim to leader at the event, which raised $110,000 for the organization.
The fundraiser, held on October 23 at the Hotel Marlowe, raised necessary funds to support Somerville-based RESPOND's core services for survivors of domestic violence. In fact, the organization raised 110% of its fundraising goal thanks to the generosity of guests and sponsors like Presenting Sponsor Pegasystems, Inc. RESPOND's services include emergency shelter for adults and children, a 24-hour crisis hotline, individual counseling, legal support in local courts, children's services, community education and domestic violence support groups.
The ballroom was a sea of new and old RESPOND supporters. Guests included leaders in the corporate, government, healthcare and nonprofit sectors, along with donors, community supporters and early pioneering staff members. The enthusiastic crowd shot their hands up for generous bids on live auction items that included Patriots tickets, a VIP Ellen DeGeneres Show experience and a photo safari to South Africa.
Founded in 1974, RESPOND has a 41-year history of providing life-saving services to survivors of domestic violence and their children, serving over 120,000 individuals in need. Services are free and confidential. If you or someone you know is in an abusive situation, please call RESPOND's 24-hour hotline at 617-623-5900. For more information on programs, volunteer opportunities or to make a donation please call 617-625-5996 or visit www.respondinc.org.
About RESPOND, Inc.
RESPOND, Inc., New England's first domestic violence agency and the second oldest in the nation reaches thousands of survivors of domestic violence each year through free, confidential community and shelter-based services. RESPOND is based in Somerville and serves communities throughout Greater Boston and beyond with special emphasis on Everett, Malden, Medford, Melrose, North Reading, Reading, Somerville, Cambridge, Stoneham, Wakefield, Winchester and Woburn. Programs and services include an emergency shelter, 24-hour crisis hotline, individual and group counseling, legal advocacy, community outreach and educational programs. Services are available in multiple languages. For assistance, please call RESPOND's 24-hour hotline at 617-623-5900. For information on volunteering or to make a donation please call 617-625-5996 or visit www.respondinc.org
 ********************
Fourth-generation family business continues to expand operations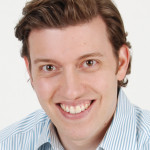 Grossman Marketing Group, a 105-year-old, fourth-generation, print and promotional products company headquartered in Somerville, MA, has acquired Fleet Business Products of East Hartford, CT, expanding its full-service marketing operations and client base.
Grossman Marketing Group, founded in 1910, now has major operations in Massachusetts, Connecticut, Rhode Island, New York and Washington, D.C.
The new acquisition comes just two years after Grossman Marketing Group, headquartered in Somerville, MA, acquired ASAP, a Norwalk, CT promotional products firm.
Grossman Marketing Group's clients include athenahealth, Biogen Idec, Boston Bruins, Boston Celtics, Brigham & Women's Hospital, Columbia University, Harvard University, Hewlett-Packard, International Academy of Arts and Sciences (Emmy Awards), J. P. Morgan, L.L. Bean, Massachusetts General Hospital, New York Life, Partners healthcare, Repligen, Tufts University and zipcar.
John Fleet, founder of Fleet Business Products, said he is delighted that his company, founded in 1987, has found "a wonderful new home" for its customers and employees.
"As a fourth-generation, family-run business, Grossman Marketing Group has an enviable roster of top-name clients and a well-established history of performance and success," said Fleet. "I am glad to be a part of that tradition and I am proud to join them, along with all of the members of my team. I look forward to working with my team to provide our customers with the same high level of quality and service to which they have become accustomed over the last three decades."
Ben Grossman, Co-President of Grossman Marketing Group, said Fleet Business Products will become a division of Grossman Marketing Group and will move its operations from East Hartford to Grossman's Hartford offices. Grossman Marketing will also acquire Fleet's Vermont operations.
"We are excited to partner with Fleet Business Products," said Ben Grossman. "John Fleet and his team have built a wonderful business, as evidenced by their longstanding client and employee relationships."
Added Grossman: "Fleet's success and expertise in financial and other business-related services is a perfect fit for us and will complement our existing products and services, which also include full-service graphic design, a network of company-owned warehouses and production facilities and a dedicated technology team building best-in-class e-commerce programs for our clients."
For more information on Grossman Marketing Group's unparalleled project management and top-notch creative and fulfillment capabilities, visit www.grossmanmarketing.com.
 ********************
MAPS Invites Community to Halloween HIV/STI Mobile Clinic in Cambridge
The Massachusetts Alliance of Portuguese Speakers (MAPS) invites party-going community members to a special Halloween mobile health clinic this Saturday, October 31, from 9 PM to 2 AM, outside the Paradise Night Club, 180 Massachusetts Ave., Cambridge. Visitors can get information from MAPS community health workers about safe sex, and get fast, free and confidential testing for HIV and other sexually transmitted infections (STIs) in the mobile service van.
"Our goal with this event is for people to have fun, but also to learn simple steps everyone can take to stay safe and healthy," said Milena Mello, MS, Director of MAPS HIV/STI Prevention and Screening Services. "Our staff are highly trained and the tests are quick, so people don't even need to worry about missing the party at the Paradise, or wherever else they're headed that night!"
Mello added that the MAPS HIV/STI service team includes staff who speak Portuguese and Spanish as well as English.
"Testing, information and referrals are available for anyone who feels at risk," she said.
MAPSHIV/STI Prevention & Screening Services offer free and confidential testing and risk reduction information on a regular basis at the health and social service organization's offices in Somerville, Brighton and Dorchester, as well as free weekly walk-in clinics in those three offices and MAPS' Framingham location. The agency is currently expanding these services and has recently hired a full-time Health Educator for its Lowell office. The program is funded by theUS Centers for Disease Control and Prevention and the Massachusetts Department of Public Health.
For more information, or to schedule an appointment, community members may call the MAPS Brighton Office at (617) 787-0557, the Somerville office at (617) 764-2091, or the Dorchester Office at (617) 825-5897. Please visitwww.maps-inc.org to learn more about MAPS or about HIV/STI services.
 *****************************************
Pumpkin Carving Contest at The Independent
Union Square hotspot hosts night of extreme pumpkin art in the pub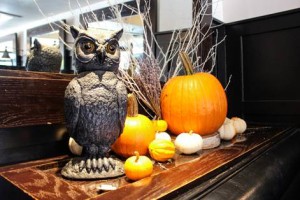 WHAT: On October 28, The Independent will challenge Halloween faithful to create the ultimate pumpkin art. Hosted in anticipation of All Hallows' Eve, The Indo's Pumpkin Carving Contest will pit teams against each other to determine whose decorating skills reign supreme. The Indo will supply teams with one pumpkin per table and the basic tools to jazz up their custom creation. Whether you opt for a traditional jack-o'-lantern theme or design an intricate spooky scene, your pumpkin will be scrutinized by The Indo staff and the winning team will receive a $40 gift certificate. After, all of the carved gourds will be put on display in the pub throughout Halloween weekend creating an illuminated pumpkin patch right in Union Square.
WHERE: The Independent · 75 Union Square, Somerville
WHEN: Wednesday, October 28, from 7:00pm – 10:00pm
COST: Admission and entrants are complimentary. Pumpkins are supplied by The Indo on a first come, first serve basis; limit of one pumpkin per table. This event is for ages 21+.
***************************************
MAPS Marks Domestic Violence Awareness Month with Activities and Displays
October is Domestic Violence Awareness Month (DVAM), and the Massachusetts Alliance of Portuguese Speakers (MAPS) has been promoting the nationwide campaign through a variety of special messages and events around Greater Boston and Lowell.
"It is very important that we all take time this month to remember those who have died as a result of domestic violence or sexual assault, and offer our support to those who are still living in dangerous and violent situations," said Dulce Almeida Ferreira, MA, MAPS Director of Domestic Violence and Sexual Assault (DV/SA) Services and Director of Immigrant Integration Services. "It's also a time to celebrate the many survivors who are now safe from abuse. We are very happy to be part of the strong advocacy and service network that helps make that possible here in Massachusetts."
Office displays at the health and social service organization's offices in Cambridge, Dorchester, Brighton and Lowell this month offer support to domestic violence survivors, and raise community awareness about abusive behaviors. At the MAPS Dorchester Office in Upham's Corner, the 1st Annual Community Get Together Event "Vamos Falar Violeta" on October 23rd served as an opportunity to educate the community about steps we all must take to end domestic violence.
MAPS staff are taking part in activities on Oct. 26 at the University of Massachusetts in Boston, sharing information and brochures about the MAPS Domestic Violence Program. MAPS DV/SA advocates joined in the annual Cambridge and Somerville Domestic Violence Vigils on Oct. 7, and will attend the launch of the Cambridge Domestic and Gender-based Violence Prevention Initiative Oct. 28.
The private, non-profit health and social service agency has providedculturally and linguistically competent assistance to survivors of Domestic and Sexual Violence through its Cambridge, Brighton, Dorchester and Lowell offices for many years. Funding recently received from the Massachusetts Office for Victim Assistance (MOVA) is now allowing MAPS to provide these services through its Framingham Office.
MAPS DV/SA services are also funded by the US Office on Violence Against Women, the MA departments of Public Health (RISE Program) and Children & Families, and the MA Executive Office of Public Safety (VAWA funds), as well as the Boston Police Dept. and TJX Foundation. For information, call (617) 864-7600 or visitwww.maps-inc.org.
**********************************
Assembly Row Launches Personal Shopping Service with Shift Your Style's Team of Stylists
VIP service and experience affordable and accessible, customized to The Outlets at Assembly Row, available with a special introductory offer through the end of the year
Just in time for fall and winter fashion, and a perfect item for the fashionista, Assembly Row today announced a unique partnership that will bring personal stylists to the hottest new shopping destination in Greater Boston.
The Personal Shopping Service is a VIP service and experience that typically is not available outside of individual retailers, and will be customized to shoppers at The Outlets at Assembly Row. Available immediately, the program is launching with a 1.5 hour, $199 introductory package that is available through the end of the year.
"Assembly Row has quickly become one of the area's most popular apparel destinations, and we want to continue to provide our loyal customers with unique offers and experiences," said Andi Simpson, Director of Marketing and Corporate Communications for Federal Realty Investment Trust. "We have so many sought after retailers – from J.Crew Factory and Banana Republic Factory Store to Saks Fifth Avenue OFF 5th and LOFT Outlet – but it can be difficult sometimes to mix and match. With the Shift Your Style team, our customers will know they're always getting what's right for them and all at outlet prices."
With the three-hour personal consultation, which will cost $375 after Dec. 31, customers work with a personal stylist to understand their proper fit, style and color palette – customized to their budget and The Outlets at Assembly Row. The Personal Shopping Service will help customers develop a personal style, create new wardrobes and stay current with seasonal trends.
"We're thrilled to bring our program to Assembly Row and remove any of the intimidation of bringing together fashions from different retailers," said Aricia Symes-Elmer, Shift Your Style's founder and master stylist. "We can help you ensure that no matter where you go on The Row, you'll look and feel your best."
More information is available about the Personal Shopping Service on the Assembly Row website. Connect with Assembly Row on Facebook, Instagram and Twitter.
*****************************************
450 Artisan Way at Assembly Row the First Somerville Office Building to be Awarded LEED Gold Certification
Somerville's newest job center and office campus, Assembly Row, announces LEED designation.
Federal Realty Investment Trust announced today that its office building at 450 Artisan Way in the Assembly Row district has achieved LEED Gold status, the first office building to ever achieve that status in Somerville.
450 Artisan Way, a 100,000 square foot office building that is part of the completed first phase of the Assembly Row development, was awarded a LEED Gold certificate by the U.S. Green Building Council (USGBC). LEED is the nation's preeminent program for certifying environmentally efficient design, construction and operation practices for buildings.
"Assembly Row highlights some of the very best sustainability practices of new developments – high-density, mixed-use, transit-oriented and focused on bettering the community and enhancing the quality of life for residents, employees and visitors," said Chris Brown, Sustainability Director at Federal Realty. "450 Artisan Way builds upon those core sustainable attributes to provide a better workplace environment."
The 450 Artisan Way office building achieved LEED Gold Core & Shell Development certification by incorporating sustainable construction techniques that include:
Roofing integrated both with a landscaped area and white EPDM (Ethylene Propylene Diene Monomer) roofing, which reduces "heat island effect" (built up areas that are hotter than nearby areas). The roof was installed by a local Somerville company, ReCover Green Roofs, which cut down on worker's travel and supported local business.
Optimizing the exterior façade design by providing increased insulation and high performance glazing, balancing access to daylight and exterior views with energy performance. The building has achieved energy savings 16% above the LEED baseline and meets the Somerville Stretch Energy Code.
Using recycled and regionally sourced materials including certified wood used when possible to build the office building.
Providing bicyclists with easy access to the building by providing an in-building, secure bike room and an adjacent shower and changing area.
Using "Green power" that is generated from offsite renewable energy sources.
Responsibly built office buildings have been widely reported to increase productivity and access to natural light can help energize the building's occupants to support a happier work environment – an important, and measured, quality of life metric.
"Providing the most efficient, productive and enjoyable work space for employees is a top priority for SmartBear," said Doug McNary, CEO of SmartBear. "Since moving into our new corporate headquarters earlier this year at 450 Artisan Way at Assembly Row, we have enjoyed convenient commuting options, including public transit, an open office environment with access to natural sunlight that inspires collaboration, as well as numerous amenities within blocks that have positively impacted the lifestyles of our employees and clients. We believe that the many benefits we enjoy within our office space and the surrounding area, all while using less energy and reducing our carbon footprint, is one of the reasons we attract some of the area's best talent in technology."
Originally a brownfield site, Assembly Row is an excellent model of responsible design and planning. Several of the Assembly Row retailers have also been recognized for their sustainable retail build outs, achieving LEED Gold. Nike, also on Artisan Way, achieved a LEED Platinum certification.
"We often focus on the transit, economic, and job or housing creation benefits of Assembly Row, but it is important to remember that new development done with an eye toward sustainability can benefit our city in so many other ways from the new green space or transit access it can bring to energy efficient buildings," said Somerville Mayor Joseph A. Curtatone. "I want to commend Federal Realty for helping the City reach this important milestone in building our first LEED Gold certified office building and, in doing so, for setting a new standard."
Those in the Assembly Row neighborhood realize the benefits of sustainable development on a daily basis:
Federal Realty's improvements to the district's storm water system are helping to reduce the level of pollution flowing into the river from Somerville's main line.
Access to Assembly Station, the first T station added to the Orange Line in over 25 years, which is located within two blocks of any current or future employees, encourages employees to use public transit regularly.
Being part of the high-density, mixed-use project of Assembly Row – apartments, restaurants and entertainment are all within steps of the office lobby, transit is a short walk for employees and employees have access to over 40 shops
Additional green space in the expanding neighborhood and Federal Realty's commitment to work with prospective clients on responsible design to ensure the continuation of smart growth as Assembly Row supports the overall well-being of the community, inside and out.
An active environment that builds engagement, takes advantage of green and open space, fosters collaboration through its common area design and supports resident's well being with weekly riverside yoga, bi-weekly boot camp, weekly farmer's market and over 170 annual events within the neighborhood.
The merchandise mix, today and coming in Phase II, is planned to balance work, fun, and life's needs so no employee needs to stray more than two blocks to grab lunch, bank, shop, or meet friends. This active retail street decreases the need or reliance on a car to tackle to-do lists.
"The designation from the USGBC for 450 Artisan Way and the sustainable nature of Assembly Row benefits more than just the building's occupants," said Don Briggs, President of Federal Realty Boston. "Businesses and taxpayers can save money; greenhouse gas emissions are reduced; and the building helps to contribute to a healthier environment for its workers and the larger community."
***********************************************
NEW SURVEY REVEALS AMERICANS WANT TO SPEND QUALITY TIME TOGETHER OVER A GOOD MEAL
La Brea Bakery is Helping Americans Come Together and "Break Bread" this Summer with the Launch of the Cross-Country Breaking Bread Food Truck Tour
LOS ANGELES  –With today's on-the-go lifestyle demanding more time from professionals, many are conflicted between staying plugged in and giving loved ones the undivided attention they deserve. La Brea Bakery, the nation's top artisan bread brand, is seeking to remedy this challenge through theBreaking Bread Tour by providing consumers with a reason to slow down and embrace quality time with friends and family with the help of delicious artisan foods. In a new survey conducted by La Brea Bakery, 92 percent of Americans claim "breaking bread," or eating a meal with others, provides a great opportunity to catch up with friends and family.
Starting July 30, 2015, La Brea Bakery is kicking off the Breaking Bread Tour, reminding foodies that nothing brings family and friends together like a quality meal. Americans often find it difficult to eat regular dinners with family and break away from technology during meals; only one-in-three (33 percent) say they are able to eat dinner around the table with their family without distractions. By bringing top-of-the-line artisan creations to cities across the country, La Brea Bakery will give Americans fresh recipes ideas to spark creativity in the kitchen and provide opportunities to connect over bread.
"At La Brea Bakery, we are committed to high quality ingredients to ensure only the finest breads and foods for our customers" said Jon Davis, Senior Vice President of Culinary Research and Innovation at La Brea Bakery. "We've always known bread is more than just food, it's a part of traditions and connects loved ones and communities, which is exactly what we're doing with the Breaking Bread Tour."
La Brea Bakery aims to spread their love for quality ingredients and inspired recipes through the Breaking Bread Tour to bring artisan flare and foods across the country. During the Tour, the La Brea Bakery Food Truck will be stopping at various community events and grocery store partners, providing attendees with samples of La Brea Bakery breads, culinary creations, along with special offers.  The city stops along the cross-country Tour include:
Los Angeles July 30 – August 3
San Francisco August 7 – August 9
Seattle August 13 – August 16
Charlotte, N.C. August 28 – August 30
Washington, D.C. September 3 – September 6
New York September 10 – September 13
Philadelphia September 16 – September 17
Boston September 19 – September 20
With nearly three in four (71 percent) foodies claiming that a good meal always includes bread, La Brea Bakery is excited to give consumers new, innovative options to incorporate the hearty meal staple into their daily lives. During the Tour, an assortment of inspired artisan recipes highlighting La Brea Bakery breads will be sampled, including Seedless Raspberry Jam and Almond Butter on a French Baguette, Salami, Sriracha Aioli and Pepper Jack Cheese on Rosemary Olive Oil bread, and Tomato Herb Bruschetta atop a Tuscan Loaf. The recipes will feature ingredients from artisan partners, including cheese fromTillamook Cheese, jams and spreads provided by Stonewall Kitchen, and a variety of nut butters created by Justin's.
When ranking top considerations for exceptional bread, consumers share the same values as La Brea Bakery, ranking high quality ingredients and delicious crust as top priorities. With a dedication to artisan tradition for more than 25 years, and pure ingredients in all 200 varieties of foods and breads, La Brea Bakery proudly offers a multitude of options, including dinner and telera rolls, baguettes and batards, ciabatta, focaccia, flatbreads, loaves, rounds, ovals, sandwich rolls, sliced artisan sandwich breads and Take & Bake breads. La Brea Bakery breads and foods can be found at grocery stores across the country.
For more information on La Brea Bakery, visit labreabakery.com. The latest on the Breaking Bread Tour, including tour stops, can be found at breakingbreadtour.com and consumers can also follow along onFacebook, Twitter and Instagram.
ABOUT LA BREA BAKERY
La Brea Bakery is regularly ranked as the nation's premier artisan bread brand. Founded in 1989, La Brea bakery is recognized for its commitment to offering only high quality and authentic culinary experiences to consumers and food service professionals. La Brea Bakery revolutionized the modern artisan bread movement creating hearth-baked, handcrafted breads. The bakery operates a flagship storefront in Los Angeles and a casual dining restaurant in Anaheim. La Brea Bakery currently owns and operates five state-of-the-art artisan bakeries in the United States, producing thousands of pounds of bread daily. La Brea Bakery is owned by ARYZTA, a leading manufacturer and distributor of bread, buns, cookies, pizza and other premium baked goods.
ABOUT THE SURVEY
The 2015 La Brea Bakery Breaking Bread Tour Survey presents the findings of an online survey conducted by ORC International from July 6-8, 2015 among a sample of 1,015 American adults 18+. The margin of error for a sample of this size is ± 3% at a 95% level of confidence.
***********************************
The Great Luau
Iconic Rosebud American Kitchen & Bar Hosts First Birthday Bash
Rosebud American Kitchen & Bar, the iconic diner-styled restaurant in Somerville's Davis Square, celebrates its one year anniversary with a birthday bash of epic luau proportions to close out the summer.  Known for its laid back ambiance, creative comfort food, and palatable pie program, Rosebud invites friends to toast a year of success with an evening filled with good eats, good times, and good vibes.
Rosebud's birthday bash, also knowns as "the Great Luau", invites partiers to hula and hang at an all-out patio party that includes:
Good Eats -Chef/Partner John Delpha's will be serving up an all-you-can-eat Hawaiian-style feast with Kalua Pickin' Pig Roast, Sticky Spare Ribs, Little Kahuna Burgers, Pork Potstickers with Hawaiian Chili Ponzu, Tuna Poke on Crispy Wontons, and Tropical Fruit Pies, just to name a few.
Kickin' Cocktails – Passion Punches, Scorpion Bowls, and other luscious libations served at an outdoor pop-up tiki bar.
Tubular Tunes – Surf-inspired live music from 

Tsunami of Sound

 at 6 PM, followed by a DJ starting at 9 pm into the wee hours.
Ah-LO-ha Activities – Win prizes with fun games, contests, and more throughout the night including pie eating competitions, Pu-Pu putt putt, best Hawaiin attire, and more!
Friday, September 18th, 6 pm to 1 am
Rosebud American Kitchen & Bar, 381 Summer Street, Somerville
Tickets are $60 per person and include food, entertainment, two tiki drinks, and a gift bag.  For tickets and info, visit rosebudturnsone.eventbrite.com
About Rosebud American Kitchen & Bar
Rosebud American Kitchen & Bar is a down-to-earth restaurant serving regional comfort food from across the US. A definitive neighborhood joint in Davis Square, Rosebud offers a laid-back dining experience in a casual setting to guests from all walks of life. Honest food and honest drinks set the foundation of Rosebud's menu. While dishes have roots from all four corners of the country, Chef/Partner John Delpha, carefully integrates a range of far-flung flavors from across the globe to keep palates guessing.
 ********************************************
Somerville Garden ClubAnnual Plant Sale
Saturday, September 19, 2015
9 am-1 pm
Rain or shine!
Davis Square, intersection of College Ave. and Holland St.
Discover the perfect plant to enliven your garden or windowsill at this popular yearly sale. Perennials for sun and shade, plus a wide variety of house plants, will be featured, as well as herbs, shrubs, and groundcovers. Choose from hundreds of plants donated by both Somerville Garden Club members and community friends of the Club. Visit the Connoisseur Table for that unique specimen or find a tried-and-true favorite—there's something for everyone! Horticultural books, decorative containers, and garden tools will also be for sale. Experienced gardeners will be available to answer questions and assist with plant selections. And the littlest gardener will enjoy the Children's Table.
Proceeds benefit the educational programs and public plantings of the all-volunteer, non-profit Somerville Garden Club. For additional information visit www.somervillegardenclub.org.
**********************************************
US2 Announces Friday's "Union Lunch" Lineup
WHAT:           Union Lunch – Each Friday all summer long, enjoy lunch specials from neighborhood restaurants, live music from local bands, and cool happenings from your favorite Union Square shops and friends. Bring your friends, your coworkers, your kids, and meet us for lunch!
WHO:                         Sponsored by US2 & Union Square Main Streets
Featuring lunch by A4 PIZZA
Live music by THE WILD EDIBLES
FLUFF GEAR from Union Square Main Streets
Additionally, starting this week and continuing for the remainder of the Union Lunch series, WORKBAR will feature pop-up coworking space on site, including wi-fi and workstations. Now you have no excuse for missing Union Lunch!
WHEN:           This Friday, September 4, 2015
                        11:30AM – 1:30PM
WHERE:         Union Square Plaza
Somerville, MA
For more information visit: http://www.us2unionsquare.com/unionlunch
WHERE:         Union Square Plaza
Somerville, MA
For more information visit: http://www.us2unionsquare.com/unionlunch
********************************************************
The Bonney Family, in loving memory of Brandy Rae Bonney's thirty-fifth birthday, announced their sponsorship of the RESPOND Gala, which will be held October 23, 2015 starting at 6:00 pm at the Hotel Marlowe, Cambridge. The event raises funds to allow RESPOND to help survivors of domestic violence and their children to achieve safe, dignified, independent lives free from emotional abuse and violence.
Brandy was born August 19th 1980 and became the victim of domestic violence on September 16th 2005. Her death left her family devastated, but they choose to find ways to keep her memory alive while helping others survive domestic violence.
R ESPOND, Inc., a pioneer in the movement to end domestic violence, is New England's first domestic violence agency and the second oldest in the nation. Its work began in the early 1970s, when four Somerville, Massachusetts women started a grassroots effort to support victims of domestic violence by opening their own homes as safe havens for women fleeing abuse. In 1974, these "founding mothers" formed RESPOND, Inc. For over 35 years RESPOND has provided life-saving shelter, support services, training and education to more than 100,000 members of the community.
Many of those who were close to Brandy work together to keep her memory alive by helping others survive domestic violence and find better lives. Some of them include Brandy's daughter Michelle "MiMi" Bonney; her parents Ron and Rae Bonney; her grandmother Barbara Penn; her sister and brother in law Jeannette and John Harrington; her brother and sister in law Ron and Iwona Bonney; and her nephews John, Chris and Andy; her best Friend Michelle Ellis and daughter Brandy; as well as many aunts, uncles and friends.
Brandy's life is celebrated each year with the annual Brandy R. Bonney Scholarship, which is awarded to a Somerville High graduating senior to attend Bunker Hill Community College. The scholarship is for full tuition and support, and requires participation in the BHCC Mentoring Program 
http://www.bhcc.mass.edu/scholarships/brandyrbonneymemorialscholarship/
.
The Bonney family has also sponsored many smaller needs such as the Be a Buddy not a Bully Program, sports teams, chorus uniforms, and other charitable needs in Brandy's name.
Happy Birthday Sis, Love Brother.
 **********************************************
Don't just shop, give back!
Join Assembly Row from August 10th-23rd for a unique way to support local nonprofit organizations while taking care of your back to school to shopping.
Row It Forward is a points based shopping event that will award over $35,000 in prizes to participating nonprofits. All you have to do is shop, eat and play at The Row August 10-23. Register your receipts at the Assembly Row Welcome Center and allot 1 point per dollar to any of the participating organizations. The organization with the top points will win a $20,000 donation!
Some of the best nonprofits succeed because they are fueled by people with amazing passion for a cause. But often those same organizations fight every day to find critical funding. Federal Realty Investment Trust, owner and developer of Assembly Row in Somerville, wanted to find ways to give back to organizations like Last Hope K9 Rescue, an all-volunteer nonprofit that rescues abandoned, abused and neglected dogs, often saving them just days from euthanasia and giving them a second chance at life. Often the animals are in need of expensive medical attention.
Last year, Last Hope's budget received a big boost from an unlikely source. Through a fun competition at Federal Realty's Assembly Row in Somerville that raised money for nonprofits, Last Hope was gifted what amounted to about 15% of its total funding for the year. As a result, it took on rescue projects it never expected.
The following are based in Somerville or also serve/benefit the local Somerville Community.
Bike to the Sea
Boys & Girls Clubs of Middlesex County
Community Action Agency of Somerville
Community Cooks
Door2Door Transportation by SCM
Friends of the Somerville Public Library
Groundwork Somerville
OnStage Dance Company
RESPOND
Ryan Harrington Foundation
Sibling Connections
Somerville High School PTSA
Somerville High School Scholarship Foundation
Somerville Homeless Coalition
Somerville pop warner football and cheer
Somerville Public Schools Volunteer Program
Somerville Youth Development and Boxing Club
The Brian Higgins Foundation
Winter Hill Community Innovation School PTA
*****************************************
The Herb Chambers Automotive Family Announces a "Call to Action" for the Jimmy Fund
Dealerships, Website to Match Customer Donations
August is Jimmy Fund Month at Fenway Park and those looking to support Dana-Farber Cancer Institute – which has fought the battle against adult and pediatric cancer for decades – have a powerful ally in The Herb Chambers Companies.
Herb Chambers' group of auto dealers, the largest in New England, announced that it will match all donations up to $175,000 for the Jimmy Fund made through its dealerships and website during the entire month of August. The promotion is part of the group's ongoing partnership with the Jimmy Fund and Dana-Farber Cancer Institute. The Jimmy Fund solely supports adult and pediatric patient care and cancer research at Dana-Farber.
Through this campaign, there are three ways to double the impact customers' donations will have:
Make a gift to the Jimmy Fund online at www.herbchambers.com and click on the Jimmy Fund link at the top of the home page.
Give a contribution to the Jimmy Fund by check at any Herb Chambers dealership (checks should be made out to the Jimmy Fund).
Give cash for any amount in the special Jimmy Fund receptacles at any Herb Chambers dealership.
"This is a call to action for all our customers, neighbors, and even those who just drive by one of our dealerships on the way to work," said Herb Chambers. "We are proud and humbled to join Dana-Farber's fight against cancer, and we encourage everyone to join us, whether it is through a visit to a dealership or making a gift online."
In addition to this campaign, The Herb Chambers Companies' family of dealerships will also support the Jimmy Fund by continuing to give their customers the convenient opportunity to purchase a coveted Boston Red Sox/Jimmy Fund license plate for their new or pre-owned vehicle. Through September, new plate-holders will be automatically entered to win a pair of Red Sox tickets to a regular season home game, and one winner will be selected each month. At the end of the season, one of the monthly winners will be selected to experience an on-field ceremony before the first pitch at Fenway.
Be on the lookout for the automotive family at the 14th annual WEEI/NESN Jimmy Fund Radio Telethon presented by Arbella Insurance Foundation broadcasting live from Fenway Park on August 18 and 19, as they will be the official map sponsor for the event. Herb Chambers team members will be on the phones accepting donations during the broadcast.
For more information about the Jimmy Fund, please visit www.jimmyfund.org. For more information on The Herb Chambers Companies, please visit www.herbchambers.com.
ABOUT THE JIMMY FUND The Jimmy Fund (www.JimmyFund.org) solely supports Boston's Dana-Farber Cancer Institute, raising funds for adult and pediatric cancer care and research to improve the chances of survival for cancer patients around the world. It is an official charity of the Boston Red Sox, as well as the official charity of the Massachusetts Chiefs of Police Association, the Pan-Mass Challenge, and the Variety Children's Charity of New England. Since 1948, the generosity of millions of people has helped the Jimmy Fund save countless lives and reduce the burden of cancer for patients and families worldwide. Follow the Jimmy Fund on Facebook: www.facebook.com/thejimmyfund and on Twitter: @TheJimmyFund.
ABOUT THE HERB CHAMBERS COMPANIES:
Herb Chambers purchased his first car dealership in 1985 and has grown his company into the largest automobile dealership group in New England. Today, The Herb Chambers Companies are comprised of 55 automotive dealerships throughout Massachusetts and Rhode Island. The Automotive Family has over 2,200 employees and annual sales approaching $2.5 billion. There are over 17,000 automobile dealers in America, and Herb Chambers is ranked as the 4th largest privately owned dealership group. For more information and a list of dealerships and locations, please visit www.herbchambers.com.
********************************
Charles J. Chisholm, candidate for Ward Six Alderman, today announced that he has joined the RAISE UP MASSACHUSETTS movement, which is proposing an amendment to the State Constitution to raise a 4% income surtax on those earning more than $1 million per year in salaries and investment income.
Chisholm states, "These funds would add $1 billion dollars to the state's coffers and would allow improvements in mass transit, early education and higher education. I laud the unions, religious organizations and liberal advocacy groups for finally putting together a new tax code which spells out what the rates will be and for whom. That was what was wrong with all the failed graduated tax ballot questions: no defined brackets and no clue what the Legislature would do with the money."
Chisholm adds, "If this FAIR SHARE amendment is passed in 2016 and 2018 by the electorate, we can have early childhood education for all, more effective job creating programs in our community colleges and a transportation system second to none. I would further propose that bus and subway service be free as a result of these new revenues. That would save low and middle income families up to $1,500 a year in pre-tax income. The day the T was free this Spring, there were no traffic jams on I-93, I-95 nor I-90 so drivers benefit too, whether driving or leaving the car home. Cars sitting idling in traffic cause pollution and children near these highways have higher than normal asthma rates."
Chisholm proposes, "In 2018, I want the T to be free under this new tax plan. The taxpayers earning $1 million will still clear of $530,000 a year. That's enough to send three children to Harvard at full cost for tuition, room and board, enough to owe a million dollar home, and have a summer cottage, enough for his and hers Mercedes automobiles without monthly payments, and enough for two nights a week out at a fancy restaurant…still with $100,000 left to invest in retirement funds. So I say, 'ENOUGH IS ENOUGH' and let's have everyone contribute to Raising Up Massachusetts in accordance with their means. "
 ***************************************************
Somerville Medical Facilities take advantage of deregulated markets and solar incentives to reduce their bottom line on energy expenses
EarlyBird Power helps healthcare industry battle rising energy prices
When eight Somerville medical facilities along with some of the largest hospital networks in New England including Cape Cod Healthcare, Steward Healthcare, and the Cambridge Health Care Alliance were looking for ways to cut energy costs, they turned to EarlyBird Power.
EarlyBird Power is an energy market expert providing procurement services, energy management, and sustainability solutions for commercial, industrial, and municipal clients.  Using a highly competitive, transparent procurement process, EarlyBird significantly reduces electricity and natural gas supply costs, as well as solar net metering agreements that further reduce energy expenses.
Steward Health Care, New England's largest community-based hospital network, engaged EarlyBird Power to reduce its energy expenses.  EarlyBird Power developed an energy purchasing strategy, and sourced the lowest prices in the market saving Steward Healthcare Systems $1.2 Million over the next 2 years.
"Energy costs represent a huge percentage of our expenses," said Scott Kenyon, Vice President, Environmental Management, and Corporate Real Estate & Facilities at Steward Health Care.  "The money we have saved on energy has allowed us to invest in other areas of the company that will help benefit our patients."
EarlyBird Power is also providing Steward consulting services on solar net metering opportunities, regular and timely energy market updates, resolving account issues, mediating supplier agreements, and recommending forward energy hedges as opportunities arise.
"EarlyBird Power has demonstrated an ability when procuring natural gas or electricity, to negotiate favorable pricing, terms and conditions," said Ed Browne, Executive Director, Cape Cod Healthcare Facilities and Support Services. "This selection resulted from an extremely competitive process with 13 suppliers providing price quotes for electricity and natural gas."
EarlyBird Power has also been a leader in renewable energy. The company structured a solar net metering agreement between Cape Cod Healthcare and Southern Sky Company that resulted in the largest private solar facility being built in the Commonwealth of MA. This agreement has little-to-no risk and will enable Cape Cod Healthcare to avoid over $250,000 annually in energy costs over the next 25 years.
For more information, please visit www.EarlyBirdPower.com.
***************************************
 US2 & Greentown Labs Announce Speaker Series Celebrating Union Square's Future As Employment Center
Local Innovators, CEOs and Change Makers To Share Experiences On Starting & Growing Successful Businesses
Union Square Station Associates (US2), Somerville's master developer partner for Union Square's revitalization, and Greentown Labs, the nation's largest cleantech incubator, today announced they are partnering on a speaker series to highlight Union Square's future as an employment center.
Sponsored by US2, the events will be free to the public and will feature leading local innovators, CEO's and change makers, sharing their insights about starting and growing a successful business. Speakers will discuss a variety of topics from business trends, sustainability, and securing venture capital to scaling a business from start up to acquisition.
Somerville's comprehensive planning document, "SomerVision," calls for Union Square to be an engine for economic growth. To that end, US2 is working with the community and stakeholders to develop and implement a plan for evolving the neighborhood into an employment center focused on technology and innovation. US2's partnership with Greentown Labs is another step the developer is taking toward fulfilling this vision. Last month, US2 announced it had formed a partnership with Boston-based Workbar to bring the coworking network to Union Square.
"Union Square, with the addition of the Green Line MBTA station and redevelopment investment, is poised to become a significant jobs 
***************************************
The  Assembly Row will have a movie series, hosted by the Department of Conservation & Recreation (DCR). The movies will show every Saturday evening at dusk in Baxter Park beginning July 11.
The schedule is as follows:
Aug. 15: Alexander & Very Bad Day
Aug. 22: Guardians of the Galaxy
Aug. 29: Maleficient
******************************
Somerville YMCA CIT/LIT Job Readiness Program
A few spots are still open for the first session and  plenty of space for our second session of the Somerville CIT/LIT Job Readiness program.  The program serves approximately twenty four, 13-15 year olds in each of the two 4 weeklong sessions, (for a total of 48 youth in eight weeks). With partnership from the Somerville YMCA, Somerville Community Youth Program, Healey Community School and the Teen Empowerment Program this motivational program provides youth leadership, team building, and job readiness training activities.
The purpose of the program is to train youth for future employment in a summer camp program or other job opportunities when they are age appropriate.  The program runs 30 hours a week, 9:00 a.m. to 3:00 p.m., Monday through Friday. The facility is the Healey Community School, whose address is 5 Meacham St, Somerville, MA 02145. In addition to the many aspects the program will cover; the youth will learn how to fill out job applications, create resumes, go on mock job interviews, as well as learn to set up bank accounts.
During the program teens spend time as a counselor in training for a few hours at the YMCA and other local summer day camp programs.  At the end of the four week session the participating youth will receive a certificate of achievement and stipend for completing the program. The first session runs from July 1st to July 24th and our second session runs from July 27th to August 19th r! We are still accepting applications for both sessions.  Applications are available at the Somerville YMCA, 101 Highland Ave, Somerville, MA 02143 as well as online at www.somervilleymca.org. For more information please contact Matt O'Donnell / Joe Pinto at the YMCA (617) 625-5050 or jpinto@somervilleymca.org, citlit@somervilleymca.org.
*************************************
Lifeguard Positions Still Available at Latta Brothers Memorial Pool in Somerville.
With the opening of pools across the state this weekend, the Department of Conservation and Recreation (DCR) is currently seeking applicants for lifeguard positions for many of the state's pools and beaches, including Latta Brothers Memorial Pool in the City of Somerville. DCR lifeguards are professional rescuers who are trained to both prevent injuries from occurring, and to respond in an emergency to help save a life.
"The Department of Conservation and Recreation works hard to ensure that our state's pools and beaches are as safe as can be, and that starts with the training of our lifeguards, who are certified in lifesaving practices and procedures," said DCR Commissioner Carol Sanchez. "I encourage anyone interested, especially someone in the Somerville area, to apply to become a lifeguard for the state this summer."
The current wage for a lifeguard position is $13.26 an hour. The agency also provides CPR and lifeguard certification at no cost to trainees. As part of a team, lifeguards must work together in a calm and efficient manner to manage crisis situations.
To learn more about lifeguarding opportunities with the Department of Conservation and Recreation, please call 617-626-1224 or visit DCR's lifeguard webpage (http://www.mass.gov/eea/agencies/dcr/inside-our-agency/employment/dcr-lifeguard-test-dates.html) for a lifeguard application, requirements of the position, and lifeguard test dates and locations.
*****************************************
Xfinity Customer Service Center in Somerville
Comcast recently held a special reception and ribbon-cutting event to announce the grand opening of its interactive Xfinity Customer Service Center in Somerville.  The 3,100 square foot center has been redesigned entirely around the needs of customers, providing them with an opportunity to explore, learn about and interact directly with the latest Xfinity products and services.
"We're proud to be a part of the Somerville community and to provide our customers with a convenient place where they can experience our Xfinity products and services firsthand and check out the latest technology in an interactive environment," said Steve Hackley, Senior Vice President of Comcast's Greater Boston region. "This new model not only has a more welcoming design, but a new attitude as we apply the same mindset of innovation, speed and reliability that our customers love about our products to our customer service."
The new, interactive Xfinity Customer Service Center, the first of its kind in Massachusetts, is conveniently located at 116 Beacon Street and features flat screen HDTVs, a comfortable seating area and iPads where customers can learn more about Comcast's products and services, including Xfinity Home. Additionally, customers will receive personalized service from trained and knowledgeable sales consultants and more time-saving offerings, including self-service kiosks for quick bill pay.
The Somerville Xfinity Customer Service Center is open Monday through Friday from 10 am – 6 pm and Saturday 9 am – 5 p.m.
****************************** 
Somerville Native, actor/author, Paul Carafotes, is taking a quick pause from his "BUBBLE OF LOVE" tour to visit FENWAY Park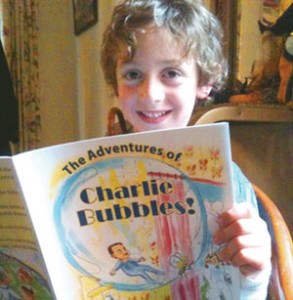 Tomorrow night at the Red Sox vs. Yankee game Paul & his son Charlie will meet Red Sox slugger, David Ortiz (Big Papi) and present him and his team mates with autographed copies of his childrens book
"The Adventues of Charlie Bubbles"
Somerville Native, actor/author, Paul Carafotes, is taking a quick pause from his "BUBBLE OF LOVE" tour to visit FENWAY Park for tomorrow nights Red Sox vs. Yankee game to meet Red Sox slugger, David Ortiz (Big Papi). Paul will visit with his son Charlie and friend Alberto Vasallo of Boston's El Mundo Newspaper and reporter for WHDH-TV NBC to present autographed copies of Paul's highly acclaimed children's book "The Adventures of Charlie Bubbles" to Big Papi and all his team mates. Paul and Charlie are loyal Red Sox fans. Presently Paul and Charlie reside in LA their hearts remain in Boston.
Paul has been bringing smiles and happiness to ill children on his "Bubble Of Love Tour". Recently he visited Children's Hospital Of Boston, Massachusetts General Hospital, Cam Neely Cancer Center at Tufts Floating Hospital for Children, Horizons for Homeless Children, Children's Hospital of Orange County and Children's Hospital LA. Paul's visit to Children's LA was captured by OMG! Insider. On his visits Paul read, sang and donated copies of his book "The Adventures Of Charlie Bubbles!" books to the children. For the donations Carafotes enlisted the support of his celebrity friends including the late James Gandolfini, Joe Mantegna, Christopher McDonald, and many more to deliver a positive message of being "helpful, loving and kind", which is the books theme. Paul has been an award winning actor, writer and director in Hollywood for more than 30 years. "The Adventures of Charlie Bubbles!" is Paul's first, in a series of children's books and is available at: http://www.charliebubblesbook.com/. Paul's second book in the series "Charlie Bubbles 2 Smartsville" is due out in September 2013. You can find out more about Paul and his career by visiting http://www.carafotes.com/ or IMDb.com.