Assembly Row Launches Personal Shopping Service with Shift Your Style's Team of Stylists
VIP service and experience affordable and accessible, customized to The Outlets at Assembly Row, available with a special introductory offer through the end of the year
Just in time for fall and winter fashion, and a perfect item for the fashionista, Assembly Row today announced a unique partnership that will bring personal stylists to the hottest new shopping destination in Greater Boston.
The Personal Shopping Service is a VIP service and experience that typically is not available outside of individual retailers, and will be customized to shoppers at The Outlets at Assembly Row. Available immediately, the program is launching with a 1.5 hour, $199 introductory package that is available through the end of the year.
"Assembly Row has quickly become one of the area's most popular apparel destinations, and we want to continue to provide our loyal customers with unique offers and experiences," said Andi Simpson, Director of Marketing and Corporate Communications for Federal Realty Investment Trust. "We have so many sought after retailers – from J.Crew Factory and Banana Republic Factory Store to Saks Fifth Avenue OFF 5th and LOFT Outlet – but it can be difficult sometimes to mix and match. With the Shift Your Style team, our customers will know they're always getting what's right for them and all at outlet prices."
With the three-hour personal consultation, which will cost $375 after Dec. 31, customers work with a personal stylist to understand their proper fit, style and color palette – customized to their budget and The Outlets at Assembly Row. The Personal Shopping Service will help customers develop a personal style, create new wardrobes and stay current with seasonal trends.
"We're thrilled to bring our program to Assembly Row and remove any of the intimidation of bringing together fashions from different retailers," said Aricia Symes-Elmer, Shift Your Style's founder and master stylist. "We can help you ensure that no matter where you go on The Row, you'll look and feel your best."
More information is available about the Personal Shopping Service on the Assembly Row website. Connect with Assembly Row on Facebook, Instagram and Twitter.
*****************************************
450 Artisan Way at Assembly Row the First Somerville Office Building to be Awarded LEED Gold Certification
Somerville's newest job center and office campus, Assembly Row, announces LEED designation.
Federal Realty Investment Trust announced today that its office building at 450 Artisan Way in the Assembly Row district has achieved LEED Gold status, the first office building to ever achieve that status in Somerville.
450 Artisan Way, a 100,000 square foot office building that is part of the completed first phase of the Assembly Row development, was awarded a LEED Gold certificate by the U.S. Green Building Council (USGBC). LEED is the nation's preeminent program for certifying environmentally efficient design, construction and operation practices for buildings.
"Assembly Row highlights some of the very best sustainability practices of new developments – high-density, mixed-use, transit-oriented and focused on bettering the community and enhancing the quality of life for residents, employees and visitors," said Chris Brown, Sustainability Director at Federal Realty. "450 Artisan Way builds upon those core sustainable attributes to provide a better workplace environment."
The 450 Artisan Way office building achieved LEED Gold Core & Shell Development certification by incorporating sustainable construction techniques that include:
Roofing integrated both with a landscaped area and white EPDM (Ethylene Propylene Diene Monomer) roofing, which reduces "heat island effect" (built up areas that are hotter than nearby areas). The roof was installed by a local Somerville company, ReCover Green Roofs, which cut down on worker's travel and supported local business.
Optimizing the exterior façade design by providing increased insulation and high performance glazing, balancing access to daylight and exterior views with energy performance. The building has achieved energy savings 16% above the LEED baseline and meets the Somerville Stretch Energy Code.
Using recycled and regionally sourced materials including certified wood used when possible to build the office building.
Providing bicyclists with easy access to the building by providing an in-building, secure bike room and an adjacent shower and changing area.
Using "Green power" that is generated from offsite renewable energy sources.
Responsibly built office buildings have been widely reported to increase productivity and access to natural light can help energize the building's occupants to support a happier work environment – an important, and measured, quality of life metric.
"Providing the most efficient, productive and enjoyable work space for employees is a top priority for SmartBear," said Doug McNary, CEO of SmartBear. "Since moving into our new corporate headquarters earlier this year at 450 Artisan Way at Assembly Row, we have enjoyed convenient commuting options, including public transit, an open office environment with access to natural sunlight that inspires collaboration, as well as numerous amenities within blocks that have positively impacted the lifestyles of our employees and clients. We believe that the many benefits we enjoy within our office space and the surrounding area, all while using less energy and reducing our carbon footprint, is one of the reasons we attract some of the area's best talent in technology."
Originally a brownfield site, Assembly Row is an excellent model of responsible design and planning. Several of the Assembly Row retailers have also been recognized for their sustainable retail build outs, achieving LEED Gold. Nike, also on Artisan Way, achieved a LEED Platinum certification.
"We often focus on the transit, economic, and job or housing creation benefits of Assembly Row, but it is important to remember that new development done with an eye toward sustainability can benefit our city in so many other ways from the new green space or transit access it can bring to energy efficient buildings," said Somerville Mayor Joseph A. Curtatone. "I want to commend Federal Realty for helping the City reach this important milestone in building our first LEED Gold certified office building and, in doing so, for setting a new standard."
Those in the Assembly Row neighborhood realize the benefits of sustainable development on a daily basis:
Federal Realty's improvements to the district's storm water system are helping to reduce the level of pollution flowing into the river from Somerville's main line.
Access to Assembly Station, the first T station added to the Orange Line in over 25 years, which is located within two blocks of any current or future employees, encourages employees to use public transit regularly.
Being part of the high-density, mixed-use project of Assembly Row – apartments, restaurants and entertainment are all within steps of the office lobby, transit is a short walk for employees and employees have access to over 40 shops
Additional green space in the expanding neighborhood and Federal Realty's commitment to work with prospective clients on responsible design to ensure the continuation of smart growth as Assembly Row supports the overall well-being of the community, inside and out.
An active environment that builds engagement, takes advantage of green and open space, fosters collaboration through its common area design and supports resident's well being with weekly riverside yoga, bi-weekly boot camp, weekly farmer's market and over 170 annual events within the neighborhood.
The merchandise mix, today and coming in Phase II, is planned to balance work, fun, and life's needs so no employee needs to stray more than two blocks to grab lunch, bank, shop, or meet friends. This active retail street decreases the need or reliance on a car to tackle to-do lists.
"The designation from the USGBC for 450 Artisan Way and the sustainable nature of Assembly Row benefits more than just the building's occupants," said Don Briggs, President of Federal Realty Boston. "Businesses and taxpayers can save money; greenhouse gas emissions are reduced; and the building helps to contribute to a healthier environment for its workers and the larger community."
***********************************************
NEW SURVEY REVEALS AMERICANS WANT TO SPEND QUALITY TIME TOGETHER OVER A GOOD MEAL
La Brea Bakery is Helping Americans Come Together and "Break Bread" this Summer with the Launch of the Cross-Country Breaking Bread Food Truck Tour
LOS ANGELES  – With today's on-the-go lifestyle demanding more time from professionals, many are conflicted between staying plugged in and giving loved ones the undivided attention they deserve. La Brea Bakery, the nation's top artisan bread brand, is seeking to remedy this challenge through theBreaking Bread Tour by providing consumers with a reason to slow down and embrace quality time with friends and family with the help of delicious artisan foods. In a new survey conducted by La Brea Bakery, 92 percent of Americans claim "breaking bread," or eating a meal with others, provides a great opportunity to catch up with friends and family.
Starting July 30, 2015, La Brea Bakery is kicking off the Breaking Bread Tour, reminding foodies that nothing brings family and friends together like a quality meal. Americans often find it difficult to eat regular dinners with family and break away from technology during meals; only one-in-three (33 percent) say they are able to eat dinner around the table with their family without distractions. By bringing top-of-the-line artisan creations to cities across the country, La Brea Bakery will give Americans fresh recipes ideas to spark creativity in the kitchen and provide opportunities to connect over bread.
"At La Brea Bakery, we are committed to high quality ingredients to ensure only the finest breads and foods for our customers" said Jon Davis, Senior Vice President of Culinary Research and Innovation at La Brea Bakery. "We've always known bread is more than just food, it's a part of traditions and connects loved ones and communities, which is exactly what we're doing with the Breaking Bread Tour."
La Brea Bakery aims to spread their love for quality ingredients and inspired recipes through the Breaking Bread Tour to bring artisan flare and foods across the country. During the Tour, the La Brea Bakery Food Truck will be stopping at various community events and grocery store partners, providing attendees with samples of La Brea Bakery breads, culinary creations, along with special offers.  The city stops along the cross-country Tour include:
Los Angeles July 30 – August 3
San Francisco August 7 – August 9
Seattle August 13 – August 16
Charlotte, N.C. August 28 – August 30
Washington, D.C. September 3 – September 6
New York September 10 – September 13
Philadelphia September 16 – September 17
Boston September 19 – September 20
With nearly three in four (71 percent) foodies claiming that a good meal always includes bread, La Brea Bakery is excited to give consumers new, innovative options to incorporate the hearty meal staple into their daily lives. During the Tour, an assortment of inspired artisan recipes highlighting La Brea Bakery breads will be sampled, including Seedless Raspberry Jam and Almond Butter on a French Baguette, Salami, Sriracha Aioli and Pepper Jack Cheese on Rosemary Olive Oil bread, and Tomato Herb Bruschetta atop a Tuscan Loaf. The recipes will feature ingredients from artisan partners, including cheese fromTillamook Cheese, jams and spreads provided by Stonewall Kitchen, and a variety of nut butters created by Justin's.
When ranking top considerations for exceptional bread, consumers share the same values as La Brea Bakery, ranking high quality ingredients and delicious crust as top priorities. With a dedication to artisan tradition for more than 25 years, and pure ingredients in all 200 varieties of foods and breads, La Brea Bakery proudly offers a multitude of options, including dinner and telera rolls, baguettes and batards, ciabatta, focaccia, flatbreads, loaves, rounds, ovals, sandwich rolls, sliced artisan sandwich breads and Take & Bake breads. La Brea Bakery breads and foods can be found at grocery stores across the country.
For more information on La Brea Bakery, visit labreabakery.com. The latest on the Breaking Bread Tour, including tour stops, can be found at breakingbreadtour.com and consumers can also follow along onFacebook, Twitter and Instagram.
ABOUT LA BREA BAKERY
La Brea Bakery is regularly ranked as the nation's premier artisan bread brand. Founded in 1989, La Brea bakery is recognized for its commitment to offering only high quality and authentic culinary experiences to consumers and food service professionals. La Brea Bakery revolutionized the modern artisan bread movement creating hearth-baked, handcrafted breads. The bakery operates a flagship storefront in Los Angeles and a casual dining restaurant in Anaheim. La Brea Bakery currently owns and operates five state-of-the-art artisan bakeries in the United States, producing thousands of pounds of bread daily. La Brea Bakery is owned by ARYZTA, a leading manufacturer and distributor of bread, buns, cookies, pizza and other premium baked goods.
ABOUT THE SURVEY
The 2015 La Brea Bakery Breaking Bread Tour Survey presents the findings of an online survey conducted by ORC International from July 6-8, 2015 among a sample of 1,015 American adults 18+. The margin of error for a sample of this size is ± 3% at a 95% level of confidence.
***********************************
The Great Luau
Iconic Rosebud American Kitchen & Bar Hosts First Birthday Bash
Rosebud American Kitchen & Bar, the iconic diner-styled restaurant in Somerville's Davis Square, celebrates its one year anniversary with a birthday bash of epic luau proportions to close out the summer.  Known for its laid back ambiance, creative comfort food, and palatable pie program, Rosebud invites friends to toast a year of success with an evening filled with good eats, good times, and good vibes.
Rosebud's birthday bash, also knowns as "the Great Luau", invites partiers to hula and hang at an all-out patio party that includes:
Good Eats – Chef/Partner John Delpha's will be serving up an all-you-can-eat Hawaiian-style feast with Kalua Pickin' Pig Roast, Sticky Spare Ribs, Little Kahuna Burgers, Pork Potstickers with Hawaiian Chili Ponzu, Tuna Poke on Crispy Wontons, and Tropical Fruit Pies, just to name a few.
Kickin' Cocktails – Passion Punches, Scorpion Bowls, and other luscious libations served at an outdoor pop-up tiki bar.
Tubular Tunes – Surf-inspired live music from 

Tsunami of Sound

 at 6 PM, followed by a DJ starting at 9 pm into the wee hours.
Ah-LO-ha Activities – Win prizes with fun games, contests, and more throughout the night including pie eating competitions, Pu-Pu putt putt, best Hawaiin attire, and more!
Friday, September 18th, 6 pm to 1 am
Rosebud American Kitchen & Bar, 381 Summer Street, Somerville
Tickets are $60 per person and include food, entertainment, two tiki drinks, and a gift bag.  For tickets and info, visit rosebudturnsone.eventbrite.com
About Rosebud American Kitchen & Bar
Rosebud American Kitchen & Bar is a down-to-earth restaurant serving regional comfort food from across the US. A definitive neighborhood joint in Davis Square, Rosebud offers a laid-back dining experience in a casual setting to guests from all walks of life. Honest food and honest drinks set the foundation of Rosebud's menu. While dishes have roots from all four corners of the country, Chef/Partner John Delpha, carefully integrates a range of far-flung flavors from across the globe to keep palates guessing.
 ********************************************
Somerville Garden ClubAnnual Plant Sale
Saturday, September 19, 2015
9 am-1 pm
Rain or shine!
Davis Square, intersection of College Ave. and Holland St.
Discover the perfect plant to enliven your garden or windowsill at this popular yearly sale. Perennials for sun and shade, plus a wide variety of house plants, will be featured, as well as herbs, shrubs, and groundcovers. Choose from hundreds of plants donated by both Somerville Garden Club members and community friends of the Club. Visit the Connoisseur Table for that unique specimen or find a tried-and-true favorite—there's something for everyone! Horticultural books, decorative containers, and garden tools will also be for sale. Experienced gardeners will be available to answer questions and assist with plant selections. And the littlest gardener will enjoy the Children's Table.
Proceeds benefit the educational programs and public plantings of the all-volunteer, non-profit Somerville Garden Club. For additional information visit www.somervillegardenclub.org.
**********************************************
US2 Announces Friday's "Union Lunch" Lineup
WHAT:           Union Lunch – Each Friday all summer long, enjoy lunch specials from neighborhood restaurants, live music from local bands, and cool happenings from your favorite Union Square shops and friends. Bring your friends, your coworkers, your kids, and meet us for lunch!
WHO:                         Sponsored by US2 & Union Square Main Streets
Featuring lunch by A4 PIZZA
Live music by THE WILD EDIBLES
FLUFF GEAR from Union Square Main Streets
Additionally, starting this week and continuing for the remainder of the Union Lunch series, WORKBAR will feature pop-up coworking space on site, including wi-fi and workstations. Now you have no excuse for missing Union Lunch!
WHEN:           This Friday, September 4, 2015
                        11:30AM – 1:30PM
WHERE:         Union Square Plaza
Somerville, MA
For more information visit: http://www.us2unionsquare.com/unionlunch
WHERE:         Union Square Plaza
Somerville, MA
For more information visit: http://www.us2unionsquare.com/unionlunch
********************************************************
The Bonney Family, in loving memory of Brandy Rae Bonney's thirty-fifth birthday, announced their sponsorship of the RESPOND Gala, which will be held October 23, 2015 starting at 6:00 pm at the Hotel Marlowe, Cambridge. The event raises funds to allow RESPOND to help survivors of domestic violence and their children to achieve safe, dignified, independent lives free from emotional abuse and violence.
Brandy was born August 19th 1980 and became the victim of domestic violence on September 16th 2005. Her death left her family devastated, but they choose to find ways to keep her memory alive while helping others survive domestic violence.
R ESPOND, Inc., a pioneer in the movement to end domestic violence, is New England's first domestic violence agency and the second oldest in the nation. Its work began in the early 1970s, when four Somerville, Massachusetts women started a grassroots effort to support victims of domestic violence by opening their own homes as safe havens for women fleeing abuse. In 1974, these "founding mothers" formed RESPOND, Inc. For over 35 years RESPOND has provided life-saving shelter, support services, training and education to more than 100,000 members of the community.
Many of those who were close to Brandy work together to keep her memory alive by helping others survive domestic violence and find better lives. Some of them include Brandy's daughter Michelle "MiMi" Bonney; her parents Ron and Rae Bonney; her grandmother Barbara Penn; her sister and brother in law Jeannette and John Harrington; her brother and sister in law Ron and Iwona Bonney; and her nephews John, Chris and Andy; her best Friend Michelle Ellis and daughter Brandy; as well as many aunts, uncles and friends.
Brandy's life is celebrated each year with the annual Brandy R. Bonney Scholarship, which is awarded to a Somerville High graduating senior to attend Bunker Hill Community College. The scholarship is for full tuition and support, and requires participation in the BHCC Mentoring Program 
http://www.bhcc.mass.edu/scholarships/brandyrbonneymemorialscholarship/
.
The Bonney family has also sponsored many smaller needs such as the Be a Buddy not a Bully Program, sports teams, chorus uniforms, and other charitable needs in Brandy's name.
Happy Birthday Sis, Love Brother.
 **********************************************
Don't just shop, give back!
Join Assembly Row from August 10th-23rd for a unique way to support local nonprofit organizations while taking care of your back to school to shopping.
Row It Forward is a points based shopping event that will award over $35,000 in prizes to participating nonprofits. All you have to do is shop, eat and play at The Row August 10-23. Register your receipts at the Assembly Row Welcome Center and allot 1 point per dollar to any of the participating organizations. The organization with the top points will win a $20,000 donation!
Some of the best nonprofits succeed because they are fueled by people with amazing passion for a cause. But often those same organizations fight every day to find critical funding. Federal Realty Investment Trust, owner and developer of Assembly Row in Somerville, wanted to find ways to give back to organizations like Last Hope K9 Rescue, an all-volunteer nonprofit that rescues abandoned, abused and neglected dogs, often saving them just days from euthanasia and giving them a second chance at life. Often the animals are in need of expensive medical attention.
Last year, Last Hope's budget received a big boost from an unlikely source. Through a fun competition at Federal Realty's Assembly Row in Somerville that raised money for nonprofits, Last Hope was gifted what amounted to about 15% of its total funding for the year. As a result, it took on rescue projects it never expected.
The following are based in Somerville or also serve/benefit the local Somerville Community.
Bike to the Sea
Boys & Girls Clubs of Middlesex County
Community Action Agency of Somerville
Community Cooks
Door2Door Transportation by SCM
Friends of the Somerville Public Library
Groundwork Somerville
OnStage Dance Company
RESPOND
Ryan Harrington Foundation​
Sibling Connections
Somerville High School PTSA
Somerville High School Scholarship Foundation
Somerville Homeless Coalition
Somerville pop warner football and cheer
Somerville Public Schools Volunteer Program
Somerville Youth Development and Boxing Club
The Brian Higgins Foundation
Winter Hill Community Innovation School PTA
*****************************************
The Herb Chambers Automotive Family Announces a "Call to Action" for the Jimmy Fund
Dealerships, Website to Match Customer Donations
August is Jimmy Fund Month at Fenway Park and those looking to support Dana-Farber Cancer Institute – which has fought the battle against adult and pediatric cancer for decades – have a powerful ally in The Herb Chambers Companies.
Herb Chambers' group of auto dealers, the largest in New England, announced that it will match all donations up to $175,000 for the Jimmy Fund made through its dealerships and website during the entire month of August. The promotion is part of the group's ongoing partnership with the Jimmy Fund and Dana-Farber Cancer Institute. The Jimmy Fund solely supports adult and pediatric patient care and cancer research at Dana-Farber.
Through this campaign, there are three ways to double the impact customers' donations will have:
Make a gift to the Jimmy Fund online at www.herbchambers.com and click on the Jimmy Fund link at the top of the home page.
Give a contribution to the Jimmy Fund by check at any Herb Chambers dealership (checks should be made out to the Jimmy Fund).
Give cash for any amount in the special Jimmy Fund receptacles at any Herb Chambers dealership.
"This is a call to action for all our customers, neighbors, and even those who just drive by one of our dealerships on the way to work," said Herb Chambers. "We are proud and humbled to join Dana-Farber's fight against cancer, and we encourage everyone to join us, whether it is through a visit to a dealership or making a gift online."
In addition to this campaign, The Herb Chambers Companies' family of dealerships will also support the Jimmy Fund by continuing to give their customers the convenient opportunity to purchase a coveted Boston Red Sox/Jimmy Fund license plate for their new or pre-owned vehicle. Through September, new plate-holders will be automatically entered to win a pair of Red Sox tickets to a regular season home game, and one winner will be selected each month. At the end of the season, one of the monthly winners will be selected to experience an on-field ceremony before the first pitch at Fenway.
Be on the lookout for the automotive family at the 14th annual WEEI/NESN Jimmy Fund Radio Telethon presented by Arbella Insurance Foundation broadcasting live from Fenway Park on August 18 and 19, as they will be the official map sponsor for the event. Herb Chambers team members will be on the phones accepting donations during the broadcast.
For more information about the Jimmy Fund, please visit www.jimmyfund.org. For more information on The Herb Chambers Companies, please visit www.herbchambers.com.
ABOUT THE JIMMY FUND The Jimmy Fund (www.JimmyFund.org) solely supports Boston's Dana-Farber Cancer Institute, raising funds for adult and pediatric cancer care and research to improve the chances of survival for cancer patients around the world. It is an official charity of the Boston Red Sox, as well as the official charity of the Massachusetts Chiefs of Police Association, the Pan-Mass Challenge, and the Variety Children's Charity of New England. Since 1948, the generosity of millions of people has helped the Jimmy Fund save countless lives and reduce the burden of cancer for patients and families worldwide. Follow the Jimmy Fund on Facebook: www.facebook.com/thejimmyfund and on Twitter: @TheJimmyFund.
ABOUT THE HERB CHAMBERS COMPANIES:
Herb Chambers purchased his first car dealership in 1985 and has grown his company into the largest automobile dealership group in New England. Today, The Herb Chambers Companies are comprised of 55 automotive dealerships throughout Massachusetts and Rhode Island. The Automotive Family has over 2,200 employees and annual sales approaching $2.5 billion. There are over 17,000 automobile dealers in America, and Herb Chambers is ranked as the 4th largest privately owned dealership group. For more information and a list of dealerships and locations, please visit www.herbchambers.com.
********************************
Charles J. Chisholm, candidate for Ward Six Alderman, today announced that he has joined the RAISE UP MASSACHUSETTS movement, which is proposing an amendment to the State Constitution to raise a 4% income surtax on those earning more than $1 million per year in salaries and investment income.
Chisholm states, "These funds would add $1 billion dollars to the state's coffers and would allow improvements in mass transit, early education and higher education. I laud the unions, religious organizations and liberal advocacy groups for finally putting together a new tax code which spells out what the rates will be and for whom. That was what was wrong with all the failed graduated tax ballot questions: no defined brackets and no clue what the Legislature would do with the money."
Chisholm adds, "If this FAIR SHARE amendment is passed in 2016 and 2018 by the electorate, we can have early childhood education for all, more effective job creating programs in our community colleges and a transportation system second to none. I would further propose that bus and subway service be free as a result of these new revenues. That would save low and middle income families up to $1,500 a year in pre-tax income. The day the T was free this Spring, there were no traffic jams on I-93, I-95 nor I-90 so drivers benefit too, whether driving or leaving the car home. Cars sitting idling in traffic cause pollution and children near these highways have higher than normal asthma rates."
Chisholm proposes, "In 2018, I want the T to be free under this new tax plan. The taxpayers earning $1 million will still clear of $530,000 a year. That's enough to send three children to Harvard at full cost for tuition, room and board, enough to owe a million dollar home, and have a summer cottage, enough for his and hers Mercedes automobiles without monthly payments, and enough for two nights a week out at a fancy restaurant…still with $100,000 left to invest in retirement funds. So I say, 'ENOUGH IS ENOUGH' and let's have everyone contribute to Raising Up Massachusetts in accordance with their means. "
 ***************************************************
Somerville Medical Facilities take advantage of deregulated markets and solar incentives to reduce their bottom line on energy expenses
EarlyBird Power helps healthcare industry battle rising energy prices
When eight Somerville medical facilities along with some of the largest hospital networks in New England including Cape Cod Healthcare, Steward Healthcare, and the Cambridge Health Care Alliance were looking for ways to cut energy costs, they turned to EarlyBird Power.
EarlyBird Power is an energy market expert providing procurement services, energy management, and sustainability solutions for commercial, industrial, and municipal clients.  Using a highly competitive, transparent procurement process, EarlyBird significantly reduces electricity and natural gas supply costs, as well as solar net metering agreements that further reduce energy expenses.
Steward Health Care, New England's largest community-based hospital network, engaged EarlyBird Power to reduce its energy expenses.  EarlyBird Power developed an energy purchasing strategy, and sourced the lowest prices in the market saving Steward Healthcare Systems $1.2 Million over the next 2 years.
"Energy costs represent a huge percentage of our expenses," said Scott Kenyon, Vice President, Environmental Management, and Corporate Real Estate & Facilities at Steward Health Care.  "The money we have saved on energy has allowed us to invest in other areas of the company that will help benefit our patients."
EarlyBird Power is also providing Steward consulting services on solar net metering opportunities, regular and timely energy market updates, resolving account issues, mediating supplier agreements, and recommending forward energy hedges as opportunities arise.
"EarlyBird Power has demonstrated an ability when procuring natural gas or electricity, to negotiate favorable pricing, terms and conditions," said Ed Browne, Executive Director, Cape Cod Healthcare Facilities and Support Services. "This selection resulted from an extremely competitive process with 13 suppliers providing price quotes for electricity and natural gas."
EarlyBird Power has also been a leader in renewable energy. The company structured a solar net metering agreement between Cape Cod Healthcare and Southern Sky Company that resulted in the largest private solar facility being built in the Commonwealth of MA. This agreement has little-to-no risk and will enable Cape Cod Healthcare to avoid over $250,000 annually in energy costs over the next 25 years.
For more information, please visit www.EarlyBirdPower.com.
***************************************
 US2 & Greentown Labs Announce Speaker Series Celebrating Union Square's Future As Employment Center
Local Innovators, CEOs and Change Makers To Share Experiences On Starting & Growing Successful Businesses
Union Square Station Associates (US2), Somerville's master developer partner for Union Square's revitalization, and Greentown Labs, the nation's largest cleantech incubator, today announced they are partnering on a speaker series to highlight Union Square's future as an employment center.
Sponsored by US2, the events will be free to the public and will feature leading local innovators, CEO's and change makers, sharing their insights about starting and growing a successful business. Speakers will discuss a variety of topics from business trends, sustainability, and securing venture capital to scaling a business from start up to acquisition.
Somerville's comprehensive planning document, "SomerVision," calls for Union Square to be an engine for economic growth. To that end, US2 is working with the community and stakeholders to develop and implement a plan for evolving the neighborhood into an employment center focused on technology and innovation. US2's partnership with Greentown Labs is another step the developer is taking toward fulfilling this vision. Last month, US2 announced it had formed a partnership with Boston-based Workbar to bring the coworking network to Union Square.
"Union Square, with the addition of the Green Line MBTA station and redevelopment investment, is poised to become a significant jobs 
***************************************
The  Assembly Row will have a movie series, hosted by the Department of Conservation & Recreation (DCR). The movies will show every Saturday evening at dusk in Baxter Park beginning July 11.
The schedule is as follows:
Aug. 15: Alexander & Very Bad Day
Aug. 22: Guardians of the Galaxy
Aug. 29: Maleficient
******************************
Somerville YMCA CIT/LIT Job Readiness Program
A few spots are still open for the first session and  plenty of space for our second session of the Somerville CIT/LIT Job Readiness program.  The program serves approximately twenty four, 13-15 year olds in each of the two 4 weeklong sessions, (for a total of 48 youth in eight weeks). With partnership from the Somerville YMCA, Somerville Community Youth Program, Healey Community School and the Teen Empowerment Program this motivational program provides youth leadership, team building, and job readiness training activities.
The purpose of the program is to train youth for future employment in a summer camp program or other job opportunities when they are age appropriate.  The program runs 30 hours a week, 9:00 a.m. to 3:00 p.m., Monday through Friday. The facility is the Healey Community School, whose address is 5 Meacham St, Somerville, MA 02145. In addition to the many aspects the program will cover; the youth will learn how to fill out job applications, create resumes, go on mock job interviews, as well as learn to set up bank accounts.
During the program teens spend time as a counselor in training for a few hours at the YMCA and other local summer day camp programs.  At the end of the four week session the participating youth will receive a certificate of achievement and stipend for completing the program. The first session runs from July 1st to July 24th and our second session runs from July 27th to August 19th r! We are still accepting applications for both sessions.  Applications are available at the Somerville YMCA, 101 Highland Ave, Somerville, MA 02143 as well as online at www.somervilleymca.org. For more information please contact Matt O'Donnell / Joe Pinto at the YMCA (617) 625-5050 or jpinto@somervilleymca.org, citlit@somervilleymca.org.
*************************************
Lifeguard Positions Still Available at Latta Brothers Memorial Pool in Somerville.
With the opening of pools across the state this weekend, the Department of Conservation and Recreation (DCR) is currently seeking applicants for lifeguard positions for many of the state's pools and beaches, including Latta Brothers Memorial Pool in the City of Somerville. DCR lifeguards are professional rescuers who are trained to both prevent injuries from occurring, and to respond in an emergency to help save a life.
"The Department of Conservation and Recreation works hard to ensure that our state's pools and beaches are as safe as can be, and that starts with the training of our lifeguards, who are certified in lifesaving practices and procedures," said DCR Commissioner Carol Sanchez. "I encourage anyone interested, especially someone in the Somerville area, to apply to become a lifeguard for the state this summer."
The current wage for a lifeguard position is $13.26 an hour. The agency also provides CPR and lifeguard certification at no cost to trainees. As part of a team, lifeguards must work together in a calm and efficient manner to manage crisis situations.
To learn more about lifeguarding opportunities with the Department of Conservation and Recreation, please call 617-626-1224 or visit DCR's lifeguard webpage (http://www.mass.gov/eea/agencies/dcr/inside-our-agency/employment/dcr-lifeguard-test-dates.html) for a lifeguard application, requirements of the position, and lifeguard test dates and locations.
*****************************************
Xfinity Customer Service Center in Somerville
Comcast recently held a special reception and ribbon-cutting event to announce the grand opening of its interactive Xfinity Customer Service Center in Somerville.  The 3,100 square foot center has been redesigned entirely around the needs of customers, providing them with an opportunity to explore, learn about and interact directly with the latest Xfinity products and services.
"We're proud to be a part of the Somerville community and to provide our customers with a convenient place where they can experience our Xfinity products and services firsthand and check out the latest technology in an interactive environment," said Steve Hackley, Senior Vice President of Comcast's Greater Boston region. "This new model not only has a more welcoming design, but a new attitude as we apply the same mindset of innovation, speed and reliability that our customers love about our products to our customer service."
The new, interactive Xfinity Customer Service Center, the first of its kind in Massachusetts, is conveniently located at 116 Beacon Street and features flat screen HDTVs, a comfortable seating area and iPads where customers can learn more about Comcast's products and services, including Xfinity Home. Additionally, customers will receive personalized service from trained and knowledgeable sales consultants and more time-saving offerings, including self-service kiosks for quick bill pay.
The Somerville Xfinity Customer Service Center is open Monday through Friday from 10 am – 6 pm and Saturday 9 am – 5 p.m.
****************************** 
Somerville Native, actor/author, Paul Carafotes, is taking a quick pause from his "BUBBLE OF LOVE" tour to visit FENWAY Park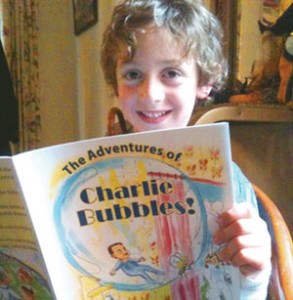 Tomorrow night at the Red Sox vs. Yankee game Paul & his son Charlie will meet Red Sox slugger, David Ortiz (Big Papi) and present him and his team mates with autographed copies of his childrens book
"The Adventues of Charlie Bubbles"
Somerville Native, actor/author, Paul Carafotes, is taking a quick pause from his "BUBBLE OF LOVE" tour to visit FENWAY Park for tomorrow nights Red Sox vs. Yankee game to meet Red Sox slugger, David Ortiz (Big Papi). Paul will visit with his son Charlie and friend Alberto Vasallo of Boston's El Mundo Newspaper and reporter for WHDH-TV NBC to present autographed copies of Paul's highly acclaimed children's book "The Adventures of Charlie Bubbles" to Big Papi and all his team mates. Paul and Charlie are loyal Red Sox fans. Presently Paul and Charlie reside in LA their hearts remain in Boston.
Paul has been bringing smiles and happiness to ill children on his "Bubble Of Love Tour". Recently he visited Children's Hospital Of Boston, Massachusetts General Hospital, Cam Neely Cancer Center at Tufts Floating Hospital for Children, Horizons for Homeless Children, Children's Hospital of Orange County and Children's Hospital LA. Paul's visit to Children's LA was captured by OMG! Insider. On his visits Paul read, sang and donated copies of his book "The Adventures Of Charlie Bubbles!" books to the children. For the donations Carafotes enlisted the support of his celebrity friends including the late James Gandolfini, Joe Mantegna, Christopher McDonald, and many more to deliver a positive message of being "helpful, loving and kind", which is the books theme. Paul has been an award winning actor, writer and director in Hollywood for more than 30 years. "The Adventures of Charlie Bubbles!" is Paul's first, in a series of children's books and is available at: http://www.charliebubblesbook.com/. Paul's second book in the series "Charlie Bubbles 2 Smartsville" is due out in September 2013. You can find out more about Paul and his career by visiting http://www.carafotes.com/ or IMDb.com.