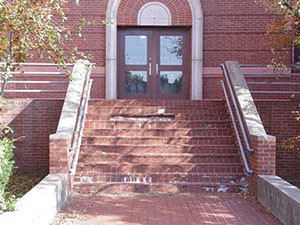 There will be a Public Hearing before the Board of Aldermen's Committee on Finance on Wednesday, March 22, 2017, at 6:00 PM, in the Aldermanic Chambers, 2nd Floor, City Hall, 93 Highland Avenue, on the Order of Alderman Tony Lafuente, Chairman of the Committee, for public input on #202944, a proposed appropriation and authorization to borrow $255,982,704 for the construction of a new Somerville High School.
Continue reading »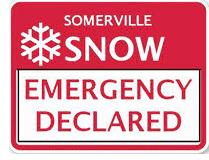 In accordance with the City's Snow Emergency Procedures, Mayor Joseph A. Curtatone has declared a snow emergency for the City of Somerville to go into effect at midnight Tuesday, March 14. Residents can begin moving their cars now to the EVEN-numbered side of the street (unless posted signage states otherwise). Those unable to find parking on the correct side of the street may park in any municipal or school parking lot  beginning at 8 p.m. Monday and may remain there for the duration of the emergency but must be moved within two hours of the end of the emergency. Ticketing and towing will begin at 4 a.m. for cars not moved to the correct side of the street or to a municipal or school lot. Again, residents are advised to move their cars earlier, before going to sleep for the night. Full snow emergency and snow removal policies may be found on the City's website at www.somervillema.gov/snow.
Continue reading »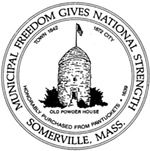 Mayor Joseph A. Curtatone, Ward 5 Alderman Mark Niedergang, and the City of Somerville's Engineering Department invite all interested residents to a community meeting to discuss the ongoing Cedar Street Water and Sewer Infrastructure Upgrade Project, on Tuesday, March 21, beginning at 6:30 p.m. in the cafeteria in the Kennedy School, 5 Cherry St. Construction is expected to begin on Cedar St. at the beginning of April. 
Continue reading »
By Louise Carpenter
On January 30, Senator Patricia D. Jehlen (Second Middlesex District) hosted a briefing at the Massachusetts State House to introduce the Massachusetts Consortium for Innovative Education Assessment (MCIEA) to the state legislature. The briefing was sponsored by the 2015-2016 Senate Special Committee on Innovative and Alternative Education. Senator Jehlen, leaders of MCIEA, and key partners introduced the newly launched initiative and discussed how their work will redefine the way we measure student learning and school quality in Massachusetts. MCIEA is a partnership of six MA public school districts and their local teacher unions from Attleboro, Boston, Lowell, Revere, Somerville, and Winchester.
Continue reading »
Cremin, Christine L. – Of Somerville March 8, 2017.
Beloved daughter of Katherine Cremin of Stoneham, Albert Rodgers of NH and the late Michael Cremin.
Loving mother of Quinten Sinclair. Companion of Paul Sinclair of Reading.
Sister of Albert Cremin of Peabody, Mark Cremin of Lowell and the late Deanna Cremin. Also survived by many aunts, uncles, cousins, nieces and nephews.
Continue reading »
By Nathan Lamb
Six years ago, Somerville-Cambridge Elder Services (SCES) Elder Care Advisor Kate Thomas organized a monthly dinner for lesbian, gay, bisexual and transgender (LGBT) older adults and friends. At a recent event, SCES and the LGBT Aging Project honored her memory with the inaugural Kate Thomas Spirit Award.
Continue reading »
On Sunday,  March 12, 2017 at  2:00 a.m.,  turn your clocks  forward 1 hour to 3:00 a.m.
Please check out the latest Somerville Neighborhood News headlines and video segments. Somerville Neighborhood News is a production of Somerville Community Access Television, made by professional journalists, volunteers and staff. We also invite you to become more involved with SNN! You can join as a community reporter, researcher, contributor or in some other volunteer capacity. You can reach out to us at news@scatvsomerville.org. Below are the latest SNN story headlines and you can watch the full news segments online at www.somervillenighborhoodnews.org!
Continue reading »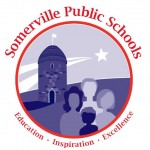 By Louise Carpenter
After implementing a campaign encouraging students to meet with their counselors to consider taking an Advanced Placement (AP) course, Somerville Public Schools saw the number of its students enrolled in AP classes increase by more than 50% in just one year. With nearly three-quarters of the district's students qualifying for free and reduced-price meals, Somerville also committed to covering 85-95% of the cost of AP Exams, with help from the national nonprofit Mass Insight Education (MIE). Now in their second year of partnering to increase student participation in AP science, math, and English classes, MIE and Somerville High School are expanding access and opportunities for success.
Continue reading »

By William C. Shelton
(The opinions and views expressed in the commentaries and letters to the Editor of The Somerville Times belong solely to the authors and do not reflect the views or opinions of The Somerville Times, its staff or publishers)
Somerville has the worst jobs-to-workers ratio and commercial-to-residential-property ratio in Massachusetts. Both accelerate the displacement of long-term residents, while limiting revenues that can support city services. And a tiny commercial tax base means high homeowner taxes.
Continue reading »