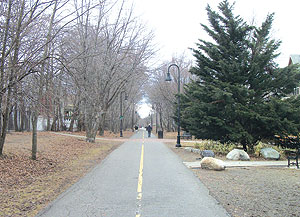 The City of Somerville's Engineering Department announced this week that construction previously scheduled to begin in November for the Community Path, between Buena Vista Rd. and the Cambridge line, will be postponed until 2018.
The project will repair drainage systems in that area to address recurring flooding issues and to improve safety.
Continue reading »
Arrests:

*
Leodan Salmeron-Molina, November 28, 9:07 a.m., arrested at Middlesex Ave. on a warrant charge of assault and battery.
David McCollin, of 14 Howard St., Cambridge, November 28, 8:56 p.m., arrested at McGrath Hwy. on charges of drug possession to distribute, trafficking in cocaine, and operation of a motor vehicle with a suspended license.
Continue reading »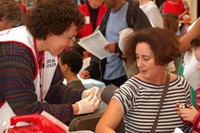 The City of Somerville Health and Human Services Department (HHS) is offering FREE flu shots for anyone age 4 and up, with or without health insurance. Free vaccines are still available. HHS is hosting a final clinic from 1:00-4:00pm at St. Benedict Parish (21 Hathorn St.) on Sunday, January 7th. You can also stop by the HHS office at City Hall Annex (50 Evergreen Ave.) during normal business hours to get your flu shot. Office is open MWF 8:30am-4:30pm, Th 8:30am-7:30pm, F 8:30am-12:30pm. If you do have health insurance, please bring your Health Insurance Card (this includes Medicare).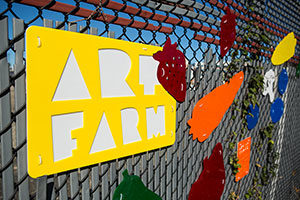 Continuing a multi-year planning and design process, all interested parties are invited to join Mayor Joseph Curtatone and the Office of Strategic Planning and Community Development on Tuesday, December 5, at 6:00 p.m. at the Brickbottom Artists Association, 1 Fitchburg St., for a meeting to discuss the future of the ARTFarm site.  Attendees will be updated on next steps for the project.  A community meeting will follow in February 2018 to obtain feedback on final designs.
Continue reading »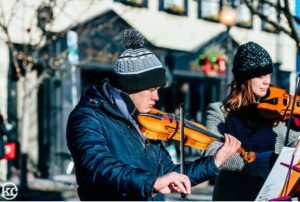 Union Square Main Streets, in partnership with local businesses, will bring you the 3rd Annual Holiday Stroll on Saturday, December 9 from 11am-5pm. Participants are invited to kick off the holiday season with a stroll through the Square with many exciting activities to explore.
Continue reading »

Recently, at the Goodwill in Davis Square, I walked in and immediately spotted a giant ring in the jewelry case. It was $2.99 plus tax. I asked to see it and when the clerk handed it to me, I knew right away that it was a Star Sapphire set into 18K yellow gold. I'll take it, I told her.
Continue reading »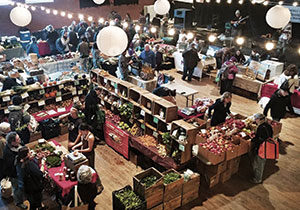 Join Groundwork Somerville, Arts at the Armory and the Community Credit Union to Celebrate the Best of New England Farms and Food Every Saturday from December 2, 2017 through April 14, 2018 at the Armory
The Somerville Winter Farmers Market proudly announces today that it will be open every Saturday beginning this Saturday, December 2 through Saturday, April 14. Managed by Groundwork Somerville in partnership with Arts at the Armory and the Farmer Market's sponsoring partner, the Community Credit Union, this weekly market offers the best locally grown and regionally produced agricultural items, including vegetable produce, cheese, eggs, meats, fish, breads, pastries, chocolate, and wine. Stroll among more than 30 booths while also enjoying live entertainment and rotating guest vendors each week selling local food and wares ranging from dog treats, specialty spices and honey, to botanicals, apothecary and ceramics.
Continue reading »
By JT Thompson
Jennifer is a musician, landscape designer, and devoted parent who began her life in a homogenous WASP neighborhood in New York City, and now thrives in the multicultural richness of living in Union Square.
In the early '90s she had national success in a band called The Story, singing harmony with her college friend Jonatha Brooke. After the band broke up in '94, Jennifer went on to find happiness in the local music scene, in parenting, and in the mix of indoor and outdoor work in her landscape design career.
Continue reading »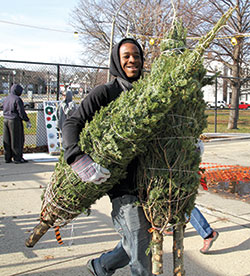 By Braden Moriarty
Hopes are high for the students and staff at Somerville's own Next Wave and Full Circle Alter-native schools as they put together the 22nd Annual Tree Lot Fundraiser at their brand new location: The Edgerly Building on the corner of Cross Street and Bonair Street.

Continue reading »
 ~Photos by Claudia Ferro
The Somerville High School Craft Fair is celebrated its 25th Year this past weekend. More than 100 registered crafters provided everything from wreaths to homemade soaps and concrete jewelry.
The SHS Craft Fair supports track athletes throughout the year with scholarships, access to school trips and athletic wear.