By Daniel Sullivan
When I heard that Peter Wolf, front man for the legendary J. Geils Band, would be performing at the Somerville Theatre on Thursday night, May 12, I got tickets right away.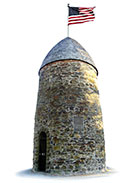 Ready or not, this year's installment of PorchFest will be hitting the city this coming weekend.
Those who have, in the past, taken notice of the event – and it is an event that is rather difficult not to notice – usually have fairly strong opinions of approval or distaste for the goings on.

Continue reading »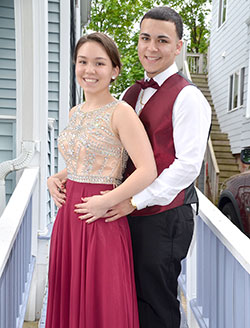 Chris Pino and Casey Revilla celebrated Somerville High's Senior Prom at the Boston Cambridge Marriot Friday night.
By Louise Carpenter
More than 320 swimmers are currently registered for the 40th Annual Save The Bay Swim on August 13. For one family, joining the Swim for the very first time, with two swimmers and two kayakers, the iconic event has special meaning. Daniela Abbott, 34, has lived in Portsmouth, Rhode Island for many years with her husband Branden and their children. Abbott grew up a swimmer, and she and her husband have many friends who've done the Swim, but she's never quite found the right reason to dive in herself. Until now.

Continue reading »

*
Mayra Gomez, a student at Endicott College, writes The Somerville Times: "I'm from Honduras, Central America.  I'm 19 years old. My major is International Business. I love literature and learning different writing styles."


*
Part of life is losing touch. People disappear from our lives, sometimes never to appear again. Somerville writer Stefan Cooke author of Barbara Newhall Follett: A Life in Letters is not satisfied to let the disappearance of his half aunt Barbara disappear into the ether. With his new book he traces Follet's life through her letters. Follett was gifted child prodigy writer, who vanished in 1939 from her home in Brookline, Mass. at age 25. She was never to be heard of again.

Continue reading »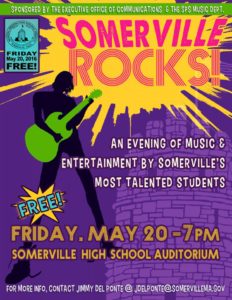 Somerville's talented teens show off their skills at the free "Somerville Rocks!" show on Friday, May 20 at the Somerville High School Auditorium. The show starts at 7 p.m.
Arrests:

*
 Wilfredo Cruz, of 38 Thornton St., Roxbury, May 9, 3:52 p.m., arrested at Middlesex Ave. on charges of resisting arrest, larceny under $250, and receiving stolen property over $250.
James Jackson, of 46 S. Bow St., Milford, May 9, 3:52 p.m., arrested at Middlesex Ave. on charges of larceny under $250 and receiving stolen property over $250.

Continue reading »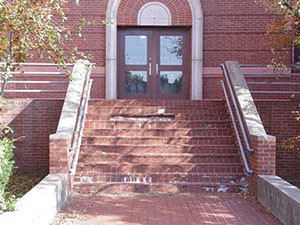 Costs of preferred option expected to range from $160M to $230M. Financing options to be determined in coming weeks. Public input still sought via public meetings, SBC webpage.
Following its selection of the preferred option, "4b," for the proposed renovation or rebuilding of Somerville High School last month, the Somerville High School Building Committee (SBC) presented potential costs and additional analysis for the proposed building at its regular meeting on May 9. Stressing that potential costs and cost drivers remain flexible due to a variety of factors including construction fees and items related to the project's Education Plan goals, the SBC estimates that costs to the City could range from $160 million to $230 million, after eligible reimbursements from the Massachusetts School Building Authority (MSBA). Financing options have not yet been determined, however Mayor Joseph A. Curtatone and SBC members also affirmed their commitment to negotiate costs as low as possible before voting on the final preferred option to present to the MSBA in June.

If you live in the Davis Square area, join in Monday night for the spring Ward 6 ResiStat meeting. You'll have a chance to learn more about what's going on in Somerville, share your feedback, and chat with elected officials, city employees, and your neighbors.

Continue reading »