Updated:
This afternoon at 1259 (April 6, 2015) the Somerville Fire Dept. responded to a house fire at 17 Gordon Street. Firefighters found a first floor rear bedroom engulfed in flames with heavy smoke throughout the two story dwelling. The occupant of the first floor was rescued from the building by a contractor working in a house next door prior to firefighters arrival . Both the rescuer and victim were  transported to the hospital. Damage is estimated at $100,000 and both apartments are uninhabitable at this time. Two occupants have been displaced. The cause of the fire is presently under investigation
— Somerville Fire Dept.

Continue reading »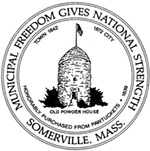 Somerville youth ages 16 and older eligible to apply for summer employment within City departments, with local retailers; Applications due 4/24
Attention Somerville Youth! The Mayor's Summer Jobs Program is now accepting applications for summer 2015, and more than 100 Somerville teens will be selected to participate in the annual job program which pairs young job seekers with opportunities within City departments as well as with private business partners in Somerville. Applications are now available at the Personnel Department in City Hall, and will be accepted until 12:30 p.m. on Fri., Apr. 24. Eligible students must be Somerville residents, enrolled in high school, and at least 16 years of age.

Continue reading »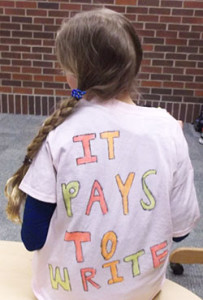 "There are young writers in our elementary and middle schools who love to write beyond what is expected in school and are hungry for support for their efforts. I don't know how many. It doesn't matter. They are there, in grades 4 through 8, even younger. They not only need to write but know a need for an audience. They are interested in enhancing their abilities and enriching their experience as writers by sharing what they write, in publishing, and in playing their craft as musicians play their instruments." With this motivation, explains advisor Alan Ball, the Writers' Den was established at the Somerville Central Library in the summer of 2013.
Continue reading »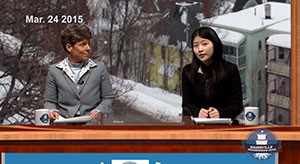 You will get an in-depth recap of Union Square redevelopment updates in this episode of Somerville Neighborhood News #36.
Did you miss the meetings in Union Square about what's in store for the neighborhood? Did you know there was a protest? What are people upset about, what does City Hall think and how is master developer US2 reacting? Find out in the upcoming special edition of Somerville Neighborhood News, devoted entirely to Union Square redevelopment .You can catch SNN Tuesdays at 7 p.m., on Channel 3 if you have cable TV, or online at
http://www.somervilleneighborhoodnews.org
.
Somerville Neighborhood News is a community service production of Somerville Community Access Television, produced by staff, interns, and members.

By Tim Talun
(The opinions and views expressed in the commentaries of The Somerville Times belong solely to the authors of those commentaries and do not reflect the views or opinions of The Somerville Times, its staff or publishers)
Often cited as New England's densest city, Somerville is set to become significantly denser. The zoning ordinance overhaul now before the Board of Aldermen would guide the changes this increase in density will bring. Whether these changes would make our city more vibrant and livable, or uncomfortably crowded and congested, depends on how well they facilitate the variety, amenities, design quality and mix of property uses necessary to create great neighborhoods.

Continue reading »
(The opinions and views expressed in the commentaries of The Somerville Times belong solely to the authors of those commentaries and do not reflect the views or opinions of The Somerville Times, its staff or publishers)
Thank you for your time.
The amount of disinformation being spread on Somerville's new proposed zoning has prompted me to write this letter.
There are claims the new zoning code would somehow devalue property by a newly imposed limit on tenants in a single unit. The limit of four unrelated individuals to live together in a single dwelling unit, is already the law in both Somerville and the Commonwealth and has been for years. So nothing new is proposed here. The same source also claims this would limit how much rent could be charged while at the same time claiming it would cause upward pressure on rents, which is contradictory. Besides trying to figure out how both of these conditions would coexist, it is obvious the rule has not kept rents and property values from increasing every year. One has to wonder if the people trying gambit know it has been the law and if they have been violating it for years. As for Boston allowing more and it being fine, I would say you only need to watch the news each year on the issues with rental properties in Allston. The number of neighbor complaints, fines against property owners and unacceptable living conditions is exactly what we do not want.
By Jim Clark
Police executed an arrest of Jonathan Machado on warrant charges of assault with a dangerous weapon, assault to murder, armed robbery and home invasion last week.

Continue reading »

By Joseph A. Curtatone
(The opinions and views expressed in the commentaries of The Somerville Times belong solely to the authors of those commentaries and do not reflect the views or opinions of The Somerville Times, its staff or publishers)
Somerville was honored at WalkBoston's 25th anniversary gala last week, where I accepted a Golden Shoe Award on behalf of all our community partners who have worked tirelessly to advocate and help us build a walkable community. We are committed to making Somerville the most walkable, bikeable, transit-accessible city in the nation, and the data behind walkable neighborhoods make the benefits clear. Transportation costs for families are lower, while sales for local businesses are higher. By giving people the option of not having to use their cars to run errands, air pollution goes down while our residents' personal health gets better as they choose to walk more. And the greatest benefit of walkability is perhaps the hardest to measure, but easiest to identify: it creates community.

Continue reading »