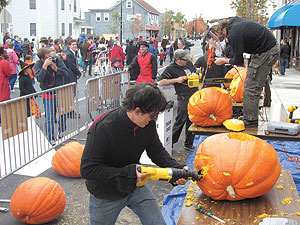 Final SomerStreets of 2014 includes costume parade, power tool pumpkin carving, Oktoberfest and more.
On Sunday, October 19, residents will flock to Somerville Avenue and Union Square for the annual Monster Mashed-Up @ SomerStreets event, the final installment of the City's annual Open Streets series. The event is free and open to residents of all ages, and approximately 7,000 attendees are expected.

Continue reading »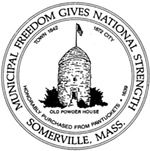 Monday, Oct. 13 is Columbus Day and city offices will be closed. Because of the holiday trash and recycling collection will be on a one-day delay all week. There will be no street sweeping and parking meters will not be in effect on Monday.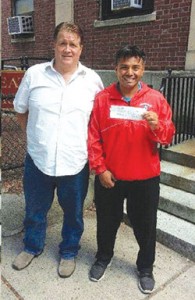 The 2014 Marathon Sports "Somerville Jingle Bell Run" taking place on December 14, 2014 in Somerville is proud to announce it's first donation of $1500 to the Somerville High School Girls Soccer Team. Paul Collyer of the Somerville Striders Athletic Club made the presentation to the Somerville High School Girls Soccer Coach, Tony Diaz at the Somerville Recreation Center. Please go to
http://www.baevents.com/jinglebell/
for more information on the 2014 event.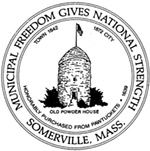 "Sustainable Neighborhoods" plan to broaden and deepen Somerville's affordability efforts includes 100-home strategy, expansion of inclusionary zoning, tax credits for benevolent landlords and increased SomerVision housing goals
In the face of a regional affordable housing crisis, the City of Somerville is expanding its already robust housing affordability efforts to create a comprehensive program that addresses affordability from all angles and across all needed income brackets, Mayor Joseph A. Curtatone announced.
Building off the promise he made in his inaugural address in January 2014 to protect people who have chosen to live in Somerville, Mayor Curtatone will present "Sustainable Neighborhoods," an outline of the next steps to broaden and deepen the city's efforts to maintain affordability for the people and families of Somerville, at the Board of Aldermen's Housing and Community Development Committee meeting on Wednesday, Oct. 15 at 6 p.m. The meeting is open to the public.

Continue reading »

Life in the Ville by Jimmy Del Ponte
(The opinions and views expressed in the commentaries of The Somerville Times belong solely to the authors of those commentaries and do not reflect the views or opinions of The Somerville Times, its staff or publishers)
Lots of songs remind us of growing up in Somerville. My dad graduated from Somerville High in 1938, and my mom in 1944. Somerville's swinging teens back in '38 were boppin' to songs like Jeepers Creepers (where'd you get those peepers). The top song in 1944 was Bing Crosby's Would You Like To Swing on a Star? (carry moon beams home in a jar). It's cool to imagine my young mom and dad strolling through Davis Square singing those two songs as they "saw the movie for a nickel and had a coke for 2 cents!" (after walking uphill, barefoot, in a snowstorm to school!!)

Continue reading »

By William C. Shelton
(The opinions and views expressed in the commentaries of The Somerville Times belong solely to the authors of those commentaries and do not reflect the views or opinions of The Somerville Times, its staff or publishers)
Going to the voting booth imagining that casinos will benefit your family, community or state is equivalent to going to a casino imagining that you'll leave as a big winner. In both cases someone will end up with a lot of money, and it's a sucker's bet that it will be you.

Continue reading »
Somerville Police released the following press release:
On Wednesday, Oct. 8, 2014, during the early evening hours, the Somerville Police responded to a report of a sexual assault in progress on Central St. near Broadway in Winter Hill. The suspect was apprehended by Somerville Police, and then arraigned on Thursday at Somerville District Court on charges including sexual assault with intent to rape and assault with intent to murder. The suspect was remanded by the Court for a 20-day evaluation at Bridgewater State Hospital. A Dangerousness Hearing has been scheduled for Somerville District Court on Oct., 29. A dangerousness hearing is conducted to determine if the suspect will be held without bail while his criminal case is pending.

Continue reading »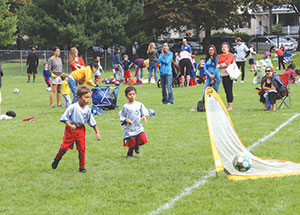 Somerville Youth Soccer League (SYSL) is organizing two events in October to show our support for both the Somerville High School (SHS) Girls and Boys Soccer programs. Please join them as they celebrate the young women and men who represent the city and sport they love.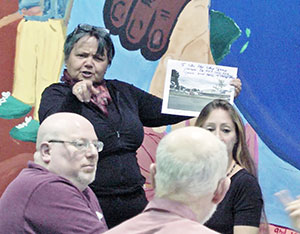 Somerville Neighborhood News
is a community service production of Somerville Community Access Television. If you don't have TV or the time to watch the full episode, you can watch the individual news segments online at
www.somervilleneighborhoodnews.org
. Here are some headlines from the latest newscast.
Continue reading »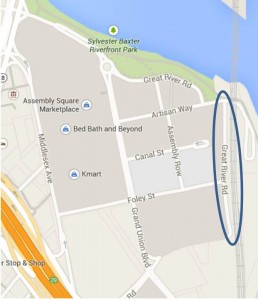 There's a rare opportunity to name a Somerville street and Mayor Joseph Curtatone is seeking your suggestions. Great River Road in Assembly Square runs along Baxter Park and is then interrupted by a bend where it meets Artisan Way. To avoid confusion for residents, businesses, visitors, and emergency personnel, the city has decided to rename the lower portion of the street, which runs parallel to the train tracks (please see  map).
Continue reading »