Arrests

:


*

Ryan Gfeller, 20, of 607 Fellsway, Medford, September 2, 4:31 a.m., arrested at 16 Puritan Rd. on a charge of nighttime breaking and entering of a vehicle or boat.

Vando Macedo, 24, of 175 Norfolk Ave., Boston, September 3, 9:13 a.m., arrested at Broadway on a charge of possession of a class B drug and on a warrant charge of operation of a motor vehicle with a suspended license.

Continue reading »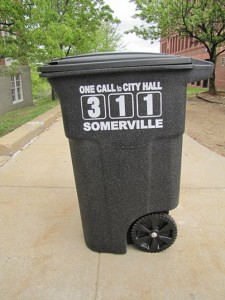 To gather data on how the recently issued trash toters are serving city and resident needs, the City of Somerville is asking residents to take a brief phone survey on the program, as well as the Zero Sort Recycling program that was rolled out in 2012.
Beginning on Monday, September 8, residents currently signed up to receive city alerts via telephone will receive a call requesting they take the seven question survey.

Continue reading »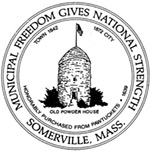 Beginning on Monday, September 8 and lasting through late 2015, ongoing repairs to the Gilman Street Bridge on McGrath Highway will require the closure of Gilman Street to all pedestrian traffic. During this work, pedestrians traveling south on Gilman Street will turn left onto Aldrich Street and cross McGrath Highway at the Pearl Street pedestrian signal. Those traveling north will turn right onto Cross Street to return to the McGrathy Highway and Pearl Street signal.
Continue reading »
By Cathleen Twardzik
A photo collage was created for display at Somerville Overcoming Addiction's (SOA) First Annual Vigil, which will occur on September 8. The purpose of the vigil is to recognize, to remember and to celebrate loved ones all of whom were lost to addiction.
On August 12, SOA hosted an event at 149 Broadway Somerville at Connextions to make the collage. Participants were asked to bring photos of their loved ones to produce it, and pizza was provided by Wicked Sober Inc.

Continue reading »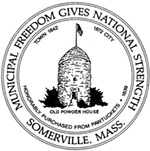 Mayor Joseph A. Curtatone, Ward 2 Alderman Maryann Heuston, and the Mayor's Office of Strategic Planning and Community Development (OSPCD) invite all interested community members to the third in a series of meetings to discuss the renovation plans for Lincoln Park, located next to the Argenziano School just outside Union Square. The meeting will be held at the Argenziano School Cafeteria, at 290 Washington St., on Monday, September 15 from 6:30 to 8 p.m. Attendees will review the community process to date, the City's plans to hire a landscape architecture design firm for the renovation, and the issues to be addressed in any new park design. Please join us to share your ideas.  We want this renovation to reflect the needs of the community. 
The meeting location is accessible to people with disabilities. To request language assistance, handouts in alternate formats, or information on the meeting, please contact
 Arn Franzen at: 
afranzen@somervillem.gov
, or (617) 625-6600, ext 2500.
Somerville firefighters were kept busy last weekend  on Labor Day, September 1, responding to three fires in the city. The first, and most serious fire, broke out at approximately 1:36 a.m. at 53 Josephine Avenue. The three story home suffered extensive fire damage in the rear with smoke and water damage throughout. The rear porches were destroyed and fire spread into the walls and attic of the home. Heat from the fire also damaged the home at 49 Josephine Avenue melting vinyl siding. All three apartments were rendered uninhabitable and the occupants have been displaced. Two Alarms were sounded and one firefighter was transported to the hospital for evaluation after becoming ill at the scene. The cause of the fire is presently undetermined and remains under investigation.

Continue reading »

Life in the Ville by Jimmy Del Ponte
(The opinions and views expressed in the commentaries of The Somerville Times belong solely to the authors of those commentaries and do not reflect the views or opinions of The Somerville Times, its staff or publishers)
Summer vacation 2014 is history. While I was directing the Somerville Sunsetters song and dance troupe, I was not allowed to mention that 6 letter word … school. Anytime the subject of school is mentioned, I channel my dad and start preaching. "You kids today have it so easy compared to when I was in school!" I tell them how we had things like dress codes … and … BUILDING MASTERS!!!

Continue reading »
Due to forecasts of severe storms and high heat on Saturday, Sept. 6, the Community Path Party co-sponsored by the City of Somerville and the Friends of the Community Path has been POSTPONED until Saturday, Sept. 20, from 2 to 6 p.m.

By
Joseph A. Curtatone
(The opinions and views expressed in the commentaries of The Somerville Times belong solely to the authors of those commentaries and do not reflect the views or opinions of The Somerville Times, its staff or publishers)
This week, Somerville students are returning to a district that is accelerating education. Last year, Somerville Public Schools led all Massachusetts urban school districts in student growth on the Spring 2013 MCAS, putting our schools on par with some of the highest-performing districts in Massachusetts. That means Somerville is helping each and every student continually improve, regardless of where they start academically. Somerville High School made a two-level leap on the state's accountability rating scale to the highest rating, Level 1, and was named as one of the state's top 15 "dream schools" by the Boston Globe. The Kennedy School also earned a Level 1 designation last year.

Continue reading »
Here's a shot of the parking lot at Market Basket on Somerville Ave. last weekend. Need we say any more?