By Douglas Yu
Assembly Row is already one of the biggest construction projects in the state. In addition, however, Assembly Row developer Federal Realty kicked off the construction of 750,000-sqaure-foot office headquarters for Partners Healthcare on Monday, Dec. 1.

Continue reading »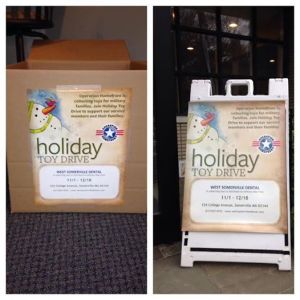 By Rebecca Danvers
A toy drive to benefit children of military personnel is taking place now through Dec. 18. The effort is sponsored by Operation Homefront and is being represented locally by West Somerville Dental, here in Somerville. Donations of toys can be brought to West Somerville Dental office at 124 College Ave.

Continue reading »

Eagle Feathers #67 – Anderson's Train
By Bob (Monty) Doherty
Charlestown, established in 1628, is older than Boston. It originally covered ten towns before it split and annexed itself to the capital city, taking 200 years to accomplish.

Continue reading »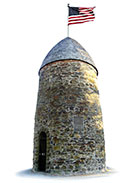 Roll out the red carpet and start hanging the tinsel. Here comes the holiday shopping season once again, and we are ready to embrace the opportunity to celebrate the only way we can: with enthusiasm and optimism.

Continue reading »
By Ross Blouin
The Somerville Kiwanis Club recently celebrated the accomplishments of one of its veteran members, President and CEO of the Winter Hill Bank Sandra McGoldrick, at its luncheon meeting on Thursday, December 4.

Continue reading »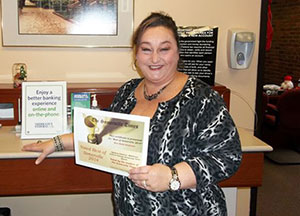 The Somerville Times
"Best of Somerville" Best Bank Employee honoree, Sylvana Sabatino, of Middlesex Federal's Teele Sq. office proudly shows off her certificate of honor. Congratulations, Sylvana, on a job well done.

Andrew Sofer grew up in Cambridge, England, and, after boarding school, studied at the Hebrew University of Jerusalem, Boston University, and the University of Michigan. His numerous poetry awards include Southwest Review's Morton Marr Prize; Atlanta Review's International Publication Award; First Prize in the Iambs & Trochees Contest; and New England Poetry Club's Gretchen Warren Award. Wave, his first book of poems, was named a finalist for the Morse Prize, the Donald Justice Award, and the New Criterion Prize. Andrew has acted and directed widely, and his writings on theater include the acclaimed book The Stage Life of Props. He teaches in the English department at Boston College. I had the pleasure to interview him on my Somerville Community Access TV show Poet to Poet: Writer to Writer

Continue reading »

Jessica Gray is a freshman at Endicott College in Beverly, MA.  She is currently studying two-dimensional studio art and is also minoring in music and creative writing.  One of her pieces is currently being displayed in a student show on campus.  The piece was part of a Graphic Novel workshop she participated in a few weeks ago.

Continue reading »
Arrests

:


*

Kyle Pollard, of 16 O St., South Boston, December 1, 11:34 a.m., arrested at 611 Assembly Row on charges of larceny over $250 and shoplifting by asportation.

Kelly Murray, of 90 Bowdoin St., Malden, December 2, 2:38 p.m., arrested at 260 Elm St. on a charge of possession of a class A drug.

Continue reading »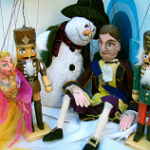 Kids of all ages are invited to a retelling of this classic holiday story featuring Rosalita's Puppets, Charlotte Dore's handcrafted marionettes. Clara receives a beautiful nutcracker as a gift from her uncle, but when it is broken, Clara's heart breaks as well. As she sleeps, Clara dreams her Nutcracker comes to life, battles the Mouse King, and takes her to the land of the Sugar Plum Fairy.
Wednesday,  December 10,  3:30 – 4:30 p.m. at the East Branch Library, 115 Broadway.