Eagle Feathers #81 – Bells
By Bob (Monty) Doherty
Last Halloween, the Somerville Theatre presented a production called Nevermore: An Evening With Edgar Allan Poe. Poe's fascination with chimes led him to title one of his poems The Bells, wherein he invented the word tintinnabulation, which described their sound. Poe was born just three miles from Somerville in Boston.

Continue reading »
(
The opinions and views expressed in the commentaries of The Somerville Times belong solely to the authors of those commentaries and do not reflect the views or opinions of The Somerville Times, its staff or publishers)
Over the past few years, many ideas and plans have been put forward by the City regarding major public and civic buildings in Somerville. This has often involved moving buildings to or from Union Square, yet planning for this has not yet been a significant part of the Neighborhood (Master) Plan currently being created for Union Square. Union Square Neighbors asks that the City's plans for major public and civic buildings be clarified and that the Neighborhood Plan include planning for public and civic buildings in Union Square.

Continue reading »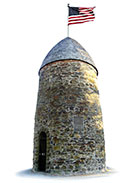 We did it back in 1972 and once again in 2009. And now we find ourselves living in and completely loving our All-America City in 2015.
The National Civic League, based in Denver, CO, bestowed the tile upon the City of Somerville, along with nine other deserving cities, in recognition of its ability to "demonstrate close and effective collaboration among the public, private and nonprofit sectors to identify and advance the progress of key goals shared by the community."

Continue reading »
Sarah Cunningham
, June 17, 2:18 a.m., arrested at 157 Walnut St. on warrant charges of disorderly conduct, wanton and malicious defacement of property, and threat to commit a crime.
Continue reading »
Curtis Franklin Brown was born on July 15, 1925, in Cambridge, MA, the son of Thomas Franklin Brown and Mildred Spoffard Curtis with his sisters, Priscilla and Lucille. He was raised in West Somerville, near Boston. After attending local public schools, he entered the U.S. Navy in 1943, and as a Laboratory Technician he served aboard ship on the Pacific Ocean until 1946. He attended Tufts University, Medford, MA, until graduating in 1949. He entered Columbia University Graduate School, where he earned a Master's Degree in American Literature. He taught at Tufts until 1952, when he was invited by Columbia Records Co. to become a LP Album notes annotator. After publishing biographies of Jean Harlow and Ingrid Bergman, he wrote and published an extensive work on bad taste in many aspects of American Culture, "Star Spangled Kitsch".

Continue reading »

This is an interview I conducted with Pagan Kennedy for The Somerville Times back in 2002.
Pagan Kennedy, a critically acclaimed Somerville, Massachusets novelist, once described the city she calls home as, " a rock and roll, Vietnamese student neighborhood part of Boston…" Much like Somerville itself, Kennedy has changed a bit since then. This writer, who has written about everything from Rock musicians in the hardscrabble hoods of Boston, to two eccentric spinsters who hit the road, has taken a new direction in her writing. Kennedy has just completed an accomplished work of nonfiction entitled: BLACK LIVINGSTONE: A TRUE TALE OF ADVENTURE IN THE NINETEENTH- CENTURY CONGO .This book concerns the experiences of a black American missionary, William Sheppard, who traveled to the Congo in the late 19th century.

Continue reading »

Poet Mary Buchinger reminded me recently that the first poem she published was in Somerville's literary magazine Ibbetson Street that I founded with Dianne Robitaille, and Richard Wilhelm in 1998. So it is a pleasure to have her here in the LYRICAL, in celebration of a new collection of poetry she released: Aerialist.

Continue reading »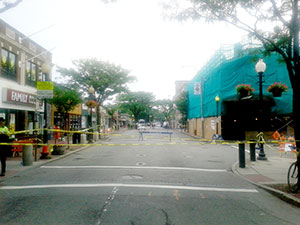 Update: Tue., June 23, 2015
At approximately 9 p.m. on Tuesday, 6/23, a single lane of alternating traffic will reopen between Dover St. and Russell St. All businesses except those at the corner of Chester St. and Elm St. will reopen. Chester street is expected to remain closed until Thursday afternoon.
Due to public safety concerns over a structurally compromised front exterior of the building at 240 Elm St. in Davis Square, Elm Street between Dover Street and Russell Street will be closed to all cars and there will be no access for pedestrians between Chester Street and Grove Street until further notice.

Continue reading »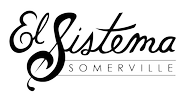 After three years at the helm of the Somerville Public Schools' newest music program, El Sistema Somerville's first program director Diane Cline will be leaving the program and embarking on a "Year of Donations" project. She will be leaving her full-time position as Director of the program effective June 30, 2015. Motivated by a desire to pursue new creative endeavors, Ms. Cline will immediately embark on her new project which includes playing and teaching engagements in the Azores Islands, Colombia, Scotland, and the Greater Boston area.
Continue reading »
By Rebecca Danvers
The Somerville Mathematics Fund recently announced the winners of their renewable mathematics scholarships for 2015. The Math Fund was founded to celebrate and encourage math achievement and these students deserve to be celebrated for their work in math and science while in high school.

Continue reading »