This Friday is Bunker Hill Day and City offices will be closed for the holiday. Trash and recycling collection will remain on a normal schedule. There will NOT be street sweeping on Friday, June 17.
Parking meters will NOT be in effect on Friday, June 17.
By Jim Clark
A Somerville Police officer working a paid detail at Samba Bar & Grille on Somerville Ave. last Saturday night was alerted to the actions of an unruly customer who was allegedly bothering other patrons and begging for drinks after she had been told by staff there that they would serve her no more alcohol.

Continue reading »

By Joseph A. Curtatone
(The opinions and views expressed in the commentaries and letters to the Editor of The Somerville Times belong solely to the authors and do not reflect the views or opinions of The Somerville Times, its staff or publishers)
We use lots of state-of-the-art tools to prepare our municipal budget every year, but we still rely on old-school methods – especially our ears. Our proposed Fiscal Year 2017 spending plan, which I submitted to the Board of Aldermen on June 7, reflects the role that your voice played in drafting it.

Continue reading »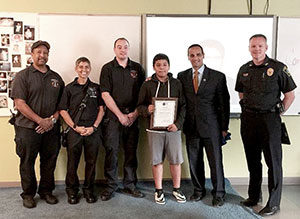 Anthony, a fifth grade student at the East Somerville Community School, received a citation from Somerville Mayor Joseph Curtatone this week for taking quick action in calling 9-1-1 to alert emergency responders about a fire on Rush Street in early May. Thanks to Anthony's decisive action, Somerville fire and other emergency crews were able to respond quickly to the fire that displaced several Somerville families. Mayor Curtatone, Somerville Chief of Police Fallon, and members of the Somerville Fire Department thanked Anthony, recognizing his heroic and selfless actions. SFD Lieutenant Blanca Alcaraz encouraged Anthony's classmates to "choose to do the right thing," and to look to personal values as a motivator.
~Photos by Kevin Dickinson
On Saturday, Somerville residents and visitors enjoyed the best of the East Broadway Business District and the East Somerville community including food, music, and culture from around the world. Programming extended along East Broadway from McGrath Highway to Pennsylvania Ave.
By Amy Swain
On Tuesday, June 7 the city's Budget Analyst Mike Mastrobuoni made himself available, along with Deputy Director of Communications Jackie Rossetti, at City Hall to discuss the budget proposal for Fiscal Year 2017.

Continue reading »
By Josie Grove
"When is my street going to be paved?"
Ward 5 alderman Mark Niedergang says it's one of the most common questions he hears from his constituents. "And I still don't know what to say.

Continue reading »
Ward 3 Alderman Bob McWatters will be having a fundraiser on Wednesday, June 22 from 5:30 to 7:30 p.m. at the ever-popular Sally O'Brien's on Somerville Avenue, Union Square. We hear that three special guests will be showing up to wish Bob good luck, of course along with the huge crowd he gets. One is his good friend Middlesex County District Attorney Marian Ryan (don't forget he's campaign coordinator here in Somerville for her), the first District Attorney for Middlesex County who grew up here, in Ward 3, and her family is still here. No one packs them in like Bob does. Last time hardly anyone could move around. He's very popular on his own, doesn't need anyone especially property owners and developers and whatever to throw him a sellout time. He's popular because he is truly a constituent Alderman and reaches out to all the residents of Ward 3, not just the special interest of a few. He's got support from all sides, and yes, he's a great guy.

Continue reading »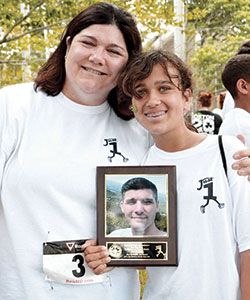 By Mariya Manzhos
Last Sunday morning nearly 400 participants gathered at the Blessing of the Bay Boathouse on the Mystic River Reservation to run a 5K race in support of lives affected by addiction.

Continue reading »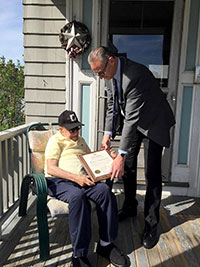 Somerville's Peter Fantasia recently received a citation from the Board of Alderman and the Mayor celebrating his 100th Birthday. Ward 3 Alderman Bob McWatters presented the citation to him on his porch with friends and family present.