Coming from far and wide tiny homes, small house builders, creators and crafters, organizations, and enthusiasts will gather in Somerville on Saturday, September 20th to discuss little living!
The tiny house movement has ramped up over the last decade from a subculture proposing a move away from McMansion-sized homes to very small and often portable houses. Several people have jumped on this bandwagon.

Continue reading »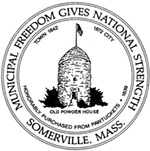 The City of Somerville's Commission on Energy Use and Climate Change (CEUCC) is currently seeking new commissioners.The CEUCC advises the City and the Mayor's Office of Sustainability and Environment on climate change and energy policy issues, including upcoming sustainability initiatives such as the reduction of greenhouse gas emissions and climate change impacts, innovative approaches to energy efficiency, and community outreach and education on climate change and energy. The CEUCC typically meets one weeknight per month at 7 p.m.
Due to the overwhelming popularity and close-out of this Sunday's Sept. 21st Walking Tour entitled "Union Square: An Intermixing of Industry, Immigration and Innovation," the Somerville Historic Preservation Commission expects to repeat the tour the following Sunday, Sept. 28.
Again it will be a free event co-sponsored with ArtsUnion. It will start at Somerville High School (91 Highland Ave.) at 2pm and end at 4:30pm. The route will include interior visits to the historic St. Anthony's Church on Properzi Way and the new Greentown Labs off Dane St. There is no rain date if heavy rain or wind prevails. Prior registration is again required by contacting Brandon Wilson via bwilson@somervillema.govor 617-625-6600, ext. 2532.

By Joseph A. Curtatone
(The opinions and views expressed in the commentaries of The Somerville Times belong solely to the authors of those commentaries and do not reflect the views or opinions of The Somerville Times, its staff or publishers)
David Fallon is officially Somerville's new Chief of Police, after the Board of Aldermen confirmed his appointment last week, and we are on the brink of an exciting time in our city. A born and raised Somervillian, Fallon has spent the past 16 years helping advance the reforms that have turned our Police Department into a model for other communities. Now he will lead the department and expand those reforms, by instilling the philosophy of community policing and layering crime data analysis at every level of the department.

Continue reading »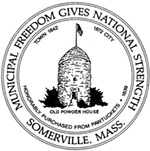 This fall, the City of Somerville is set to bring new and exciting arts and sustainability programming to the former Waste Transfer site on Poplar Street. Thanks to a $415,000 grant from ArtPlace America, the Somerville Arts Council, the Mayor's Office of Strategic Planning and Community Development, the Office of Sustainability and the Environment, and community partners (see below) are working to transform the 2.2-acre site into a community space that cultivates social innovation through art, urban agriculture, and cultural diversity. Using facilities largely built from reused shipping containers, the site will be transformed into a hub of innovation including farm- and food-related activity, as well as a welcoming open space that serves as a new gateway to the community.
Continue reading »
By Jim Clark
Gifted with a phenomenal singing voice and equally impressive songwriting skills, Texas-based songstress Ruthie Foster is once again hitting stages across the USA, this time in support of her latest release, Promise of a Brand New Day.
She will be performing and celebrating the release of the new album at Johnny D's this coming Friday, September 19, for a 7:30 p.m. show.

Continue reading »
By Jim Clark
Police were called to the Stop & Shop store on McGrath Hwy last week on reports of two shoplifters being detained by the store's loss prevention personnel.
Investigating officers took custody of the two men, identified as Ryan Libby, 25, of Everett, and Daniel Goggin, 20, of Boston and questioned witnesses on the scene.

Continue reading »
By Douglas Yu
An extended polystyrene (popularly known by its trade name, Styrofoam) recycling event was held at 9 a.m. last Saturday outside the DPW building in Somerville for residents to recycle their collected foam. The foam recycling company ReFoamIt was the host of the event. In less than half an hour, the ReFoamIt trailer collected a high stack of the stuff in the back of its truck. Outside the vehicle, one of the owners of ReFoamIt, Barbara Sherman, directed residents to dump their foam in different bags according to their properties.

Continue reading »
— By Donald Norton
Tuesday night at Foss Park the Somerville Pop Warner organization was presented with a $20K gift of equipment from the "Good Sport" foundation. Hundreds of players, kids, moms and dads showed up at 5:30 p.m. at Foss Park for the surprise of surprises. Star Patriots player Rob "The Gronk" Gronkowski showed up along with his brother Dan and father Marty. The Pop Warner participants, both players and cheerleaders, were so excited to see and meet Rob, it gave them memories to last a lifetime. The Gronk was received very warmly by the kids and almost all of them played catch with him and his brother Dan. The Good Sports foundation is supported by Rob Gronkowski and it helps various Pop Warner organizations throughout the area, this year they donated much needed equipment for the teams to practice with and be safe.
By Gabriela C. Martinez
A public meeting was held last Thursday to discuss the opening of a Brothers Marketplace in the old Social Security Office located in Davis 240, Elm Street. In the meeting, residents had the opportunity to ask questions about the products offered, learn about the store's construction process, and the delivery schedule for vendors.

Continue reading »