By Jim Clark
While working a traffic patrol detail on Rte. 16 at Dilboy Field last Sunday evening, police officers clocked a passing vehicle traveling in excess of 40 mph in the area's 30 mph zone.
The officers activated their blue lights and siren to stop the vehicle, but it reportedly just kept going south on Rte. 16.

Continue reading »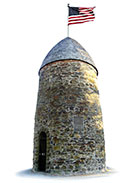 How much do we love summer? It's certain that we all feel varying degrees of enthusiasm for the season. Some may live to revel in the warm sunshine, while others might prefer a cooler climate, even to the extent of pining for snowy picture-postcard scenes straight out of Currier and Ives. One thing's for sure, we could sure do without as much snow as we got last winter.
Continue reading »

Eagle Feathers #85 – The First "Cow" Boys
By Bob (Monty) Doherty
A row is a line or rank of persons, seats, houses, animals or other things found in a series. Bow Street, in Union Square, used to be referred to as Doctors' Row because of the convergence of doctors' offices located there. For over 150 years in West Somerville, Professors Row housed Tufts University's highest-ranking educators. The new Assembly Row, which houses the outlets at Assembly Square, is the most recent. The last and by far the most historical row in the city was "Milk Row," now Somerville Avenue.

Continue reading »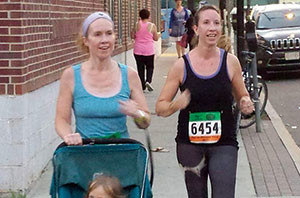 Carrie and Thomas Boland for the second year in a row have won the Olde Magoun Saloon 10Km, while Kevin Rose and Grace Steele dominated the Olde Magoun Saloon 5Km on August 6, 2015. The Olde Magoun Saloon 5Km is every Thursday night beginning at 7:10 p.m. The results of the August 6 races are as follows:
Continue reading »

Former owner of the Grolier Poetry Bookshop tells it all

*
This is an interview I conducted with Louisa Solano on my Somerville Community Access TV show Poet to Poet/Writer to Writer shortly after she sold the Grolier. It appeared in Circle Magazine. Many a Somerville poet has visited this store to buy books, attend readings, etc.

Continue reading »

A friend of mine, Keith Tornheim, is an Associate Professor of Biochemistry at the Boston University School of Medicine, and a fine poet as well. Keith sent me this poem about a departing secretary at his office.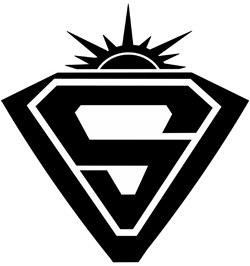 Residents are invited to enjoy the remaining performance dates for the 2015 Somerville Sunsetters season. Led by Somerville Youth Arts Coordinator Jimmy Del Ponte, the Sunsetters are a traveling youth music troupe, performing popular show tunes and contemporary pop music hits on city streets throughout July and August at sunset. The group began in the 1970s, performing through the 1980s until they were reinstated by Mayor Joseph A. Curtatone in 2004. The 45-minute shows are a great way to spend a summer evening with the kids, neighbors, family and friends.
The Somerville Retirement Board (SRB) continues its due diligence in respect to fossil fuel divestment and its impact on the investment portfolio.
As an independent entity, the SRB must act, according to state law, "for the exclusive purpose of providing benefits to members and their beneficiaries" with "care, skill, prudence and diligence… by diversifying the investments of the system so as to minimize the risk of large losses unless under the circumstances it is clearly prudent not to do so." (Massachusetts General Laws, Chapter 32, Section 23 (3), Fiduciary Standards.)  As a result of prudence and diligence the SRB has posted an 11.55% Five Year Rate of Return with a Ten Year Rate of Return of 7.67%, ranking 5th in both categories in the state out of 105 Retirement Boards.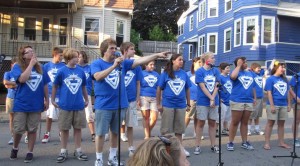 Due to the extreme heat, tonight's Sunsetters performance on Winlsow Ave. has been cancelled.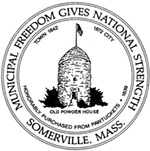 Save the Date: On Saturday, Sept. 19, the City of Somerville will host an event celebrating the 25
th
anniversary of the Americans with Disabilities Act (ADA). All community members are invited to the celebration, to be held in the Somerville High School Atrium from noon to 2 p.m. on Sept. 19. Refreshments will be served. Additional information to follow. For more information, contact ADA Coordinator, Betsy Allen, at
BAllen@somervillema.gov
, or 617-625-6600 ext. 2323.
Continue reading »