By Tom Bannister
With all this snow and frigid air it may be hard to believe but summer is just around the corner! And many programs fill up fast.
Somerville Public Schools invites you to save the date for their upcoming Summer Camp & Activities Fair, scheduled for Wednesday, March 4, 5:30-7:00 p.m. at the Arthur D. Healey School, 5 Meacham Street, Somerville, MA.

Continue reading »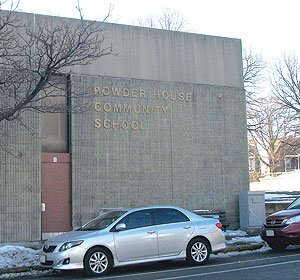 Community engagement process one of the criteria used to evaluate proposals due by March 23
The City of Somerville is seeking new proposals for the Powder House Community School site that meet previous objectives developed over two years by the neighborhood, with an extensive in-person and online community engagement process as one of the requirements for those seeking to design and ultimately redevelop the former K-8 school on Broadway between Teele Square and Davis Square.

Continue reading »

By Jimmy Del Ponte
(The opinions and views expressed in the commentaries of The Somerville Times belong solely to the authors of those commentaries and do not reflect the views or opinions of The Somerville Times, its staff or publishers)
I know that a lot of you read my column because I talk about the old days. So let's talk about the old days … of last summer when we were wearing shorts and sandals and cut off t- shirts. Let's reminisce about the days that we sat out in our yards on our lounge chairs while burgers cooked on the grill.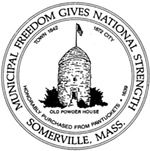 Beginning Feb. 24, eastbound traffic on Medford St. will be detoured onto Pearl St. See
www.somervillema.gov
for detour info. and updates.
Beginning on Tues., Feb. 24, 2015 and continuing through Sept. 2015, contractors will conduct necessary work on the Medford St. Bridge between School St. and Walnut St. in preparation for the Green Line Extension project (GLX). During this period, Medford St. eastbound in this immediate area will be closed to vehicular, bike, and pedestrian traffic as crews erect a temporary utility bridge. All vehicle and bike traffic will be detoured eastbound onto Pearl St., right onto McGrath Highway, and onto Medford St. Pedestrians will be able to access the sidewalk on the westbound side of Medford St.

Continue reading »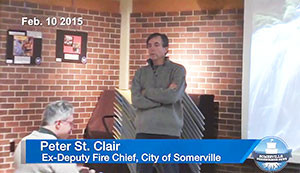 Somerville Neighborhood News has a lot of good headlines for you in this latest newscast. Here is one headline entitled: Fossil fuel divestment appears stalled

Continue reading »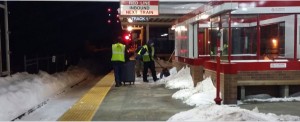 Today, in coordination with MassDOT officials, Governor Charlie Baker's administration, and the National Guard, MBTA officials announced that Red Line service has resumed from Alewife to North Quincy on the Red Line. Green Line Service along the E Branch also resumed today.
Tufts Now series on historical markers on campus begins with one commemorating abolitionist George Luther Stearns
Reprinted with permission from Tufts Now, © Tufts University, 2015
By Marjorie Howard
Scattered around Tufts' three campuses are historical markers that often go unnoticed, hidden among the pathways that many of us travel regularly or in the buildings where we study and work. In this new series, "Mark the Spot," Tufts Now explores the stories behind these snippets of university history.

Continue reading »
By Jim Clark
A reported case of vehicular assault brought police to Bonair St. on Sunday.
Officers arrived at the scene but reportedly saw no signs of a disturbance at first. They approached a parked vehicle that two women were sitting in and asked if they had reported any incident, to which they replied that they had not, but they pointed to a group of individuals standing in a nearby driveway and said that they had done so.

Continue reading »
By Rebecca Danvers
According to reports issued by the City of Somerville, heavy snow buildup on roofs can cause serious damage or a total collapse. Even if your roof has endured hard winters in the past, the very sudden and heavy snowfall of the past few weeks could put your home at risk.

Continue reading »

By Rob Buchanan
(The opinions and views expressed in the commentaries of The Somerville Times belong solely to the authors of those commentaries and do not reflect the views or opinions of The Somerville Times, its staff or publishers)
It comes as no surprise to Somerville residents that our city is ranked last in open space per person among Massachusetts' municipalities. In a city with New England's highest population density, we don't need someone to explain the term "open space," because we experience so little of it every day.

Continue reading »