One thousand new units planned for the city

*
Over a dozen medium- to large-sized residential developments, totaling around 1,000 units, are slated to be constructed over the next few years in Somerville. Most will be selling or renting for market rates, which continue to rise.

Continue reading »
By Jim Clark
Police responded to a reported case of larceny at the TJ Maxx store on Middlesex Ave. last week.
Upon arrival, officers were met by the store's loss prevention personnel and were led to where a woman, Mary Moore, 45, of Roxbury, had been detained for allegedly stealing items from the store. A Kmart shopping cart full of merchandise was also being held for evidence.

Continue reading »

By Joseph A. Curtatone
(The opinions and views expressed in the commentaries of The Somerville Times belong solely to the authors of those commentaries and do not reflect the views or opinions of The Somerville Times, its staff or publishers)
President Obama has ended Secure Communities, the misguided and ineffective program that we opted to limit in Somerville earlier this year. In some ways, Secure Communities' ignominious end was inevitable. A federal judge has already ruled that holding a person released by the courts—which the program required—violates the Fourth Amendment. Statistics showed that the majority of people deported because of Secure Communities had no criminal convictions. We were breaking apart families, which leads to more crime, in the name of a broken immigration system. Everyone knew this program was flawed and that it would end eventually, but faced with a Congress that refuses to govern because they're more interested in winning elections than smart, evidence-based decisions, the President rightly acted within his power to end Secure Communities sooner rather than later. This is an important step because it shows that the federal government is now, finally, realizing what we already know in Somerville—that truly keeping a community safe requires the police and residents to work together.

Continue reading »
Check your calendar for winter concert dates, times and locations.
December 12, 2014, 8:45 am: East Somerville Community School Winter Concert
December 17, 2014, 9:15 am: Winter Hill Community Innovation School Winter Concert
December 17, 2014, 6:00 pm: Kennedy School K-3 Winter Concert

Continue reading »
By Tom Bannister
The Somerville Youth Soccer League (SYSL) has announced two winter soccer programs being offered by Somerville Recreation and SYSL beginning next Saturday, December 13. The program details are as follows:

Continue reading »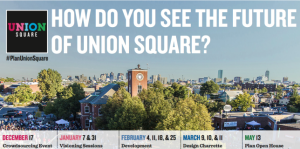 Formal agreement requires funding of community-driven planning process, creation of community benefits agreements
A community-driven master planning process for Union Square and Boynton Yards and the creation of a community benefits agreement that will result from new development are among the requirements of a signed formal agreement between the Somerville Redevelopment Authority (SRA) and Union Square Station Associates (US2). Additional items in the agreement include coordination with the MBTA on new private development alongside the Green Line Station and valuation and disposition terms for all seven development blocks.

Continue reading »
By Douglas Yu
Vinfen outlined an improved action plan to make sure Somerville residents' safety at the latest public safety meeting on the matter at Winter Hill Community School on Dec. 2.
— Photos by Claudia Ferro
The annual tree lighting ceremony took place on Dec. 4 on the City Hall Concourse, followed by a meet and greet with Santa Claus in the Somerville High School Highlander Café.
Santa Claus was escorted by the Somerville Fire Department for the ceremony and was available for photos following the tree lighting. All children attending the ceremony also received a gift from Santa. Live entertainment for the event featured the Somerville High School Band and Orchestra, the Somerville Community Chorus, and El Sistema Somerville.
Refreshments were served at SHS.
Don't forget the Christmas tree and wreath sale at Foss Park. The proceeds go to the Next Wave and Full Circle Alternative School here in the city. Please consider stopping off and helping the kids out and buy your tree locally.
Continue reading »
By Gabriela C. Martinez
The Somerville Winter Farmers' Market is back for its fifth year at the Arts at the Armory, 191 Highland Ave.
The market will be open every Saturday from 9:30 a.m. to 2:00 p.m. until March and it will include produce vendors from previous years, such as Winter Moon Farm, Heron Pond Farm, Misty Brook Farm (which also has grains and meat) and Apex Orchards.

Continue reading »