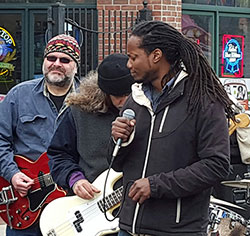 On Sunday, July 24, 1:00 – 4:00 p.m.,Union Sq Plaza, celebrate two cultures in one event, a festival full of song, dance, and art. Haiti and Brazil hit the 'Ville is a celebration of Somerville's diverse population, specifically the Haitian & Brazilian communities. This event is put on in collaboration The City of Somerville's SomerViva program. This year's festival includes: Face painting, hair braiding, and bouncy houses. Featuring many community partners and local organizations. Performances by Bobo's band, Banda Raizes de Forro and Aline Venturin Os Forrozeiros group. Food by Haitian restaurant Pikliz and Brazilian market Mineirão, and much more.
By Jim Clark
Three years ago, writer and performer Greg Josselyn got a job with the City of Boston Elderly Commission as a producer for radio and television programs on aging, where older adults told their stories of re-inventing themselves after the age of sixty.

Continue reading »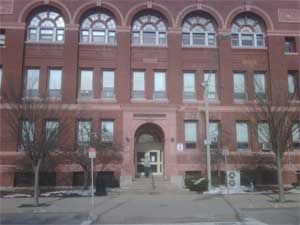 State Treasurer Deborah B. Goldberg, Chair of the Massachusetts School Building Authority ("MSBA"), and MSBA Chief Executive Officer Maureen Valente, announced today that the MSBA Board of Directors voted to move Somerville High School into the Schematic Design phase of the MSBA Capital Pipeline. In the Schematic Design phase, the City and the MSBA will look at options for a potential addition and renovation project at the existing High School. The next step is for the MSBA to work in collaboration with the District to produce detailed designs for a potential project.
Somerville Fire Department took part in the Fill the Boot campaign for the Muscular Dystrophy Association (MDA)  last weekend, inviting donors to help fill their donation boot.
By Jim Clark
Police were called to the Cityline Laundromat on Broadway last week on reports that a man, later identified as Robert Galvin, was stripping off his clothes and attempting to wash them in machines claimed by other patrons.

Continue reading »
In response to recent questions regarding the Black Lives Matter banner at Somerville City Hall, and a letter sent to the Mayor by the President of the Police Employees Association, Somerville Chief of Police David Fallon made himself available this morning at City Hall to answer questions and provide a brief statement.
A statement from the Mayor is below.


Continue reading »

By Mayor Joseph A. Curtatone
(The opinions and views expressed in the commentaries and letters to the Editor of The Somerville Times belong solely to the authors and do not reflect the views or opinions of The Somerville Times, its staff or publishers)
One of the central goals for our proposed zoning overhaul is to create more attainable housing here in Somerville. It's no secret that the cost of housing in our city, like all of greater Boston, continues to rise. It puts enormous stress on our lower- and middle-income residents. Young families are struggling to buy homes that would allow them to raise their children in our community. Seniors are stretched to stay in the community where they've lived most of their lives. Many renters find themselves barely able to keep up with annual increases.

Continue reading »
By Tom Bannister
Major James Marques, a lifelong resident of Somerville, is about to become Lieutenant Colonel James Marques.
It has been five years since Marques has been last deployed overseas. In 2011, he returned from Afghanistan. Prior to that, he had been deployed twice to Iraq, once in 2005 and once in 2008. He was a Logistics Officer when he started, turned to Civil Affairs, and is now in a Training Unit with the 75th Training Command in Newport, Rhode Island.

Continue reading »
By Charles Lane
On July 10, two Somerville residents captured a bronze medal at the Bay State Games with the Metro girl's hockey team. Kaleigh Conte (Phillips Exeter) and Shannon Higgins (Somerville High) helped lead the Metro team to 7-3 victory over the Southeast/Coastal team in the bronze medal game.

Continue reading »
By Josie Grove
Short-term vacation rentals have proliferated in recent years, thanks to sites like Airbnb, which boasts hundreds of vacation apartments and rooms in Somerville. Airbnb handles payments between guests and hosts, but it has cut the state and municipalities out of the deal, and skirts the regulations governing hotels. Legislation on Beacon Hill could change the equation, and Somerville's board of aldermen is considering how to regulate the short-term rental market.

Continue reading »