"What Happened to Being A Princess" Explores Abuse in Teen Relationships
Somerville High School has been named the winner of the 7th Annual PSA Project hosted by Middlesex District Attorney Marian Ryan and Middlesex Partnerships for Youth, Inc., for an original video highlighting the theme of "I'm Worth More." Somerville High School freshman Karis Morales was the creator of the winning video, titled What Happened to Being a Princess?

Continue reading »
Arrests:

*
Brian Belew, of 179 Franklin Ave., Chelsea, June 22, 11:24 a.m., arrested at 77 Middlesex Ave. on a charge of larceny over $250.
Sory Diabete, June 24, 11:41 a.m., arrested at 7 Allen St. on a warrant charge of abuse prevention order violation.

Continue reading »
 — Photos by Claudia Ferro
Parent Liaison at Parent Information Center (PIC) for Somerville Public Schools Aida Corredor recently retired after 20 years. Friends, family, co-workers, and Somerville officials attended her retirement party and showed their appreciation of her and the great work she has done.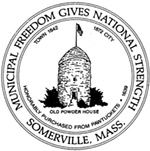 Mayor Joseph A. Curtatone and Ward 2 Alderman Maryann Heuston invite all interested community members to a public meeting to share a vision for the former Waste Transfer Station on Polar St., near Brickbottom. City representatives will present schematic drawings and a vision based on prior meetings with neighbors and stakeholders. The meeting will be held on Wed., July 8, from 6:30 to 8 p.m., at the Argenziano School at 290 Washington St. All are welcome. For more information, contact the Somerville Arts Council at 617-625-6600 ext. 2985.
By Jim Clark
Filming for a major Hollywood movie, starring Dwayne "The Rock" Johnson and Kevin Hart, is taking place from June 28 to July 1 at On the Hill Tavern in Somerville.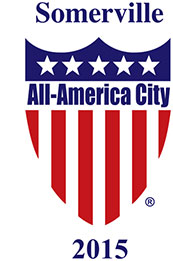 Somerville one of only 10 nationwide winners; 2015 award recognized City's support for local youth; All-America City banner to be unfurled at Fireworks on July 2.
The National Civic League announced this week that for the third time since its inception in 1949, the City of Somerville, Massachusetts, is a recipient of the coveted All-America City Award, widely considered one of the most prestigious awards bestowed upon cities. The annual award (aka "the Academy Award for cities") celebrates and recognizes communities that engage residents in innovative, inclusive and effective efforts to tackle critical challenges. Somerville is one of only ten winners nationwide, and the only community from New England, to have been selected as a finalist in 2015. Somerville previously won the award in 2009, and 1972.

Continue reading »
By Rebecca Danvers
On Friday, June 19, at 10:00 a.m., the MA Department of Conservation and Recreation held an Arbor Day Celebration at the Argenziano School to present awards to the 2015 Massachusetts Arbor Day Poster Contest winners, including three students from the Somerville Public Schools.

Continue reading »
By Oliver Bok
Driving home exhausted from a summer job on a hot and humid day in 2012, Austin Crittenden, then a student at Tufts, asked himself a simple question: "Why doesn't ice cream delivery exist?"

Continue reading »