By Tim Talun on behalf of Union Square Neighbors
(The opinions and views expressed in the commentaries and letters to the Editor of The Somerville Times belong solely to the authors and do not reflect the views or opinions of The Somerville Times, its staff or publishers)
With precious few open and green public spaces in Somerville, it is a priority to preserve and care for the spaces we do have.  This is particularly true in Union Square where millions of square feet of new development are being planned.  Despite a long planning process, identifying and limiting the negative impact of this development on some of our most important public spaces has not yet been a priority.  Now, a loophole in the proposed Union Square zoning ordinance threatens harm to the Union Square plaza and Prospect Hill Park by failing to place appropriate limits on building heights.
Continue reading »

By Joseph A. Curtatone
(The opinions and views expressed in the commentaries and letters to the Editor of The Somerville Times belong solely to the authors and do not reflect the views or opinions of The Somerville Times, its staff or publishers)
Taking a closer look at this month's notable city data—and interesting numbers.
1,315: That number represents the estimated number of crosswalks painted by our Traffic and Parking Department since 2010. Now that warmer weather has arrived, we can expect more people – residents and visitors alike – to be out walking in our squares, lively business districts, and other areas of the city, and it's imperative we do our part in keeping them safe. Our crews are planning to paint another 200-300 crosswalks this year, and as soon as weather and construction schedules allow, you'll see them out repainting the markings or applying thermoplastics. We recognize that crosswalk maintenance is just one piece of the puzzle in keeping pedestrians safe, which is why we also use pedestrian impact systems to enhance the visibility of the crosswalks, and this year we are experimenting with more durable devices that can be affixed into the road. Over the last several years, Somerville has increasingly been commended for our commitment to walkability and bikeability, and we intend to do all that we can to ensure we remain at the top of those national rankings by making our streets safe for all modes of transportation.
Continue reading »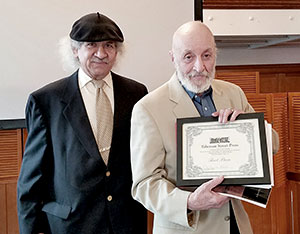 Somerville poet Bert Stern received the Ibbetson Street Press Lifetime Achievement Award on April 9 at the Boston National Poetry Festival, held at the Copley Square branch of the Boston Public Library, and founded by Harris Gardner (left). Past recipients include, Afaa Michael Weaver, David Godine, Sam Cornish, Gloria Mindock, Jack Powers, Robert Pinsky, Robert K. Johnson, Steve Glines, Harris Gardner, and others.
By Jim Clark
An order for the Executive Director of the Office of Strategic Planning and Community Development to provide the Board of Aldermen with data on car ownership and parking issues at developments permitted in the past five years was put forward and passed at their latest regular meeting last week.
Continue reading »
By Ariana Colozzo
The goal of Community Cooks is to make sure no hungry or vulnerable neighbor goes without food, and to achieve that goal, they work with dozens of partner organizations and hundreds of volunteer cooks. Due to budget cuts that many of their partner agencies face, they are no longer able to provide all necessities, including food.
Continue reading »
Don't forget, tonight popular Ward Two Alderman Maryann Heuston is having a campaign fundraiser. Join in to kick off her campaign to continue serving as your Ward Two Alderman. With special guest, Somerville Mayor Joe Curtatone. The kick-off will be held at the Kirkland Tap and Trotter on Wednesday, April 19, starting at 5:30 p.m. She looks forward to seeing you there. Just in case you didn't know, we'll tell you, Maryann has not missed a hearing or vote on any issue in her ward. That's more than couple of other ward aldermen can say. Maryann is considered a constituent's alderman. always looking to make Ward Two better, just saying!
Continue reading »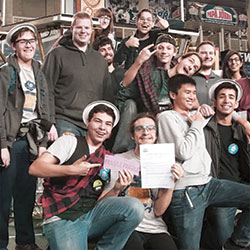 Somerville High School's Robotics Team is headed to the FIRST Robotics World Championships after impressive performances this season including at last weekend's New England District Championship in New Hampshire. The Highlanders are only in their second year competing as a team and have been facing off against much more seasoned competitors throughout the year. Not only has the team been among the top finishers at each of the events in which they've competed, they have also garnered recognition for outstanding sportsmanship and creativity, earning the Creativity Award at the Bridgewater SE event, their first event of the season, and the Gracious Professionalism® Award in Revere.
Continue reading »
By Joe Ruvido
The Somerville Democratic City Committee held a caucus to select representatives to send to the Massachusetts State Democratic convention in June. About 200 Somerville Democrats went to Somerville High School on Thursday, March 30 to select the delegates and establish their positions on the Democratic Party platform. All present were allowed at least a minute to speak before the caucus. Delegates were selected from each of Somerville's seven wards. Delegates at the statewide convention on June 3 will help establish the party platform and strategize on elections, including the 2018 gubernatorial election, where Governor Charlie Baker is expected to run for a second term.
Continue reading »

Eagle Feathers #127 – A Horse With No Name

By Bob (Monty) Doherty
Somerville's Prospect Hill Monument celebrates the raising of America's first flag. It took place on January 1, 1776, and was the 40th birthday of one of General Washington's soldiers. At the time, this new United States trooper had already proven his allegiance to the colonial cause. Eight months before, on the eve of April 19th on a daring midnight ride through Somerville and beyond, he triggered the American Revolution. His name was Paul Revere and the trail he and his horse left across this city that night was far reaching.
Continue reading »