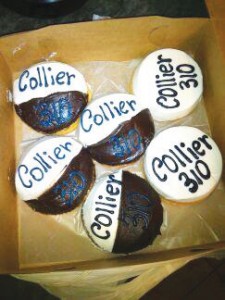 Fri., Sat., Sun., October 17-19, 720 Broadway, Somerville, MA
$1 from every half moon sold and all raffle proceeds will be donated to the Somerville Auxiliary Police Sean Collier Memorial Scholarship Fund helping Somerville High School Seniors who are pursuing a career in law enforcement. They will be selling individual custom made half moons with Sean's Somerville Police badge number 310 on them. $1 from every moon sold will be donated to the SAPD Sean Collier Memorial Scholarship fund. Last year they were able to raise over $6,000 for the fund and the goal is to go past that this year.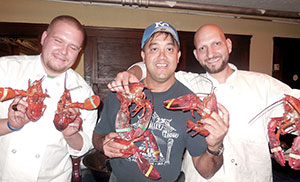 By Donald Norton
There was a Lobster Bake last Saturday at King Solomon's Masonic Lodge, 125 Highland Ave. Over 50 brethren and visitors attended and feasted on fresh lobster, seafood chowder and much more. It was great fun for all who attended. Pictured left to right is Bro. Christopher Pedersen, Wor. Phil Privitera and Bro. Bobby Potaris. Even though it rained, the turnout was excellent and Wor. Phil Privitera, a local attorney, was one of the guests. He is currently the Worshipful Master of Mystic Valley Lodge in Arlington and brought his family over to join in festivities. This coming Saturday at King Solomon's Lodge is Masonic Open House Day at 125 Highland Avenue (rear). The Lodge will be open for public tours and questions from 9 a.m. to 3 p.m. Everyone is welcome.
By Jim Clark
Members of the Somerville Police Department Drug Control Unit in conjunction with the Somerville Police Department Criminal Investigative Division conducted a narcotic/anti-crime interdiction surveillance within the Assembly Square Market Place and Assembly Row area last week.

By Joseph A. Curtatone
(The opinions and views expressed in the commentaries of The Somerville Times belong solely to the authors of those commentaries and do not reflect the views or opinions of The Somerville Times, its staff or publishers)
Last week, I attended the annual Climate Change Teach-In at UMass Lowell to talk about how Somerville is leading the way in battling global warming. After I called upon Somerville in my inaugural address in January to set a citywide goal to reduce our net carbon emissions to zero by 2050, the organizers wanted to hear what we were doing to reach that goal. And, why set such a high goal, even though we don't necessarily have a defined path toward achieving that goal?

Continue reading »
By Jim Clark
The report of the Flood Forum Special Committee meeting as a Committee of the Whole was presented to the Somerville Board of Alderman at its Regular Meeting on Thursday of last week.
The Special Committee, comprised of Board members Maryann Heuston of Ward 2, Mark Niedergang of Ward 5, and Robert McWatters of Ward 3, met on Tuesday of last week to discuss findings related to the flooding issues facing the city.

Each week prior to the November election The Somerville Times will present the Statewide ballot questions, along with pro and con arguments, one at a time for examination and further consideration. We continue the series this week with Question 3: Expanding Prohibitions on Gaming.
This coming Saturday, the 18th, is the East Somerville Clean Up. Meet at 115 Broadway (East Branch Library) on Saturday, October 18 at 10:30 a.m. Come join in making East Somerville beautiful for the fall. Using the citywide cleanup as a starting point, East Somerville Main Streets and Alderman Matt McLaughlin are planning a neighborhood-wide cleanup to make it the cleanest neighborhood in Somerville. Refreshments to follow at location TBA.
What's on Somerville Neighborhood News

*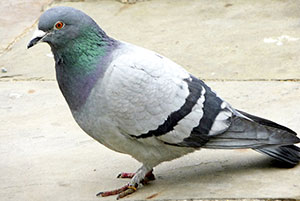 By Yuxiao Yuan, SNN reporter
Alarmed at the amount of pigeons in Union and other squares, and the health issues associated with the food they don't eat… and the food they do eat… members of the city's Board of Alderman's Public Health and Public Safety Committee recently asked city officials to undertake a public information campaign with an important message: "Don't Feed the Birds!"