By Joseph A. Curtatone
(The opinions and views expressed in the commentaries and letters to the Editor of The Somerville Times belong solely to the authors and do not reflect the views or opinions of The Somerville Times, its staff or publishers)
Nationally, our mounting infrastructure needs are a hot topic. Locally, it's no different. Somerville needs a new public safety building that doesn't flood, a new home for fire engine 3 that will best serve Union Square, multi-million dollar upgrades to our aging water and sewer system, and more. Our critical infrastructure to do list is long. But like most cities and towns across the country, our funding falls short of the need. That's why some cities are looking to public-private partnerships as a way to change this dynamic by bringing in private resources to jump-start public projects. Could it work in Somerville? The answer is possibly. So we're exploring what the options are.
Continue reading »
By Jim Clark
Law enforcement and first responder personnel have been put on alert after a series of dangerous encounters with users of fentanyl and other opioid derivatives led to harmful exposures to the potentially lethal substances.
Last week, three Chelsea police officers were hospitalized after dealing with three men who had passed out after overdosing in a van that had crash into another vehicle.
Continue reading »
By Rob Carter
Somerville's Planning Board voted unanimously allow construction of a five-story multi-use building to replace the East End Grille on the corner of Broadway and Glen Street at an Aug. 3 meeting.
Goodfood Restaurant Group LLC plans to replace the restaurant with a new building with retail space on the first floor and 24 housing units, of which four will be inclusionary housing. The special permit also includes construction of a parking garage with up to 20 spaces.
Continue reading »
Candidate for Alderman in Ward 1 Elio LoRusso had his fundraiser/campaign kickoff last night at Casey's on Broadway. It was a packed crowd to capacity, at one point going out the door. Ward 4 Alderman Tony Lafuente introduced Elio by saying how much we need to get back to what's going on in East Somerville and listening the residents like Elio said he would because he is part and parcel of East Somerville. Also present was former Alderman Bill Roche, who is also supporting Elio. Mayor Joe Curtatone was present and received a huge welcome. Various other aldermen were present, but frankly it was nice to see Gene Brune, a supporter of Elio as well. East Somerville is not only Elio's home, he is also raising his lovely family (can't forget to mention little Maria, his daughter – maybe someday she'll be mayor). Elio lives and grew up in East Somerville. He employs several people in his business on George Street (Somerville Ornamental Iron Work Inc.). A family man, homeowner and business man right here in Ward 1. He's invested in the community. We would once again have an alderman who is responsive to the needs of all the residents, not just one group. Yeah, we like Elio. He's a good man and we're going to follow him to victory. P.S.: to the candidate who was present for another office, everyone knew you were texting the competition. The crowd gave you something to text, didn't it?
Continue reading »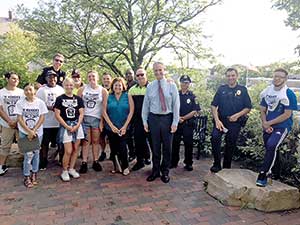 On Thursday, August 3, the Youth-Police Walking Dialogues took place in Ward 2 and Ward 3 with Alderman Heuston and Alderman Bob Mcwatters. The youth during the walking dialogue interview random residents on the street and they ask various questions ranging from what issues impact their lives in Somerville and what are the positive things going on in the city and what are the issues concerning them. The youth also inform the residents they are walking the neighborhood with the police to establish a collaborative relationship with them and are fostering better communication and dialogue with one another. The next Youth-Police Walking Dialogues event is scheduled for Thursday, August 10, 4:00–6:00 p.m. at Trum Field.
By Colby Cunningham
Fossil Free Somerville
Somerville's push to divest its retirement fund from the fossil fuel industry has been set back over a process concern raised by the state.
The Somerville Retirement Board (SRB) decided in June to move $9.2 million in assets, representing 4.5 percent of the system's total funds, into a fossil fuel free index fund. The move is the first part of a four-part plan to move the retirement system's assets out of funds that include the top 200 fossil fuel companies.
Continue reading »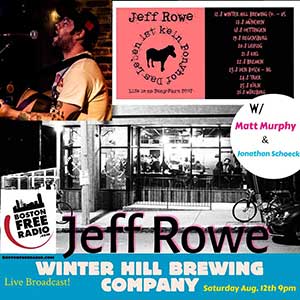 Come join the party this Saturday night at Winter Hill Brewery and wish local brewer and musician Jeff Rowe safe travels as he kicks off his European Tour right at home. Log onto bostonfreeradio.com at 9:00 p.m. to listen to a live broadcast of The Villens Den from the show hosted by Chris Haskell and watch the livestream on the Boston Free Radio Facebook page.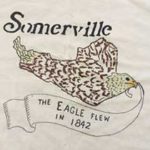 Eagle Feathers #135 – Middlesex

By Bob (Monty) Doherty
Twenty years ago, on July 11, 1997, the Massachusetts State Legislature abolished Middlesex County as a government entity with the exception of the Registry of Deeds and the Sheriff's Office. Between then and 2000 during cost-cutting measures, seven other counties were similarly affected. Today, historic Middlesex continues but is primarily distinguished by its boundaries.
Continue reading »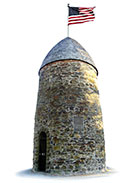 We have to be fair and admit that upgrades and maintenance of our city's infrastructure is important – even more important than our own temporary comfort might wish to allow for.
An obvious case in point the recent Union Square traffic pattern change at Prospect St. and Webster Ave., which was converted to accommodate two-way vehicle and bicycle traffic as a key component of the city's Union Square Early Action project.
Continue reading »