By Tom Bannister
Saturday, March 14 was Pi Day (3.14), but not just any π day, it was Ultimate π Day because it is 2015: 3.14.15! What better excuse is there to have a celebration of math with middle schoolers than π? Well over 200 students, parents, teachers, and volunteers from the high school, PTA and community, celebrated π at the Healey School by eating pizza for dinner, then spending an evening estimating, creating, collecting data, answering questions, and ending with pies for everyone.

Continue reading »

Life in the Ville by Jimmy Del Ponte
(The opinions and views expressed in the commentaries of The Somerville Times belong solely to the authors of those commentaries and do not reflect the views or opinions of The Somerville Times, its staff or publishers)
I thought I had reached the end of the line back on May 18, 2013 when I tried to say goodbye to this column. Somehow I got a burst of inspiration and continued writing another 100 or so stories.

Continue reading »
Statement from Superintendent Tony Pierantozzi regarding student injury this morning
The investigation of this morning's multiple-car accident at the intersection of McGrath Highway and Highland Avenue in Somerville confirmed that a 16-year-old male student who attends Full Circle High School in our District was injured as a result of the crash. The student was reportedly walking in the area of the intersection when the accident occurred. He was transported to a local area hospital with serious injuries. His injuries are not considered life-threatening.

Continue reading »

By William C. Shelton
(The opinions and views expressed in the commentaries of The Somerville Times belong solely to the authors of those commentaries and do not reflect the views or opinions of The Somerville Times, its staff or publishers)
On last Friday's PBS News Hour Judy Woodruff asked Michael Gerson and Mark Shields what the recent racist episode at the University of Oklahoma has to "say about whether we can ever get rid of racism in this country."
The Ras na hEireann USA 5K Irish race took place on Sunday, March 15, beginning and ending in Davis Square in Somerville.


Continue reading »
By Rebecca Danvers
The Somerville Council on Aging has announced the newest member to their LGBT Advisory Board, Courtney O'Keefe. The former Ward 5 Alderman has been an active community member and joined the Advisory Board after attending her first meeting this past Monday night. The SCOA's LGBT Advisory Board meets the second Monday of each month at the Holland Street Center. "We are looking for new members, especially representation from the gay community. The women definitely outnumber the men," said Maureen Bastardi, Outreach Worker and Liaison to the LGBT Advisory Board.

By Joseph A. Curtatone
(The opinions and views expressed in the commentaries of The Somerville Times belong solely to the authors of those commentaries and do not reflect the views or opinions of The Somerville Times, its staff or publishers)
I am a statistic. I am one of many Somerville residents who face a higher risk for cardiovascular disease because of the car-centric planning that began reshaping our cities in the mid-20th century. We stopped planning for people and started planning for cars, resulting in the construction of I-93 and, near my childhood home on Prospect Hill, McGrath Highway. Our community eventually fought back and fortunately stopped the construction of the proposed I-695 Inner Belt Expressway—but it was too late to stop the consequences of those earlier poor decisions. More cars began traveling through our community. The traffic jams did not go away. And we saw higher rates of heart disease, asthma and other ailments in people living in the shadows of the highways. We know better now. We're expanding public transit, and we're   making it easier and safer to walk and bike in Somerville. That said, I-93 is not going away, and though McGrath will eventually be lowered to become a ground-level boulevard, the cars will still cut through our neighborhoods. Fortunately, a group of dedicated people, including city officials, are working on solutions to protect our residents.

Continue reading »
By Douglas Yu
Over 100 small business owners from all over Somerville met in the Davis Square Theater on the evening of March 10 to share their concerns about the city with Mayor Joseph Curtatone at the annual Business Town Meeting.

Continue reading »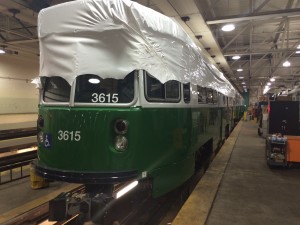 MBTA interim General Manager Frank DePaola today announced that Commuter Rail CharlieCards for monthly pass holders are now available.
Continue reading »
By Jason Andrew Park
In a new report titled Improving Health in Communities Near Highways, researchers and key stakeholders from various institutions highlighted potential solutions to reduce traffic-related air pollution exposure in Boston and Somerville.

Continue reading »