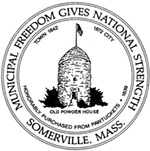 Mayor Joseph A. Curtatone, Ward 2 Alderman Maryann Heuston, Ward 3 Alderman Robert McWatters, and the Mayor's Office of Strategic Planning and Community Development (OSPCD) invite all interested community members to the latest in a series of meetings and public forums to discuss future roadway and utility improvements for Union Sq. on Mon., April 13 at 6:30 p.m.
Continue reading »
By Gabriela C. Martinez
*
If you have been planning to try out some of Somerville's international cuisine, The Welcome Projects invites you to the Armory on April 16, where you will have the chance gastronomically travel around the world and experience the cuisine of Mexico, Ireland, Ethiopia, Brazil, and India in one place. The Welcome Project, an organization dedicated to providing support to Somerville's immigrant communities, will be hosting YUM: A Taste of Immigrant City. The event will also be an opportunity for the Welcome Project to celebrate its 25 years as a non-profit.

Continue reading »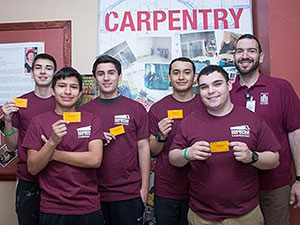 Under the training of Somerville High School Career and Technical Education (CTE) Teacher Mario Sousa, six SHS Carpentry students earned a 30-hour OSHA credential, an extremely valuable credential to have when entering the employment field. The group pictured at right (one student who completed the training is not pictured) is the first SHS class to earn this 30-hour OSHA card in-house. Mr. Sousa completed a two-course training last summer at Keene State in New Hampshire, to become a 30-hour OSHA "train the trainer" instructor. The training was funded by a Perkins grant awarded earlier this year to the SHS CTE program. Congratulations to all the students on this outstanding accomplishment.

By Joseph A. Curtatone
(The opinions and views expressed in the commentaries of The Somerville Times belong solely to the authors of those commentaries and do not reflect the views or opinions of The Somerville Times, its staff or publishers)
The storms of February have made our transportation deficiencies glaringly obvious, and those failures and deficiencies didn't happen by chance. We created them. We created them by saddling the MBTA with $3.3 billion in state debt, a failed funding formula, and a watering down of Gov. Patrick's Way Forward funding plan. We are trying to be competitive in the 21st century economy with Nixon-era infrastructure. It doesn't work. We have before us a choice, an opportunity, and a challenge. The Boston region is one of the most important regions in the world—part of the reason Boston is designated an "Alpha City" by the Globalization and World Cities Research Network, meaning that it links major economic regions and states into the world economy. The challenge is: will we remain competitive in the future? Will our capital remain an Alpha City? Business and municipal leaders joined together last week to send a message to our leaders on Beacon Hill: Let's capitalize on the opportunity before us. Let's make the choice to invest in a well-maintained and an expanded MBTA system, so we can meet that future economic challenge.

Continue reading »

Calling all vinyl fetishists! Enter your most wacky album cover in the Somerville Arts Council's Bizarro Album Cover Contest!
Continue reading »
 By Jim Clark
Police were called to a Kilby St. location shortly after midnight last Saturday on a noise complaint.
Upon arrival, three males were spotted standing outside at the reported address in the alley that leads to Lake St.

Continue reading »
By Patrick McDonagh
Other than his busy family, there is no one else hovering around the mayor of Somerville at the ice rink. He helps his son clean up after hockey practice. I imagine before our meeting to see at least someone within close proximity of the Mayor holding a clipboard speaking at inaudible speeds about the Mayor's schedule. My stereotypical imagination of political figures might be jaded by binge watching the Netflix series House Of Cards.

Continue reading »
By Tom Bannister
Union Square Station Associates (US2) announced this week that its detailed planning and design efforts for two "gateway" development sites in Somerville's Union Square would follow a more comprehensive planning effort on all seven blocks as part of the ongoing community-based planning process led by the City of Somerville. US2 is the City's designated development partner for seven sites in Union Square.
By Jim Clark
City of Somerville officials are continuing their in-depth study and refinement of the proposed new zoning ordinance, seeking clarification from planners as well as soliciting comments and concerns from residents and commercial interests who will be affected.

Continue reading »
By Melissa E. Pike
In December of 2013, Somerville Public Schools were honored with a $45,000 dollar grant from the U.S. Department of Agriculture to begin the planning and development of Somerville Farm to School, a recent runner-up winner in the Northeast Farm to School Recipes for Success Contest.

Continue reading »