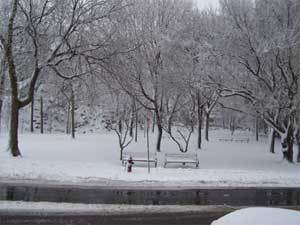 Updated:The City of Somerville and Somerville Public Schools have announced that due to weather predictions for Tuesday, Jan. 21, all school activities after 6 p.m. and all public meetings for Tuesday evening have been cancelled, and Somerville Public Schools will be closed on Wednesday, Jan. 22.  If you have questions or need any additional information, call 311.
In accordance with the City's Snow Emergency Procedures, Mayor Joseph A. Curtatone has declared a snow emergency for the City of Somerville will go into effect at 3 p.m. on Tuesday, Jan. 21.  During snow emergencies, parking is allowed on the odd-numbered side of the street only (unless otherwise posted).  Cars not moved by 7 p.m. Tuesday evening will be subject to ticketing and towing.  Residents unable to find a parking space on the odd-numbered side of the street may park in any municipal or school parking lot for the duration of the emergency.  Full snow emergency and snow removal policies may be found on the city's website at www.somervillema.gov/snow

Continue reading »
By David R. Smith
Hugs and handshakes may not be an uncommon site after a well-played game, but plenty of both could be seen at the Brune Field House well before the tip-off of the Highlander boys basketball game against Malden this past Friday night.
"This is like a reunion," one woman could be overhead saying, and she wasn't wrong.

Continue reading »