American roots master Chuck Mead at Johnny D's

*
By Jim Clark
Chuck Mead's journey from his hometown of Lawrence, Kansas – where he lead several popular cult bands in the 80s – through his tenure in the wildly popular 90s Alternative Country quintet BR549, to his present thriving solo career, reads like a rough and rowdy tale of old, replete with tales of joy, triumph, and occasional woe.

Recently I had the pleasure to compose a poem for a nurse I work with at McLean Hospital, Kareen Eka. Kareen is the winner of the Vision of Excellence Award presented by the hospital. I read the poem at the ceremony accompanied by guitarist/composer Jack Holland. I want to thank Sheree Pollock, RN for help with the poem, especially with her knowledge of perfume and jewelry.
By Douglas Yu
The city's Community Preservation Committee (CPC) held two public meetings this month, addressing the public on how the city should prioritize spending Community Preservation Act (CPA) funding. More than 60 Somerville residents attended the meetings to share their testimonies about what projects, including affordable housing, historic preservation, open space and outdoor recreation, the city needs to acquire, create, preserve, support and restore.

Continue reading »
Library Director Maria Carpenter, who has held the position since 2011, will be leaving the position this month after accepting the job of library director in Santa Monica, California. An acting director will be appointed as the city searches for a full-time replacement.
"I will miss working alongside talented coworkers, Board of Aldermen, Trustees, and Friends, all of whom are dedicated to excellent library and city services," she said.

Continue reading »
By Douglas Yu
An approximately 6-foot map of Central Broadway was set up in the Winter Hill Community School Wednesday, April 16, waiting for Somerville residents to post their advice about how to redesign their part of the neighborhood.
One of them wrote, "The timing of the traffic lights at Broadway and Boston Ave. in Ball Square seems 'off.' I've seen all the lights red, and the pedestrians crossing signals 'red' for what seems like 30 seconds many times."

Continue reading »
The Somerville Pop Warner Football and Cheer Banquet is this coming Sunday, April 27, at 1 p.m. at Foss Park   There will be food, 2013 season trophies. Games and more. Organizers will be selling SomerVILLENS T-shirts at this free event, which will include a 2014 sign-up table. The rain date is May 4.
*************************
With spring in full swing, it's time to start thinking about Mother's Day, which will be here before you know it! A unique place to find that perfect gift is the Local is for Lovers Mother's Day Market. The market, which is sponsored by ZipCar, takes place place from 10 a.m. to 3 p.m. Sunday, April 27, at Brooklyn Boulders (12A Tyler St.). All shoppers must fill out a waiver form for Brooklyn Boulders (the waiver can be filled out online at the Brooklyn Boulders website). The Local is for Lovers Mother's Day Market will feature 30 local vendors selling everything from jewelry and handmade soap to sweets and clothing.

Continue reading »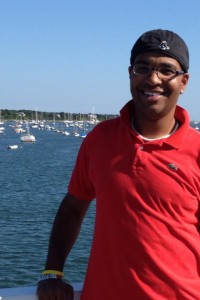 "Deplorable," "disturbing" and "confusing" was how Mayor Joseph Curtatone and Superintendent of Schools Tony Pierantozzi described the allegations against 27-year-old Somerville resident and former Somerville elementary school teacher Josh Wairi, who was arrested on child pornography charges at his Beacon Street apartment April 17.
Wairi, a fifth-grade teacher in Cambridge at the time of his arrest, allegedly admitted to police that in addition to possessing and sharing child pornography with others online, he had secretly videotaped children in a locker room changing in and out of clothes with his cellphone camera. Where that videotaping took place is not clear.
He is being held without bail pending a detention and probable cause hearing in federal court in Boston Wednesday, April 27. According to police, authorities were made aware of Wairi's alleged activities through an online tip.

Continue reading »
Mayor Joseph Curtatone's brother, 43-year-old Cosmo Curtatone, will be in Malden District Court Thursday morning for a dangerousness hearing stemming from charges he assaulted and attempted to rape a women well known to him earlier this month.  According to police, the woman has already taken out more than a dozen restraining orders against him.
Curtatone was arrested on a warrant April 8 in Somerville for the incidents the victim alleges occurred at her Everett apartment April 3, which she reported to police April 5. He is also accused of assault and larceny over $250 for allegedly stealing the woman's phone and wallet and then using her EBT card.

Continue reading »
Public hearing to address residents' petition

*
By David R. Smith
A special meeting of the Board of Aldermen will be held at City Hall at 6 p.m. Thursday, March 13, to hold a public hearing on a petition signed by 129 registered voters asking the city's pension fund to divest from any investments tied to the fossil fuel industry.

Continue reading »