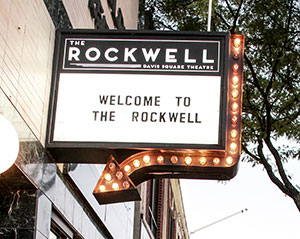 Boston's own Performing Fusion Theatre invites submissions for the Somerville Theatre Festival. The Rockwell (formerly The Davis Square Theatre) will host the Festival on April 18, 21, 26 and 27. They are looking for short plays, 10 minutes or less, to showcase at the Festival for a four day run. Five finalists will be chosen and the winning playwrights will have their work cast, produced and staged by Performing Fusion Theatre at the Rockwell. The deadline for submissions is February 15.
What they are looking for:
The theme for the 2019 Somerville Theatre Festival is "human rights" and we envision broad interpretations of these vital rights. This time of political turmoil and atrocity in U.S. history is not a question of democrat vs republican. Human Rights are rights inherent to all human beings.
Learn more about human rights:
http://www.un.org/en/sections/issues-depth/human-rights/
Submit a story about gender, racial, sexual, religious, national, or even transnational human rights or lack thereof. Make it a comedy, a drama, a romance, or all of the above – just make it grab them.  Make it unforgettable, let the dialogue pop off the page and send a message. They want work that pinches or tickles them.  They want work that marks them and comes to mind when they are lying in bed at night because they can see and feel the narrative. They have a strong interest in multiculturalism and the fusion of other art forms.  So take artistic leverage, take risks, they are not a company to shy away from displaying provocative and thought-provoking work.  Plays should be no longer than 10 minutes and much shorter work is equally encouraged.  Plays should be designed for minimal props and have no more than four characters (two to three is preferred).
Details for Submissions:  
Early submissions are encouraged. The reading fee is $25 for a manuscript of one or two short plays and must be submitted via PayPal: https://www.paypal.com/cgi-bin/webscr?cmd=_s-xclick&hosted_button_id=WZTZD3XBRMSHQ
Send your best work in a word or PDF file to: PerformingFusionTheatre@gmail.com.  In the subject of your email put: Your Last Name_PayPal Transaction Number (Thompson_1RN29583PK075333F). Include a cover page with the playwright's contact information, title(s) of the play(s), and a one sentence synopsis (for each play). The playwright's name should only appear on the cover page. All submission proceeds go to PFT's "Touching Myself: An Ode to Audre Lorde" 2019 South Africa Fund.
Questions or concerns should be addressed to Ayshia Stephenson, Executive Director, or Brian Moore-Ward, Artistic Director, at PerformingFusionTheatre@gmail.com
Learn more here: https://www.performingfusiontheatre.com
FB: https://www.facebook.com/PerformingFusionTheatre
Twitter: @PfusionTheatre
— Performing Fusion Theatre