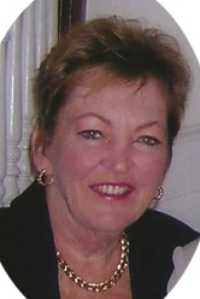 Karen Lee (Kelly) Piro, born May 28, 1941, to Mary and Leo, passed away peacefully in hospice care in Chatham, MA, on January 8, 2018.
Though she spent her early years living in Medford with her parents and two brothers, Leo and Paul, Karen spent the majority of her childhood in Somerville, MA, where she attended Somerville High School.
Some of Karen's favorite memories were from high school, where she was on the cheerleading squad, received honors in her classes, won the title of Junior Prom Queen, and met some of her dearest friends, including her high school sweetheart Vincent J. Piro, whom she wed at the young age of 23.
The pair started their family in Somerville where they gave birth to a baby girl, a Christmas baby, Lisa Noelle, Vincent Jr., and Michael.
When the children were young, Karen and Vincent fell in love with Cape Cod and spent every summer in East Dennis, something the family still does today. Between the Dennis Yacht Club, the Sesuit Neck, the old Marshside Restaurant, and lifelong friends, the Cape became a second home.
Her three children remember her as the homemaker, someone who took care of them and supported them in every way imaginable. She was at every football game, every rugby and tennis match. Even when Vincent started his first term as a State Representative in the Massachusetts State House, Karen kept her family close together and provided all she could.
Karen was a presence–a bright, beautiful, funny, often sarcastic, woman. Whether she was playing poker on Monday nights with her card group, singing show tunes as loud as she could, spending a sunny pool day dry and under the umbrella, enjoying a B&B stinger, or reading a Mary Higgins Clark book at the kitchen counter, Karen was sure to make everyone laugh and smile. And with her famous brownies, she was sure to satisfy anyone's sweet tooth.
She was one of a kind, an entertainer, with a sharp sense of style and of humor, both in a way you wouldn't find anywhere else. She loved owls, prints, sparkles and all things glamorous, always radiating confidence and positivity. As an avid reader, Karen had a way with words and appreciated a good story—she always had one to share, and her memories will live on through those she touched.
Karen was the beloved wife of Vincent J. Piro. The devoted mother of Lisa Bowler and her husband Brian, Vincent Piro Jr. and Michael Piro. Loving grandmother of Kathryn, William, Ella and Vincent. Dear sister of Paul Kelly and the late Leo Kelly. She also leaves behind many loving nieces and nephews.
Her funeral will be from the McLaughlin-Dello Russo Funeral Home, 60 Pleasant St., Woburn, Saturday, January 13th at 8 AM followed by a funeral mass celebrated in St. Patrick Church, 71 Central St., Stoneham, Saturday at 9 AM. Relatives and friends are respectfully invited to attend. Visiting hours Friday 4 – 8 PM. Services will conclude with burial at Oak Grove Cemetery, Medford.
In lieu of flowers contributions may be sent in Karen's name to the Boston Alopecia Support Group of NAAF, 2014 Washington St., Newton, MA 02462.