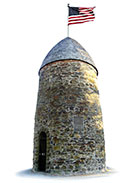 Looking back to the year just passed is an interesting thing to do. Sometimes sobering, at other times amusing, yet always somewhat inspiring if one considers what has been accomplished and what else is left to be done.
A lot has been accomplished in the city. Many ongoing and new initiatives have been pushed forward and continue into the new year. The advance of progress and renewal marches on as we in turn continue the pursuit of our individual hopes and dreams.
Observing and participating in the machinations of municipal goings on, even at the most fundamental level, is something of a civic duty that we all should share a sense of responsibility for. It's what makes democracy great, that every man and woman makes a difference in what transpires, mainly when they express their viewpoints at the polls.
Looking ahead to what may come in 2018, we can't help but feel optimistic about the days ahead. It will take some hard work and serious planning, but a lot can be accomplished if we pull together and focus on what's important.
As always, it's up to us to push things in the right direction. To send the proper signals to our representatives in public office. To back them up when they get it right, and to call them on it when they seem to go astray. They have their duties and personal agendas, just as we have ours. Let each one carry on in the best way possible.
It is the way of our community. We enjoy a uniquely favorable reputation as those who can.
We wish each and every one of our readers the best in the year to come. May peace, prosperity, and good health bless you and yours.