By Kalina Newman
On December 2 and 3, Somerville residents were allowed exclusive access into Vernon Street Studios for its semiannual "Open Studios" celebration. Sponsored by Artscope Magazine, during the six-hour event visitors were allowed into almost all of the workspaces and had the opportunity to both interact and purchase artwork directly from the artists. According to the Vernon Street website, the event allows the public to "learn about the creative process … and discover new talent."
Located on 6 and 20 Vernon Street, the building functions as a working factory, home to the Rogers Foam Corporation facility, a company that creates a wide variety of foam products. Above the bustling foam factory sits 90 total studios throughout seven floors. In 1975, it made history as the first Somerville art space that allowed public access. Now several decades later, the building is still thriving and is open for public attendance twice a year.
The space is huge, making it easy to get lost. Even if someone were to attend the Open Studios for the full six hours, it's unlikely that they would get to visit and appreciate all 90 of the studios. Several of the studios also offered food and drinks, inviting guests to make themselves at home and spend an extended period of time in each studio.
Every studio offered a unique experience, but all of them allowed victors to experience first-hand the hard work that goes into being a full time artist. Such artists included cartoonist Dan McCaul, who drew visitors into his studio with adorable paintings that caricatured various fish that are to be featured in an upcoming children's book.
"The main character is a green fish, but the book is about how there's several different kinds of fish in the sea," McCaul said, alluding to diversity found in everyday people.
Another unique studio was Tossed and Found!, a vintage and painted furniture studio run by Jim McIntyre and Carla Palau. McIntyre is in charge of gathering and refurbishing the furniture, while Palau creates smaller, detailed pieces.
"It gets me out of the house, up and working every day," said McIntyre.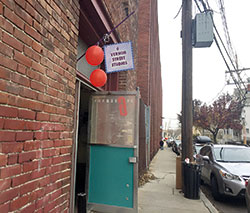 In addition to being home to dozens of independent artists, Vernon Street also hosts the Boston Figurative Art Center, an organization that offers Monday night art classes and three weekly month-long, live model pose sessions, more so than any other art venue in the greater Boston area. Anyone can attend these classes for a small fee, and several of the artists in the program showcased their work in the studio. One such artist was Adam Aktinson, who had his model sketches and oil paintings on display.
It would have taken hiding out in the building past closing time to truly feature each artist, but all of them can be found on the Vernon Street website. Open Studios is truly an event to remember, and if missed, will happen again for two days in May.