*
Deano's Pasta has been in operation in Somerville since 1947. They produce many types of all natural pasta and multiple sauces without using GMO's. The pasta is produced in small batches and are hand packed. Please visit their website for all the different shapes and almost endless combinations of flavors available.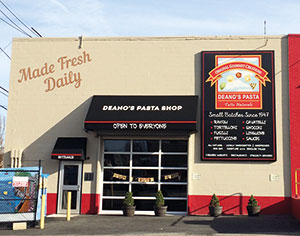 I have tried the wild mushroom ravioli with the Onesto cream sauce and loved every bite. The ravioli were firm and packed full of flavor. The cream sauce was light with a hint of garlic and spices that went perfectly with the mushroom flavor. The fusilli was a fantastic accompaniment to the chicken Marsala I made last week. The best part was eating the leftovers the next day and the pasta held together like it was just cooked! I'm looking forward to trying the other three pastas I currently have in my freezer.
Their products are available for purchase in specialty food stores throughout Massachusetts, New Hampshire and Rhode Island as well as 20 local farmers markets. Or you can just go to the pasta shop and stock up there. Please note, the pasta shop does not accept credit cards or checks, it's cash only. Be sure to follow them on Facebook, Twitter and Instagram to keep up with any promotions they may be running.
Deano's Pasta
15 Garfield Ave.
Somerville, MA 02145
617-623-0013
www.deanospasta.com
Monday 8-5
Tuesday- Thursday 8-6
Friday 8-5
Saturday 9-2
Sunday Closed
Visit Dorothy's website at http://ddimarzo2002.wix.com/thymethief.