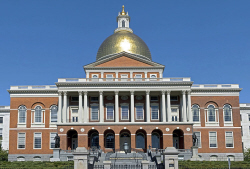 By Bob Katzen
Last week the state House and Senate approved and acting Gov. Karyn Polito signed into law a ban on bump stocks, devices that are attached to rifles, shotguns or firearms, other than a magazine, to increase the weapon's rate of fire and mimic a fully automatic weapon that can fire hundreds of shots in succession.
The measure was filed in response to the recent massacre in Las Vegas where the shooter used 12 of these devices, allowing him to shoot, kill and injure more victims.
The ban was included as part of a $129 million supplemental budget designed to close out the books on fiscal 2017.
The law makes Massachusetts the first state to ban these devices. "In this budget, Massachusetts will once again be a leader in gun violence prevention by banning bump stocks," said House Ways and Means Chair Jeff Sanchez (D-Boston).
"I am confident this language will effectively ban bump stock devices, while protecting the rights of law-abiding gun owners, and closing any loopholes that could be exploited by gun manufacturers," said Rep. David Linsky (D-Natick), the sponsor of the proposal. "I am proud of our commonwealth for continuing to enact some of the strongest gun laws in the country, and we will continue to vote to protect our citizens and make our laws even stronger."