*
Imagine being able to get fresh, never frozen, pasture raised, hormone free, antibiotic free locally sourced meats that you can pick up within a couple of miles of your home. No, really.
Located at 201A Highland Avenue, M.F. Dulock has been offering premium cuts of meat since 2012. All meats are sourced from small farmers around the New England area. They offer various house made sausages such as beer bratwurst, merguez, a spicy lamb sausage, Italian and more.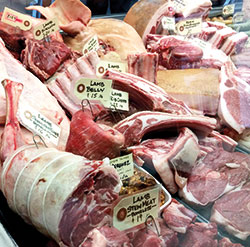 If you're looking for artisanal salami for a customized charcuterie platter, they have a Genoa style as well as a beef and pork salami with bright spices and a Greek inspired salami with a hint of citrus, to name a few.
There are a variety of other cuts of meat offered, like stew meat, roasts, steaks, shanks, ox tail, brisket, leg of lamb, lamb ribs, lamb belly, pork riblets, picnic cut, pork jowl and just about any other cut you may be looking for. The staff is knowledgeable and friendly and are happy to answer any questions you may have. It's definitely worth the trip!
Be sure to check out their website for information pertaining to purchasing a monthly meat share.
M.F. Dulock Pasture-Raised Meats
201A Highland Avenue
Somerville, MA 02143
(617) 666-1970
mfdulock.com
Monday: Closed
Tuesday – Friday: 11:00 a.m. – 7:00 p.m.
Saturday and Sunday: 10:00 – 3:00 p.m.
Visit Dorothy's website at http://ddimarzo2002.wix.com/thymethief.
2 Responses to "Your local butcher"