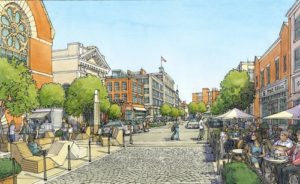 By Greg Karczewski
President, US2
As we welcome a new season in Somerville, we're witnessing the momentum build around Union Square's revitalization. Union Square Station Associates (US2) spoke at the Somerville Redevelopment Authority meeting last week to offer a look at what progress has been made in the last few months – since the zoning and development covenant were approved in June – including a number of community initiatives and some exciting headway on the Green Line Extension (GLX) and other infrastructure work.
Workbar Union, hosted by US2, has been the site of much of these initiatives. From the Somerville Open Studios Art Showing and pop-up craft fairs to the Creative Somerville Series and a Somerville Local First candidate meet and greet, the space has been a hub of activity for the community. Just around the corner, US2 held a coloring contest for neighborhood kids during this year's Fluff Festival and came away with ideas for the future Union Square neighborhood park.
Three shortlisted design-build teams – GLX Constructors, Green Line Partners and Walsh Barletta Granite, JV – have submitted proposals for the Green Line Extension, meaning design and construction of the long-awaited station will begin in early 2018. The selected contractor will be notified by the end of the year. US2, the City of Somerville and the MBTA have been meeting to finalize construction coordination around the new station in order to further expedite the GLX project becoming a reality.
With the approved zoning and covenant in hand, US2 has been moving forward on the project's Coordinated Development Plan. The process kicked off on September 5 when more than 140 people attended the first neighborhood meeting.  They shared feedback on all aspects of the project, from the employment center and community benefits to planned transportation and infrastructure upgrades. The proposed location of a neighborhood park was of particular interest. US2 will host an additional meeting on October 18 to present more information on the park.
The forward momentum around the Green Line Extension and the development of Union Square is palpable. Residents have already begun to see the benefits of the City of Somerville's early infrastructure program with the transition to two-way traffic on Prospect and Webster Streets. Construction of the sewer system is anticipated to begin in spring of 2018, and the GLX will follow. It's an exciting time to be a Somervillian, as residents and local businesses work in partnership with the City of Somerville and US2 to actively contribute to the future of the neighborhood.