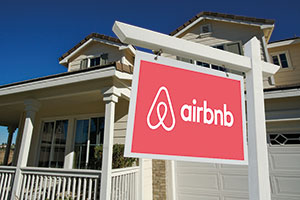 By Jim Clark
An order was put before the Somerville Board of Alderman and passed at their latest regular meeting last week, seeking to instruct the Superintendent of Inspectional Services to form a task force to address AirBnB apartments.
A number of ongoing issues regarding enforcement of regulations and the handling of consumer complaints have left a number of city officials frustrated with the protracted length of time associated with making progress on the matter.
Speaking in favor of the order, Ward 1 Alderman Matthew McLaughlin told the Board, "We are well aware of this issue. We've had numerous reports, I work with ISD [Inspectional Services Department] all the time targeting these bad properties with AirBnBs."
McLaughlin pointed out that the City of Cambridge and the state of Massachusetts have been working on laws for regulation and he felt that Somerville should be doing the same.
"Until then, I'd like to think about this task force," McLaughlin said. "I understand how difficult it is, because the change in technology has made things difficult, but it has also made it easy to find out where the AirBnBs are."
According to McLaughlin, one simply has to go on a website to target them, then the established task force can follow up to investigate. "They can pose as a customer and go there and just issue a fine."
McLaughlin reported that he got some "push back" from people with owner-occupied units who want their AirBnBs to help them pay own rents or for when they go away for the summer and wish to take advantage of AirBnB rental opportunities.
"I know what the city and what myself intends is not to address owner-occupied units," said McLaughlin. "It's these units that have basically become hotels. They don't have long term residents in them at all. And it raises the rent for everyone in the city, and it makes one less unit for someone to rent and own and live in."
Ward 5 Alderman Mark Niedergang weighed in on the issue saying, "I'm not against forming a task force, but I think there are some other things that need to happen. And I thought they were going to happen."
Niedergang referred to existing law that he said was not being enforced by Inspectional Services and that doing so would be an important step. "And/or we need to pass an ordinance that's a better one than the one that we have, which is what I think we should do."
Niedergang mentioned that Alderman At-Large Jack Connolly has dealt with this matter in the public Health and Safety Committee that a lot of productive ideas have been brought forward, but said that no specific ordinance had yet been created. He further stated that the current law is not be enforced well.
Connolly responded that he has been working with members of the administration on some detailed analysis of the issue. "We are assembling some information and rough draft language," he said. "I'm going to be planning a public session for everybody involved."
McLaughlin followed up by stating his belief that ISD is trying to enforce the current law. "I just think the easiest path is to go on the website, ID the spots and just keep ticketing them that way."
8 Responses to "City considers establishing AirBnb apartments task force"