By Jake Wilson
Fields across the city were filled with the sounds of soccer on Saturday morning, as teams ranging from toddlers to teenagers opened the fall season.
Somerville Youth Soccer League (SYSL) prides itself on providing a positive, affordable athletic experience for kids and their families. With nearly 1,000 children registered this fall season, SYSL is the largest community youth sports organization in Somerville, as participation and interest in the sport of soccer continue to grow both locally and nationally.
SYSL secretary Beatriz Gomez said, "As another soccer season starts we are reminded of how this league is not simply an opportunity for our children to play and run outdoors. It helps bring together the diverse Somerville Community."
From introducing the sport of soccer to Toddler teams, to the first games against opponents at the U5 level, to splitting into boys and girls teams at the U7 level and the introduction of travel teams playing competitive games at the U10 level, the goal always is to develop individual skills within a framework of teamwork, fun, sportsmanship and a love of the game.
"As my older child went through a few seasons with his SYSL team, my daughter always was there to watch practices and games," said Sarah Kerrigan, a Somerville resident and parent of a U5 and a U8 player. "Now at age 4, she asked to join, started to play on her own team and is loving it! SYSL provides a fun soccer experience that the whole family can enjoy."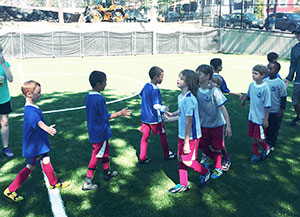 "Somerville Youth Soccer has a been a great resource for our active boys. The games and practices provide an opportunity to get outside, have fun and work off energy and the dedicated coaches really work with the kids to develop team-building and help each child improve in their own way. It's been exciting to see our boys learn new skills while becoming more self-confident!" said Andrew Arbaugh, a Somerville resident and parent of two U7 players.
An organization comprised of volunteers, Somerville Youth Soccer League strives to keep costs low and offers financial aid to families for whom the registration fee is a burden. SYSL encourages parent and community involvement, at the team, age division and league-wide levels, where there is a wide array of opportunities to help out.
This season SYSL has partnered with the Positive Coaching Alliance ( www.positivecoach.org ) to work with our coaches at all age levels to make sure our players are benefitting from this philosophy. Coaches participated in a league-wide seminar with a Positive Coaching Alliance trainer before the season and will be implementing those concepts into their coaching going forward as part of the mission to develop – as the motto states – "better athletes, better people."
"I am excited that this year we have engaged the Positive Coach Alliance to help us create a more positive culture on the field for our players and families," said Gomez. "This will improve their experience, and the focus on player development and emphasis on a growth mindset will help our kids develop a valuable skill set on and off the field."
About Somerville Youth Soccer League: Founded in 1990, Somerville Youth Soccer League is a recreational soccer league for youth ages 2 to 18 in Somerville, Massachusetts. SYSL is a volunteer-run, non-profit 501(c)(3) organization with an elected board of directors.
For more information about SYSL, please call Jake Wilson at 617.817.3725, or email jakewilson@somervillesoccer.us.