*
The Mercat de La Boqueria, or the La Boqueria Market, located in Barcelona, Spain has been up and running since 1217. Of course, over the years, it has become much larger, from one table selling meat to close to 300 vendors today! Some offerings at the market are fresh meats, fish, olives, cheese, fresh fruit, dried fruit, produce, eggs, bread, cured meats, smoothies, spices, specialty sea salts, dried mushrooms, chocolate, prepared foods and much more.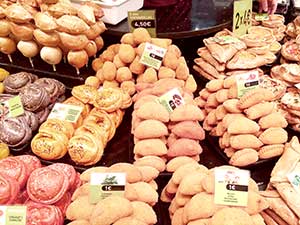 If you're in Barcelona, I highly recommend taking a stroll through this market and snacking your way through it. Or, if you're looking for a place to sit and have tapas and sip some Cava, you can find many restaurants at the edges of the market. Either way, if you're a food lover, this is an experience you will not soon forget.
For more information about the market and its hours check out this link, http://www.boqueria.info.
Visit Dorothy's website at http://ddimarzo2002.wix.com/thymethief.