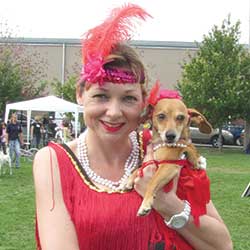 The Somerville Foundation for Animals (501(c)3) announces the 8th Annual Somerville Dog Festival. The festival will be held at Trum Field on Broadway.  Admission is free but donations accepted.  All well-mannered dogs on leash and current on their vaccinations are invited.
The fundraiser to benefit the Somerville Pet Food Bank will feature a variety of exciting dog sports demonstrations and multiple "try it" rings in which the public can try sports and games with their dogs to provide fun opportunities for dogs and their people and also help promote responsible dog ownership in our city.  Our goal is to provide opportunities for families to enjoy healthy activities in the city with their dog and raise funds to support animals in need.  The Somerville Foundation for Animals oversees the newly formed Somerville Pet Food Bank, which has donated over 20,000 lbs of pet food to local food pantries this year, including to Project SOUP of Somerville.
Planned exhibitions and "try its" include dog agility, freestyle, working dogs including Somerville Police K9 unit, treibball, urban mushing and Search and Rescue demos.
There will also be the crowd-pleasing best trick and best dressed dog contests, a free "Come when Called" clinic and training instruction will also be offered.  Food trucks will be on hand to provide a wide variety of lunch options.  For more information, go to http://www.somdogfest.org.
Somerville Foundation For Animals Announces
8th Annual Somerville Dog Festival (DogFest 2017)
Sunday, September 10, 2017   11:00 a.m. – 3:00 p.m.
Trum Field, Broadway and Cedar St., Somerville MA