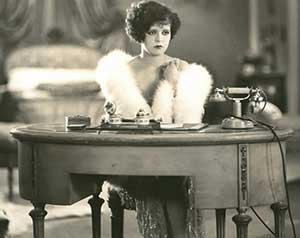 Silent Films with live musical accompaniment from Jeff Rapsis are coming to the Somerville and Capitol Theatres.
Clara Bow in Get Your Man (1927) in 35mm will be shown on Sunday, August 27, 2:00 p.m., at the Somerville Theatre, Davis Square, Somerville. Richard Barthelmess in Tol'able David (1921) plays on Thursday, September 14, 8:00 p.m., at the Capitol Theatre in Arlington.

Take a trip back in time to rediscover some of the biggest names of the silent era through a pair of sumptuous black and white films presented on the big screen with live musical accompaniment.
After spending an accidental night together in a Paris wax museum, Clara Bow and Charles Rogers find themselves in love, to the secret relief of Rogers' aristocratic fiancée (Josephine Dunn) in Get Your Man. The irresistible Bow was at the height of her popularity when she made this comedy with Hollywood's leading female director, Dorothy Arzner. Recently rescued and restored by the Library of Congress, missing scenes are filled out by stills and newly discovered footage in this 35mm restoration from The Library of Congress.
David (Richard Barthelmess in his finest role) is a dreamy young man, idolizing his older brother Allen, who delivers the mail in their rural Virginia hometown in Tol'able David. All is quiet and placid until the fugitive Hatburn clan arrives, forcing their way into the home of the boys' grandfather. Pushed into a fight with one of the Hatburns, David turns the other cheek and is branded a coward, but his inner strength triumphs over brute force.
For more info, go to the theaters' websites at http://somervilletheatre.com and http://capitoltheatreusa.com.
1 Response » to "Silents are golden"