*
Located at the corner of Broadway and Curtis Street, this upscale bistro has graced Teele Square for the past seven years. The dining room features large windows inviting much natural light into the dining area showing off the white textured walls of brick and smooth surfaces as well as the old fashioned tin ceiling. The blending of contemporary with some of the original characters of the space gives a unique style to this space.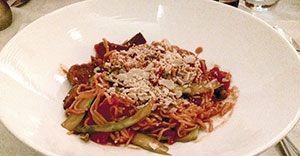 The one hundred percent plant based menu offers fresh and expertly prepared vibrant dishes that look like pieces of art on a plate. Chef Reiter masterfully melds flavors and textures together that will satisfy even those who are not strictly vegan. The staff is friendly and knowledgeable of their menu and offer excellent service.
On this visit I tried the cornmeal-crusted oyster mushrooms with a horseradish dill aioli and a guajillo chili sauce. The crisp outside layer sealed the flavor and texture of these hearty mushrooms in this little nugget of flavor. The sauce and aioli were great accompaniments adding a bit of heat with some creaminess. For my entrée, I tried the house made spaghetti done in the puttanesca style. The pasta was coated in a tomato sauce with olives, shaved roasted asparagus, chorizo style seitan topped with shaved cashew cheese. This dish had a slight touch of heat and offered a slightly sweet and salty element that makes a fine puttanesca dish. I never skip dessert when I come here. That being said, it's difficult to pick just one. If you're a chocolate fanatic like I am, I would suggest the death by chocolate cake. The best way to describe it, a rich, dense flourless style texture, with a coconut whipped cream and a caramel brittle that adds a burst of sweetness with a crunch.
A full bar menu is available. They have a great wine and cocktail list, and offer a small list of beer. They partnered up with a local brewery in Chelsea, Mystic Brewery who offers a variety of vegan beers.
They are currently expanding into the space next door and will offer additional seating, a bar and a waiting area. For reservations, call the above number because the seats fill up quickly even on weeknights.
True Bistro
Teele Square
1153 Broadway
Somerville, MA 02144
617-627-9000
truebistroboston.com
Hours: Wednesday & Thursday 5:00  – 9:00 p.m.
Friday & Saturday 5:00 – 10:00 p.m.
Sunday 5:00 – 9:00 p.m.
Brunch: Saturday and Sunday 10:00 a.m. – 3:00 p.m.
Visit Dorothy's website at http://ddimarzo2002.wix.com/thymethief.