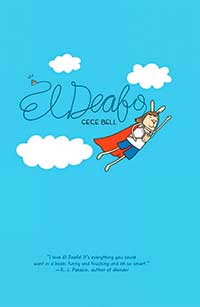 The annual "Somerville Reads" campaign returns for 2017, with the chosen title, El Deafo by Cece Bell.
El Deafo, a New York Times bestselling graphic novel about growing up hearing impaired, has received numerous awards, including a 2015 Newbery Honor, the 2015 Eisner Award for Best Publication for Kids (ages 8–12), and the 2017 Massachusetts Children's Book Award. Cece Bell's graphic novel memoir will appeal to readers of all ages, and draws on themes of acceptance, friendship, and the celebration of differences.
"Somerville Reads" is a citywide reading initiative that encourages all Somerville residents to read and discuss the same book to promote literacy and community engagement. The month-long Somerville Reads initiative will begin with the kick-off event on Wednesday, September 20, at the Somerville Central Public Library and will continue with citywide programming through October. Throughout the initiative, the Somerville Public Library will host various intergenerational programs including discussions, workshops, classes, readings, book clubs, and more, all related to the themes found in El Deafo.
Copies of the book will be available for check out in a variety of formats at all Somerville Public Library locations and via the Library's online catalog starting June 21. All Somerville residents are encourage to read the book anytime between now and the end of the "Somerville Reads" month-long initiative.
For more information or questions about e-book and audiobook versions of the book, please call the Somerville Public Library at 617-623-5000 ext. 2955.