*
The Ibbetson Street Press has released a new book of poetry, A New Path, by a 100-year-old bard by the name of Joseph A. Cohen, who writes about WWII, love, art, his experience immigrating to the U.S., his family, music and much more.
TRIO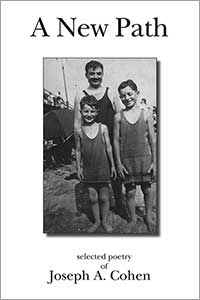 Handwoven of textured silk,
the tapestry hangs above
an ebony grand piano.
Its greens and grays
grace its share of the room.
Within a shadow's length,
a brooding bronze figure of a woman
sculpted by Puccinelli
cringes with pain.
As if to claim seniority,
an antique Chinese vase
reflects its glow from a
cracked porcelain surface.
With calm and quiet,
all three,
fabric, bronze, and porcelain,
live on together, eloquent in their silence.
— Joe Cohen
_________________________________________
To have your work considered for the Lyrical send it to:
Doug Holder, 25 School St.; Somerville, MA 02143
dougholder@post.harvard.edu