By Jordan Deschenes
The Board of Aldermen passed a Union Square Overlay District zoning at its meeting last Thursday through a vote of nine to one, with one absentee. Mayor Joe Curtatone also signed the master development covenant for the project into effect, binding US2 into an official agreement with the city.
The zoning ordinance was passed as a result of several years' worth of compromise and collaboration with residents and stakeholders.
"This is going to be a monumental change, but a beneficial one with plenty of public process, transparency, and a real opportunity for the city to make itself a terrific reputation as another great place to live, work, and raise a family," said Alderman At-Large John Connolly.
The aldermen were particularly impressed with the stringency of certain language that established and memorialized their demands on behalf of constituents. Board members unanimously praised city Planning Director George Proakis and Land Use Committee Chairman, Ward 6 Alderman Lance Davis for working to address the intricacies of the document's phrasing. Davis is currently serving his first term on the BOA.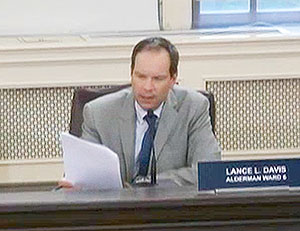 Some of the most significant accomplishments included in the zoning ordinance were those that addressed a citywide demand for increased affordable residential and commercial development in the Union Square area. The development covenant will also ensure that the city receives contributions from US2 in the form of land area fees.
Contributions towards the Green Line Extension, community benefits, and jobs linkage by US2 will be $2.40, $1.60, and $1.40 per gross square foot, respectively.
Mayor Curtatone commented that the ordinance would benefit top-priority infrastructure updates to Union Square's sewage and drainage system that were slated for renovation regardless of the zoning ordinance timeline. Ward 3 Alderman Robert McWatters argued that the city is in "the seventh inning of an economy" and that commercial and property taxes resulting from the redevelopment will address major financial burdens that it is facing.
Importantly, the ordinance ensures that commercial development will be centered on diversified job creation and will stray away from traditional office and retail locations. The ordinance will create a zoning overlay dividing the Union Square area into sub-districts with mid-rise, high-rise, or "commercial core" development, the latter of which has attracted valuable tenants in various research and development fields, most notably biotechnology.
According to BOA Vice President Katjana Ballantyne, research and development is especially attractive to residents who do not want to commute out of the Somerville to work in order to find a livable wage. By bringing high-paying jobs into the city, officials hope that the commercial development will in turn provide tax relief and a shift towards more diverse job options.
"In labs, one needs skilled tradespeople, technicians, administrators, and scientists. We have all of those people living in Somerville," said Ballantyne in a post-meeting interview.
"As a city, we should be encouraging companies to look local for their workforce."
With regards to affordable housing, aldermen pointed to a recently negotiated provision for
securing additional three-bedroom family units on residential development. Proakis specifically referred to the language as "the most aggressive three bedroom-unit offer that we have ever put forward".
The provision, found in section 6.7.6 of the zoning ordinance, now requires that a developer must provide at least twenty percent of dwelling units as affordable housing in one mid-rise housing project. The developer will have the ability to add one "bonus" floor for every five percent increase in three bedroom units, with a maximum of up to three floors.
"There are concerns from community members about parents not being able to afford to stay in the city because there is not enough affordable housing for families," said Alderman At-Large Mary Jo Rossetti.
Another example of stringency in ensuring the development of quality affordable housing is a limitation on specially permitted off-site construction. If a developer wishes to build off-site, fifty percent of affordable housing units are also required to stay on-site.
Despite the fact that the zoning document had addressed several of the city's major long-term goals, the aldermen were unanimous in agreement that it was not perfect with regards to meeting every demand. Demands for the inclusion of higher percentages of civic and green space were both limited, largely as a result of financial compromise.
Although the entire board praised new efforts towards sustainability such as a roof stormwater entrapment provision, a percentage increase for natural green space requirements, and securing a permit for a 27,000 square foot park, some legislators were not completely satisfied. Several members were particularly upset about the city's failed efforts to negotiate for a thirty percent open civic space requirement, which was finalized at twenty five percent.
The process was further hindered by two main factors that aldermen agreed were generally undesirable, the first being that the zoning ordinance was not signed into effect before bringing developer US2 on-board to negotiate a covenant. Financial obligations to the city were also a major influence on the decision with the Green Line Extension and Powderhouse school development projects already finalized.
Ward 1 Alderman Matthew McLaughlin voted against the zoning ordinance, citing an issue of trust and good faith during the process in addition to wariness of the community benefits agreement in the development covenant.
"US2 is going to become a permanent partner with this community and I hope that they respect the commitment that we have that none of us around this table have any real enforceability," said McLaughlin.
BOA president William White stated his decision to support US2 as the master developer to sign the covenant was based upon the benefits associated with the group's interest and flexibility towards the project.
Ward 2 Alderman Maryann Heuston offered her thoughts about the covenant and its editing process, reminding the Board that they "did not take a back seat" to it, ensuring that certain language was included to protect the city's interests.
"This zoning is a breakthrough in many ways, but it is setting a precedent here for future zoning. It's also setting the table for developers. This zoning sends a message to developers that it doesn't come easy in this city because we're going to push the envelope to get what we want for the good of the city," said Heuston. "Is it perfect? No, it isn't perfect, but it represents a consensus of this board, and it's the best work of this Board."
5 Responses to "City passes Union Square zoning ordinance"