*
Friend of Somerville Artists and Poets Needs Your Help!

*
The mission of Out of the Blue Gallery is to organize, support, and present to the public at large the creative efforts of local artists, musicians, and more from our community.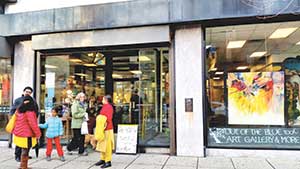 The gallery encourages artists of all backgrounds to share with us and celebrate the uniqueness they bring from different cultures, genders, ages and academic backgrounds.
Artists of all abilities are given an opportunity to share in the expression of the arts and all of its varieties and forms; painting, music, dance, poetry, short story, acting or singing, and for these same artists to intermingle with those of different disciplines to better be able to grow and learn from each other. The gallery's purpose is to bring people together in an inspiring, supportive, and empowering environment.
For many years I have been a patron of the Out of the Blue Gallery now located in Central Square, Cambridge. Tom Tipton, Deb Priestly, and many others have been a great friend of poets, writers, painters, etc.
I have had many poetry readings there, and many Somerville poets have had their first reading experience at the Gallery. Now this place is in danger of closing. Please go to their website (https://outoftheblueartgallery.com/fundraiser) and make a donation. There are fewer and fewer places like this that speak to the community.
The Somerville Bagel Bards will have a fundraising reading on June 25 at 12 Noon at the gallery, 541 Massachusetts Avenue, Cambridge MA, 02139. Please come and support this vital venue!
Email for booking, submitting, or any other questions at ootbgallery@gmail.com
Call the Gallery at 617-233-0269.