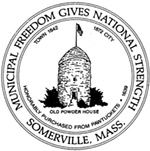 To provide background, answer questions, and take public testimony regarding the proposed fiscal year 2018 Somerville Water and Sewer Rate Charges, an Informational Session with Q&A followed by a Public Hearing was held on Monday, May 15th, at 6:30 p.m. in the Somerville High School Cafeteria, 81 Highland Avenue.
Written testimony will also be accepted through 5 p.m. Monday, May 22. Please send testimony with your full name and address to Director of Water and Sewer John DeLuca by email to waterandsewer@somervillema.gov or by mail to the address below. Please note that mailed testimony must be postmarked by 5 p.m., May 22.
Dir. John DeLuca
City of Somerville Water & Sewer Dept.
17 Franey Road,
Somerville, MA 02145
Proposed Rates
Pursuant to Chapter 11, Section 11-125 of the Code of Ordinances of the City of Somerville, the table outlines the proposed water & sewer volumetric rates for the fiscal year 2018, which runs from July 2017 through July 2018.
The FY18 rates represent no increase in water volumetric charges, a 5% increase in sewer volumetric charges, and no change to existing water and sewer base charges. This adjustment is consistent with the rate study completed during FY2016.
Proposed FY18 Volumetric Charges
($/100 cubic feet)
100 cubic feet = 748 gallons
Tier
Usage in units of 100 cubic feet
Water
Sewer
Combined
1
0-13
$4.14
$7.81
$11.95
2
14-67
$5.97
$9.97
$15.94
3
68-133
$6.26
$10.45
$16.71
4
133-Over
$6.50
$10.82
$17.32
More Information
— City of Somerville