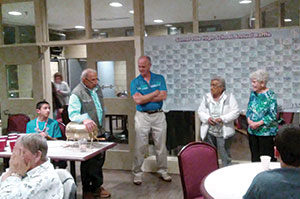 By Donald Norton
A good sized crowd was present at Somerville High School's Highlander Café last Friday, hoping to not just win the grand prize of $10K but to raise a lot of money for the SHS Scholarship Foundation.
Former Mayor Gene Brune was at his usual good-natured best hosting the raffle drawing.  233 tickets were sold at $100 each. The drawing lasted about an hour and a half, at which time many prizes were awarded to those who participated.
The food was prepared by the High School Culinary Dept. students and was very well received.
The Grand Prize was stopped at the last 10 numbers to be called and those holding the tickets decided to split the grand prize of $1,000 each.
It was a great night for an awesome cause. The Foundation works very hard to be able to have many scholarships available to help our graduating students. For more information on how you can help or be a part of the Foundation, contact the president Joseph Favaloro at PO Box 440275, Somerville 02144.