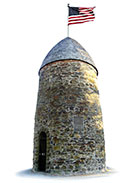 One thing can be said for sure about our great city: there is no want for creative energy and enterprise. Just look at the 100+ artists who will be participating in this weekend's Somerville Open Studios (SOS) event.
Artisans and crafters of seemingly limitless disciplines and choice of media work and thrive right here among us humble, regular types who wouldn't know a palette knife from a chainsaw.
That's the nicest part of it. Events like SOS give all of us an opportunity to peek in and observe how these creative types work and live. Whether one is knowledgeable or a newbie, there always seems to be a welcoming spirit that prevails throughout the course of the event.
And it's not just about being a voyeur or casual observer either. There are also plenty of opportunities to "get one's hands dirty" while dabbling in a particular medium for the first time while taking part in an instructional demonstration.
And, of course, there is also the possibility of making a keen purchase and adding to one's treasure trove of original artwork.
All in all, SOS represents the city at its best in many ways. Sharp, creative minds opening up and reaching out to the community at large, while the people who make up that community reciprocate in kind, sharing their sense of appreciation for what these artists manage to accomplish.
Now, that's a work of art in itself.