By Eric Saulnier
Somerville Fire Dept.
It was a star-studded event on April 2 at the Somerville rink, with many local celebrities coming out to show their support, headlined by Blades, the Boston Bruins mascot and Dave and Cathy Harrington of The Ryan Harrington Foundation.
Lyric's Champs Skating Club is a learn-to-skate program offered 100% free of charge and designed specifically for children with Autism Spectrum Disorder and other developmental disabilities. Lyric's Champs provides one-on-one skating instruction in a sensory friendly environment.
Sunday marked the end of their five-week program and put a wrap on their third successful season for Lyric's Champs. On the surface, it looks simple but there's a lot that goes in to getting the yearly program off the ground and a lot of people who come together to make it happen. My wife Linda and I wanted to personally thank all the people that make it possible.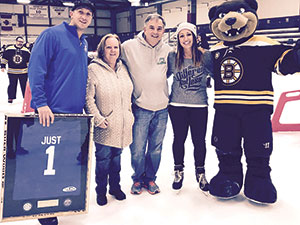 A big thank you to Dave and Cathy Harrington and family of The Ryan Harrington Foundation for providing the team with jerseys for each of the skaters. Thank you to The Brian Higgins Foundation for their on-ice instruction; the rink staff, John Curley and Steve Burlamachi; Joey Bariola of Razor's Barbershop for making our custom made hockey stick frame; Pini's Pizza for our timely end of the season pizza party; and Albie "Blades" Pellecchia for making a guest appearance and posing for 2,000 pictures with our skaters and their families. We'd also like to thank The Somerville Fire Department's Local 76 for their generous donation.
Last but certainly not least, a special thank you to all of our volunteer staff who sacrifice their Sunday each week for five weeks. Growing the program to 20 skaters meant we needed 20 volunteers on the ice each week to keep the program to one-on-one instruction and as usual you folks shined. Without your generosity, time, and patience this wouldn't be possible. Job well done!
Each year for the past three years I have called on our community to help us with this program and each year I have been overwhelmed by the love and support we have received. It means the world to us.
These are the people who support our community and I encourage you to support them. To learn more about these wonderful foundations or to donate, you can visit Thebrianhigginsfoundation.org and Ryanharringtonfoundation.org.
See you next season!